Police chief tours disputed islets
South Korea's police chief flew to a group of rocky islets yesterday in a symbolic trip stressing the country's control of the barely inhabitable outcroppings, while the Seoul government tried to stem a brewing territorial dispute with Japan from engulfing another island.
Hur Joon-young was South Korea's first police chief to visit the cluster of islets, called Dokdo in Korea and Takeshima in Japan, since South Korea regained control of them at the end of the Korean Peninsula's liberation from Japanese colonial rule in 1945.
Hur, who traveled to the islets by helicopter, urged a contingent of South Korean policemen based there to "be proud of protecting part of our national territory and keep up with their vigilance," reported South Korea's Yonhap news agency.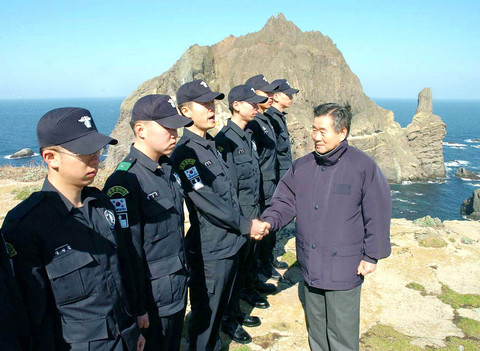 South Korean police chief Hur Joon-young, right, shakes hands with police officers on the Dokdo (Takeshima) islets yesterday.
PHOTO: AP
The volcanic outcroppings, roughly halfway between South Korea and Japan and surrounded by rich fishing grounds, became a focal point of South Koreans' rekindled ill feelings toward their former colonial rulers this month when the Japanese ambassador called them "historically and legally" part of Japanese territory. Tempers spiked further this week when a local Japanese assembly voted to designate a special day to commemorate Tokyo's claim to the islets.
In a tit-for-tat measure, South Korea's Masan City outraged many Japanese on Friday by passing a resolution commemorating Korean claims to Japan's Tsushima Island, off South Korea's southeastern tip, which Koreans say was once controlled by ancient Korean kingdoms.
The comparable actions by local agencies in the two nations have yet to be endorsed by their respective central governments.
The South Korean Foreign Ministry yesterday criticized Masan City.
"The ministry fully understands Masan citizens' loyal patriotism but the measure does not help the government's efforts to defend its sovereignty over Dokdo and could trigger unnecessary disputes," ministry spokesman Lee Kyu-hyung said in a statement. "We should take a practical and cool-headed approach in defending Dokdo."
The statement appeared to reflect South Korea's efforts to curb overflowing emotions. Last week, a mother and son cut their fingers in a show of anger. A man set himself on fire during a protest this week.
While Japan warned traveling citizens to avoid protests in Seoul, T-shirts bearing the picture of the islets are gaining popularity among South Koreans. A mobile phone company took out ads reminding people that its signals are caught in the far-flung islets. Youngsters play electronic games featuring Koreans depending Dokdo from invaders.
Comments will be moderated. Keep comments relevant to the article. Remarks containing abusive and obscene language, personal attacks of any kind or promotion will be removed and the user banned. Final decision will be at the discretion of the Taipei Times.