Germans held in S Africa nuke smuggling probe
A probe into a global nuclear smuggling ring widened Thursday as two Germans were charged by a South African court with illegally exporting equipment to enrich uranium, a key ingredient for making bombs. \nGerhard Wisser, 66, and Daniel Geiges, 65, living permanently in South Africa, appeared before a local court on four counts of contravening the Nuclear Energy Act and a law banning the proliferation of weapons of mass destruction. \nTheir arrests followed that of a South African businessman over his alleged involvement in a nuclear smuggling network thought to be linked to Pakistani scientist Abdul Qadeer Khan and aimed at helping Libya develop atomic weapons. \nThe two Germans "unlawfully and intentionally imported, held in transit and exported goods which may contribute to the design, development, production, deployment, maintenance or use of weapons of mass destruction without a permit," the charge sheet said. \nThe three other charges relate to the possession, manufacture and export of equipment for the enrichment of uranium. \nThe case against the two men was postponed in the Vanderbijlpark regional court, 80km south of Johannesburg, for a formal bail application on Tuesday. The two men were not asked to plead. \nLast Thursday, South African businessman Johan Meyer was arrested for his alleged links to the international network and charged with possessing sensitive nuclear-related equipment and clandestinely importing and exporting nuclear material. \nBut the charges were abruptly dropped on Wednesday, and the Germans were arrested the same day, fuelling speculation that the 53-year-old Meyer had agreed to cooperate with the state in exchange for immunity. \nLawyer Kevin Cross, who represents Geiges, told reporters his client "vehemently denies the charges against him." \n"It came as a complete shock to my client and we are going to fight this tooth and nail," he said. \nCross said Geiges was an engineer at a firm north of Johannesburg. \nAppearing for Wisser, lawyer Anant Choudree said they were talking to police investigators to find out the exact nature of the charges. \n"At this stage, we do not know what the exact charges are and need to consult with our client." \nThe two men are to remain in police custody pending further hearings. \nGerman prosecutors detained Wisser last month on suspicion of having served as an intermediary in 2001 between the international network and a South African company designated to deliver equipment such as centrifuge pipes used in the enrichment of uranium to Libya. \nKhan admitted in February to helping Libya, Iran and North Korea develop their weapons programs and he was later granted a pardon from President Pervez Musharraf. \nLibya announced late last year that it was abandoning attempts to develop nuclear, biological and chemical weapons after months of secret negotiations with London and Washington.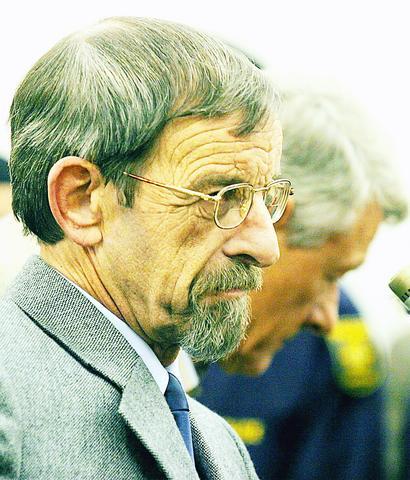 Daniel Geiges, front, and Gerhard Wisser, rear, appear in court on nuclear materials smuggling charges on Thursday in Vanderbijlpark, South Africa.
PHOTO: AP
Comments will be moderated. Keep comments relevant to the article. Remarks containing abusive and obscene language, personal attacks of any kind or promotion will be removed and the user banned. Final decision will be at the discretion of the Taipei Times.