Israeli troops kill 7 in Gaza, bulldoze homes
Israeli troops killed at least seven Palestinians yesterday in the fiercest fighting in northern Gaza since the army invaded 10 days ago.
Palestinian witnesses in the town of Beit Hanoun said five of the dead were gunmen, including Nahed Abu Odah, local commander of the armed wing of the Islamic militant group Hamas, and two were non-combatants.
Colonel Avi Levy, commander of Israeli forces in the area, said his men reported eight or nine Palestinians were killed and that one soldier was wounded.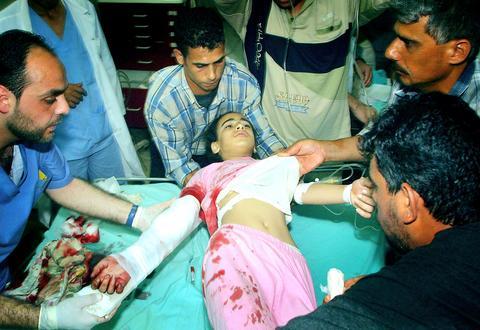 Palestinian Maysa Reziq, 14, is treated for Israeli gunshot wounds in the Gaza town of Khan Yunis yesterday after Israeli troops entered the Khan Yunis refugee camp to destroy eight houses in a continuing military campaign in Gaza, witnesses said.
PHOTO: AP
Israeli troops backed by tanks and helicopters also swept into part of Khan Younis refugee camp and bulldozed several buildings, an army spokesman said.
He said the buildings were uninhabited, while Palestinian witnesses reported troops with loudspeakers ordered families out of houses targeted for demolition.
Violence has surged in Gaza in the run-up to Israeli Prime Minister Ariel Sharon's planned withdrawal of settlers and soldiers from the area by the end of next year, as Palestinian militants and the army vie for supremacy.
Faced with the possibility of a power vacuum in Gaza after an Israeli pullout, international mediators have stepped up pressure on Palestinian President Yasser Arafat to institute security reforms to help keep militants in check.
Envoys from the US, Russia, the UN and the European Union told Palestinian Prime Minister Ahmed Qurie on Wednesday the world had run out of patience with Arafat's "empty promises" of change, said a senior diplomat.
In separate comments yesterday, UN Middle East envoy Terje Roed-Larsen called in an Israel Radio interview for "necessary security reforms on the Palestinian side so that all ... terrorism and violence comes to a complete halt."
The latest fighting in Gaza's densely populated Beit Hanoun area erupted on the 10th day of an open-ended Israeli incursion that began after a child and an adult were killed by a rocket fired at the Israeli border town of Sderot.
"Twelve rockets have been launched since the operation started, but their effectiveness and the frequency of the attacks are down because we are in the field," Levy said in Jerusalem.
Sami Abu Zuhri, a Hamas spokesman in Gaza, vowed that resistance would not stop as long as Israeli aggression continued.
A gunman in Beit Hanoun said his squad was trying to leave town via a back road when they were surprised by Israeli special forces on the ground and soldiers firing from rooftops.
"Three (of my comrades) were killed. I crawled away. A man came out of his house to help but he was hit by a sniper. A woman and her daughter were watching from their doorstep and were also hit by gunfire," he said.
Hospital officials said the man and the woman were killed. Asked about civilian casualties, Levy said no non-combatants were shot intentionally.
Comments will be moderated. Keep comments relevant to the article. Remarks containing abusive and obscene language, personal attacks of any kind or promotion will be removed and the user banned. Final decision will be at the discretion of the Taipei Times.