Proposal to bring firms home approved
THREE-YEAR PLAN: The offer is aimed at Taiwanese firms that have been operating in China for more than two years and want to invest in smart technology production lines
The Executive Yuan yesterday approved a three-year plan to attract investment from Taiwanese businesses in China affected by the current US-China trade dispute.
The plan, which is to take effect on Jan. 1, focuses on five areas — land use, labor, tax services, water and electricity supply, and fast financing — and only businesses affected by the trade dispute, that have been investing in China for more than two years and that want to investing in production lines incorporating smart technology would be eligible, it said.
They must also be in an industry targeted by the government's "five plus two" innovative industries plan or produce a high value-added product, it said.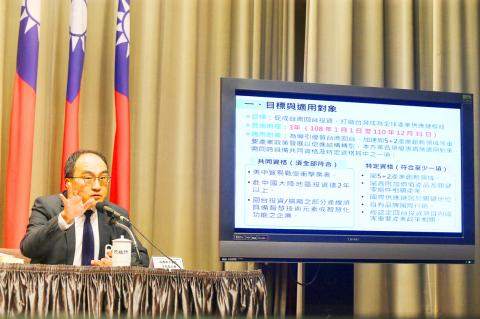 Industrial Development Bureau Director-General Leu Jang-hwa speaks during a news conference at the Executive Yuan in Taipei yesterday.
Photo: CNA
Regulations for employing foreign workers would be relaxed for businesses that open new factories in Taiwan or expand existing ones to a certain size, it said.
For companies in the high-tech field, they must invest more than NT$250 million (US$8.11 million) and create 100 — or 20 percent — additional jobs for Taiwanese workers, it said.
Those in other industries would have to invest more than NT$50 million and create 50 — or 20 percent — more jobs for Taiwanese workers, it said.
Workers' monthly salaries would need to be at least NT$30,000, it said.
Companies that meet those requirements would be eligible for an advanced allocation of their foreign worker quota, would not be subject to regular inspections of their local-to-foreign worker ratio for a year and be able to have foreign workers fill up to 40 percent of their jobs, it said.
The National Development Fund has also set aside NT$20 billion to loan to businesses returning to Taiwan under this plan, but this amount could be raised if the funding is used up before the end of the plan, the Executive Yuan said.
The government is able to provide about 435 hectares now and an additional 873 hectares would be included between next year and 2021, it said.
The Water Resources Agency and Taiwan Power Co are to help manufacturers quickly secure their water and electricity supplies, and national taxation bureaus nationwide are to provide businesses returning to Taiwan with consultation services, the Executive Yuan said.
InvesTaiwan is to be responsible for processing applications, which would be jointly reviewed — within two weeks — by different government agencies, it added.
In related news, during the question-and-answer portion of a meeting of the legislature's Social Welfare and Environmental Hygiene Committee, Democratic Progressive Party Legislator Huang Hsiu-fang (黃秀芳) said that some people have already begun saying that relaxing the employment restrictions on foreign workers for returning overseas businesses would be unfair to local firms that already face a labor shortage.
Minister of Labor Hsu Ming-chun (許銘春) told Huang that the planned relaxation is conditional and that a sunset clause would be applied.
Comments will be moderated. Keep comments relevant to the article. Remarks containing abusive and obscene language, personal attacks of any kind or promotion will be removed and the user banned. Final decision will be at the discretion of the Taipei Times.