Police ordered to watch guilty KMT councilors
Prosecutors yesterday ordered local police to step up their monitoring of eight Chinese Nationalist Party (KMT) councilors in Pingtung County to prevent them from fleeing, after their conviction for taking bribes was upheld.
The Supreme Court on Thursday upheld the conviction against eight KMT councilors involved in a case from 2014.
The court heard that, before the Pingtung County Council's internal election for speaker, which was won by the KMT's Chou Tien-lu (周典論), Chou had handed out bribes of up to NT$20,000 each to fellow councilors to secure their vote. He had also treated them to hotel stays, nightclub and massage parlor visits, and had given tailored suits to the men.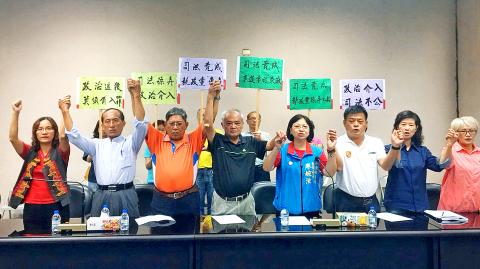 Chinese Nationalist Party (KMT) Pingtung County branch director Liao Wan-ju, front row fourth right, holds hands with seven of the eight KMT county councilors who were convicted of graft and receiving bribes — from left, Kui Hsiao-hui, Chen Chao-chung, Pan Cheng-chih, Yen Chin-cheng, Liao, Wang Chih-feng, Chen Mei-chiung and Lee Chi-hsiang — during a news conference in the county yesterday.
Photo: CNA
The councillors were found guilty in the first and second trials in 2016 and last year. At the time, nine KMT councilors were convicted: Wang Chih-feng (王志豐), Chen Mei-chiung (陳美瓊), Pan Yu-lung (潘裕隆), Lee Chi-hsiang (李冀香), Yen Chin-cheng (顏金成), Chen Chao-chung (陳昭忠), Pan Cheng-chih (潘政治), Kui Hsiao-hui (歸曉惠) and Hsu Tien-shih (許天賜).
Hsu died from cancer in January, and the charges against him were dropped.
The convicted councilors were given prison sentences ranging from three years and two months to four years. Yesterday's verdict was final and cannot be appealed.
Earlier this month, the Supreme Court upheld a corruption conviction against six KMT county councilors from Hsinchu County, where the prison sentences ranged from two to 13 years. It was the final verdict in a case that began in 2013.
In the Hsinchu County case, those convicted were disqualified from running in the Nov. 24 nine-in-one elections. Four councilors from yesterday's case were also disqualified, while the other four had not registered for re-election.
New Power Party Executive Chairman Huang Kuo-chang (黃國昌) yesterday said that KMT Chairman Wu Den-yih (吳敦義) should apologize to the public, as many KMT members have been convicted of corruption.
"Three months ago, I pointed out the Pingtung case of KMT councilors acting like pigs feasting on corrupt money. Then KMT officials came out to disparage me. Why are they hiding now and being so quiet? Huang said yesterday. "If Wu still has any decency, he should apologize to the public."
Separately yesterday, the KMT Pingtung chapter held a news conference attended by the eight convicted councilors, who said they could not accept the ruling.
They said that the court was interfering in local politics and disrupting the elections.
Comments will be moderated. Keep comments relevant to the article. Remarks containing abusive and obscene language, personal attacks of any kind or promotion will be removed and the user banned. Final decision will be at the discretion of the Taipei Times.