New Southbound Policy: Minister confident on policy progress
'FORESIGHT': The policy, which has boosted trade and tourism with the targeted nations, has clear goals, but it must have effective implementation, John Deng said
With the US unveiling its Indo-Pacific strategy and South Korea announcing its "New Southern Policy" this year, Minister Without Portfolio John Deng (鄧振中), head of the Office of Trade Negotiations, said he is even more convinced that Taiwan is heading in the right direction with its New Southbound Policy.
"Our strategy, goals and areas of interest overlap much" with those of the US, Deng said. "We are fortunate that we had the foresight to initiate our policy two years ago."
At last week's Yushan Forum, the theme of which was "Working Together for Regional Prosperity," President Tsai Ing-wen (蔡英文) highlighted Taiwan's successes this year in implementing the policy, which envisions increased trade with as well as more students and tourists from 16 nations in Asia, as well as New Zealand and Australia.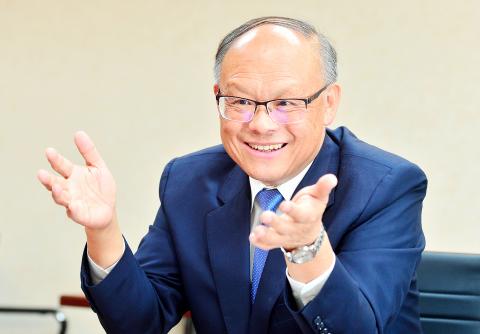 Minister Without Portfolio John Deng gestures during an interview in Taipei on Dec. 28 last year.
Photo: Wang Yi-sung, Taipei Times
However, Deng said that the policy does not seek to benefit only Taiwan, but sees the nation playing a proactive role in the region through multifaceted cooperation, in which mutual benefit and prosperity are the key factors.
"We want to help build solid foundations for the development of the targeted Southeast Asian countries," he said. "We hope that they can truly feel Taiwan's sincerity in this endeavor."
Deng is heading the Southbound Policy Task Force, which was established in January to analyze and streamline cross-ministerial efforts. It works in tandem with a special panel formed by the National Security Council, which is in charge of developing strategic policy.
President Tsai Ing-wen gives a speech at the opening ceremony of a forum held by the Prospect Foundation in Taipei on Thursday last week.
Photo: Fang Pin-chao, Taipei Times
The two bodies are focusing on accelerating and improving policy implementation, and joining the Comprehensive and Progressive Agreement for Trans-Pacific Partnership.
"The New Southbound Policy is very clear in its goals, but effective implementation is still what matters," Deng said.
Increased business opportunities are an obvious result of the efforts.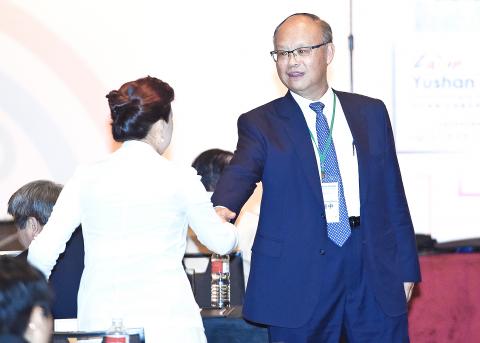 Minister Without Portfolio John Deng, right, and Vice Minister of Economic Affairs Wang Mei-hua shake hands at a forum held by the Prospect Foundation in Taipei on Oct. 11 last year.
Photo: Liao Chen-huei, Taipei Times
Trade between Taiwan and the targeted countries in the first six months of this year rose 5.8 percent annually to NT$1.76 trillion (US$56.92 billion).
From January to July, Taiwanese companies won bids for 20 construction projects in the targeted countries amounting to NT$25 billion.
While overall investment has dipped, this year saw significant increases in the Malaysian, Indian and Vietnamese markets, Deng said.
Taiwan and the Philippines also signed a bilateral investment agreement (BIA) that took effect in March.
While Taiwan has agreements with seven of the countries, many of them were signed nearly 20 years ago and need to be updated to address modern concerns and overcome roadblocks.
"The BIA that we signed with the Philippines can serve as a template for agreements with other New Southbound Policy countries," Deng said.
People have become accustomed to some of the social changes the policy has brought, he said.
The average Taiwanese college student would not bat an eye at the number of Southeast Asian students on campus, which continues to grow: The 2017-2018 school year saw a 26.9 percent increase in students from those nations.
Tourism has also seen a boost, with visits from the targeted countries jumping 17 percent annually to 1,288,904 this year.
There have also been developments that have been less publicized, Deng added, citing a number of medical and agricultural exchanges.
The government this year launched the "One Country, One Center" program, tasking six Taiwanese hospitals each with opening a medical center in Malaysia, Thailand, Vietnam, Indonesia, the Philippines and India.
The centers would provide medical training to locals, host exchanges and help establish culturally sensitive healthcare environments.
They would also carry out assessments on local medical regulations and market opportunities.
"This will have long-term benefits for Taiwan's medical industry and the quality of life of the people in the targeted countries," Deng said.
Agricultural professionals from the targeted countries have been invited to Taiwan, while Taiwanese between the age of 18 and 40 have competed to become one of 30 "youth agricultural ambassadors" to visit Malaysia and Vietnam in August.
In June, the government signed an agreement with Indonesia to establish an agricultural demonstration zone near Jakarta, where Taiwanese professionals would provide technical training to local farmers, build local networks and improve the irrigation infrastructure.
In return, Taiwan hopes to introduce its agricultural tools and advanced fertilizer and management techniques to the Indonesian market while improving business relations between the two nations.
The first group of Indonesian farmers is to visit Taiwan next month as part of the agreement.
A more cooperative approach is being followed for countries that are on par with Taiwan's level of development, as the nations often have coinciding interests in the region and hope to develop new methods of collaboration.
This would offer a new window into the region, as Australia has a history of close relations with Indonesia, and Singapore and India have amicable ties, Deng said.
Taiwan last year introduced six lychee species to Australia to take advantage of opposite seasons in the two countries to grow lychees year-round, Deng said, adding that he would like to see more such partnerships.
Exchanges among indigenous peoples are also welcome, he added.
Exchanges with Singapore include collaborations on regional medical prevention networks, offshore wind farm technology and e-commerce platforms.
Deng said that the policy is a joint effort by the government and the public, and it begins with a willingness to understand each other.
"Only when we understand our neighbors can we consider being friends. And only then will we figure out what kind of cooperation is truly mutually beneficial for both sides," he said.
Comments will be moderated. Keep comments relevant to the article. Remarks containing abusive and obscene language, personal attacks of any kind or promotion will be removed and the user banned. Final decision will be at the discretion of the Taipei Times.