New patient rights rules to introduce 'living will'
Several additions to the Patient Right to Autonomy Act (病人自主權利法) would make patients the main subject of informed consent, the Ministry of Health and Welfare announced on Wednesday
The act gives patients the right to refuse life-sustaining treatments if they are terminally ill, are in an irreversible coma or a permanent vegetative state, have advanced dementia or meet other conditions announced by authorities.
It is to be promulgated on Jan. 6 next year.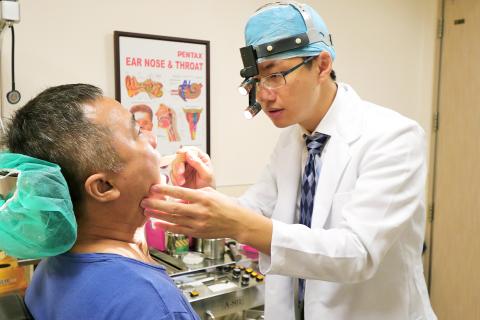 Otolaryngologist Huang Chun-wei, right, attends to a patient in Taichung on Aug. 16.
Photo: Su Chin-fong, Taipei Times
The ministry on Wednesday released the Enforcement Rules for the Patient Right to Autonomy Act (病人自主權利法施行細則) and the Regulations Governing Healthcare Facilities that Provide Advance Care Planning (提供預立醫療照護諮商之醫療機構管理辦法), which aim to complement existing rules, and clarify terms and execution requirements.
It also released a legally binding advance-decision form, or living will, which people who are still capable of making and communicating healthcare decisions could use to write down their decision in advance.
The form allows people who meet the conditions to choose four options in regard to life-sustaining treatment, artificial nutrition and hydration: accept; refuse; have a healthcare agent decide when they are unconscious or incapable of clearly expressing their will; and stopping treatment after a certain period.
The complementary regulations emphasize that any advance decision about treatment should be made with the patient's consent, and they can decide what permissions to give different healthcare agents and in what order, Department of Medical Affairs Director-General Shih Chung-liang (石崇良) said.
An advance-decision form is to be filled out when the person is still capable of making decisions, and scanned and stored as an electronic file, he said.
The regulations clearly define the five conditions under which a living will can be drafted and stipulate that if a healthcare facility or doctor is unwilling to abide by the patient's decision, the patient should be referred to another hospital to ensure their rights, Shih said.
The rules require local authorities to select accredited hospitals with more than 200 beds to provide advance care planning services.
Comments will be moderated. Keep comments relevant to the article. Remarks containing abusive and obscene language, personal attacks of any kind or promotion will be removed and the user banned. Final decision will be at the discretion of the Taipei Times.