Poll finds most favor pension reforms
UNSURPRISING RESULT: Young people were the most enthusiastic about the cuts to public employees' pensions, while a majority of KMT supporters opposed the changes
More than half of respondents were happy with the pension reforms that took effect on Sunday and believe that they would help the nation retain talent and keep pension funds sustainable, a poll by the Taiwan NextGen Foundation said.
Under the new pension system, the majority of civil servants and public-school teachers, as well as most retired military personnel, have seen their pensions cut, while a preferential 18 percent interest rate on some retirees' savings would also be phased out over two to 10 years, depending on the profession.
Despite a seemingly strong backlash from opposition groups over the past year, the poll found that most respondents supported the reform, foundation board director Wang Zhin-sheng (王智盛) told a news conference in Taipei yesterday.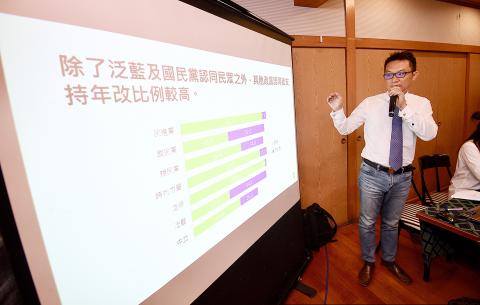 Taiwan NextGen Foundation chairman Wang Zhin-sheng yesterday announces the results of the foundation's latest opinion poll at a news conference in Taipei.
Photo: Peter Lo, Taipei Times
When asked whether they supported reforming the pension system for the public sector, 64.2 percent of respondents said they did, while only 25.3 percent said they did not, he said.
Moreover, 55 percent said that they were happy with the results of the reforms, compared with 38.9 percent who said that they were unhappy with them, he said.
A closer look at respondents' age and political leanings showed that those who approve of the reform tend to be younger and pro-independence, he said.
The poll found that people in their 20s are the biggest supporters of the reform, with 68.6 percent of them saying they are happy with the result, he said.
Meanwhile, 78.6 percent of pan-green camp supporters said they were happy with the reforms, compared with 19.2 percent of pan-blue camp supporters, Wang said.
When asked whether they agreed that the reform would help retain talent and make pension funds more sustainable while having little impact on the lives of public-sector employees and retirees, 54.5 percent said they did, while 40.8 percent disagreed, he said.
Asked whether the reforms should be considered a major achievement of President Tsai Ing-wen's (蔡英文) administration, 57.4 percent said they should and 38.8 percent said they should not, he added.
Chinese Nationalist Party (KMT) Legislator Alex Fai (費鴻泰) has proposed repealing the pension amendments if the KMT regained control of the legislature, but the poll found that 65.4 percent would disapprove of such a move, while only 28.8 percent would support it.
"The poll shows that the reforms are supported by the majority of the public, especially younger generations, which hope to see intergenerational justice realized," said former Democratic Progressive Party (DPP) spokeswoman Wu Pei-yi (吳沛憶), who is running for a Taipei city councilor seat in the Nov. 24 local elections.
The reforms could have a great influence on the elections and the DPP must develop ways to better advertise their benefits while minimizing the negative fallout, Taipei University of Marine Technology assistant professor Wu Se-chih (吳瑟致) said.
The poll collected 1,073 valid responses by telephone on Wednesday and Thursday evening last week. It has an error margin of 2.99 percentage points.
The foundation was founded by DPP Legislator and Electoral Strategy Committee coconvener Chen Ming-Wen (陳明文) in June 2016.
Comments will be moderated. Keep comments relevant to the article. Remarks containing abusive and obscene language, personal attacks of any kind or promotion will be removed and the user banned. Final decision will be at the discretion of the Taipei Times.