Cabinet sends NT$929m for Hualien relief efforts
DONATIONS: The central government did not give NT$20 billion to Tainan after an earthquake in 2016 and the city raised the money through its own means, William Lai said
The Cabinet has sent more than NT$929 million (US$31.74 million) to the Hualien County Government to be used in disaster relief and restoration work in the wake of a deadly earthquake that struck the county on Feb. 6, Premier William Lai (賴清德) said yesterday during a visit to Hualien.
The Cabinet said that NT$300 million came from central tax revenue, NT$500 million from a special fund for the county government and NT$129 million from a fund for local administrative units of the county government.
Hualien County Commissioner Fu Kun-chi (傅崐萁) said that former premier Simon Chang's (張善政) government sent NT$20 billion to the Tainan City Government following a major earthquake in 2016 that killed 116 people, while the city government also received NT$4.3 billion in donations.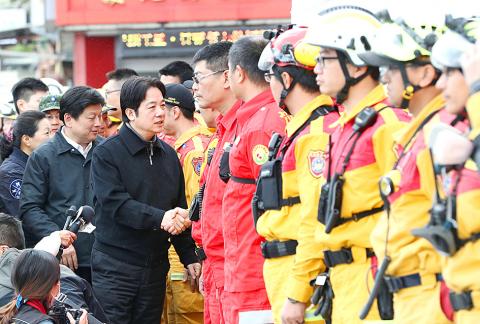 Premier William Lai, third left, accompanied by Hualien County Commissioner Fu Kun-chi, second left, greets rescue workers at the site of the eathquake-damaged Yun Men Tsui Ti building in Hualien yesterday.
Photo: CNA
After last week's earthquake that killed 17 people, the Hualien County Government only received NT$300 million from the Cabinet and NT$595 million in public donations, Fu said, urging the central government to direct more resources to the county.
Lai, who was in Hualien to pay his respects to quake victims and their families, and thank search-and-rescue personnel, said that the central government would give as much support to the county as it did to Tainan.
However, Tainan did not receive any more than NT$90 million from the central government, Lai added.
Lai, a former Tainan mayor, said that the city government did not receive NT$20 billion from the Cabinet, and instead used its own funds and donations to carry out reconstruction efforts.
While the Cabinet gave the city NT$90 million, it was used to conduct strength assessment tests on about 1,000 buildings in the city that might be affected by soil liquefaction, Lai said.
"Any mayor or county commissioner would be reasonably anxious when faced with an earthquake of this magnitude. I want the public to give more support to Commissioner Fu and the county government," Lai said.
The Hualien earthquake was not the first major earthquake to hit Taiwan, Lai said, adding that the nation experienced the Tainan earthquake in 2016 and the 921 Earthquake in 1999, and that the government has developed a response system to quickly and consistently send support to disaster areas.
"The government did not give special favors to Tainan or ignore Hualien. It will not happen. With more experience and technological improvements [in disaster relief], Hualien would eventually receive more public and government support than Tainan," Lai said.
Lai also ordered Taiwan Water Corp to repair damaged facilities and resume water supply to earthquake-hit areas within three days to allow Hualien residents to observe the Lunar New Year, adding that the Cabinet has formed a task force led by Minister Without Portfolio Chen Mei-ling (陳美伶) to speed up reconstruction efforts.
Comments will be moderated. Keep comments relevant to the article. Remarks containing abusive and obscene language, personal attacks of any kind or promotion will be removed and the user banned. Final decision will be at the discretion of the Taipei Times.