Taiwan policy will not change: Paal
OFFICIAL TALK: The former American Institute in Taiwan director said he hopes that Taiwan could find a way to resume the connections of the former KMT administration
Contrary to expectations, the Chinese Communist Party (CCP) is not likely to change its cross-strait policy during its 19th National Congress, which is scheduled to begin on Wednesday, Washington-based Carnegie Endowment for International Peace vice president for studies Douglas Paal said.
Paal, who served as director of the American Institute in Taiwan from 2002 to 2006, yesterday said that he reached the conclusion after speaking with several Chinese officials.
"I have been spending a lot of time trying to talk to people who have Taiwan-related positions in the People's Republic of China's official circles. So far they have been more reassuring than frightening in terms of continuity — no big changes," Paal said on the sidelines of a meeting of Asia-Pacific think-tank leaders in Taipei organized by the Institute for National Policy Research.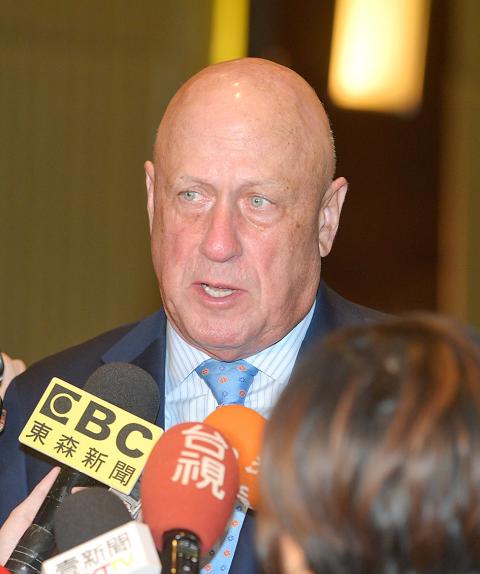 Carnegie Endowment for International Peace vice president for studies Douglas Paal talks to reporters in Taipei yesterday.
Photo: Chang Chia-ming, Taipei Times
However, it remains to be seen whether the officials' view is in line with that of Chinese President Xi Jinping (習近平), whose mandate is expected to be renewed at the congress in Beijing, he added.
There has been wide speculation regarding how Xi intends to proceed with the Taiwan issue. Some have predicted a hard-line shift, while others have floated the possibility of a military invasion.
In comparison, Paal seemed sanguine about cross-strait development, saying that he hopes Beijing would be willing to work patiently with Taipei and that the Taiwanese government could find a political basis for resuming some of the semi-official connections that were established by the previous Chinese Nationalist Party (KMT) administration.
"But this takes two sides to cooperate and we have to see how [China] develops its leadership and policy during and after the party congress," he said.
China is overdue in developing better relations with its neighbors, having spent the past 15 years brawling with Japan, Vietnam and most recently India, Paal said.
When asked whether it is feasible for both sides of the Taiwan Strait to engage in friendly interactions and cooperation under the APEC framework, as President Tsai Ing-wen (蔡英文) has suggested, Paal did not give a direct answer.
He instead said he was confident that Xi will "afford respect" to People First Party Chairman James Soong (宋楚瑜), who is set to attend next month's APEC summit in Da Nang, Vietnam, on Tsai's behalf.
"It is an opportunity for Taiwan to be represented with all the other nations participating, including [US President] Donald Trump," he added.
A Taiwanese president has not attended the APEC leadership meeting since the nation became a member of the bloc in 1991 due to obstruction by Beijing.
The highest-level officials to represent the nation's president at the annual summit were former vice presidents Lien Chan (連戰) and Vincent Siew (蕭萬長) of the KMT.
Comments will be moderated. Keep comments relevant to the article. Remarks containing abusive and obscene language, personal attacks of any kind or promotion will be removed and the user banned. Final decision will be at the discretion of the Taipei Times.