Certification to strengthen following tea fraud case
More stringent requirements are to be imposed for the certification of oolong and high mountain teas, and entry samples must be traceable to their place of production, the Nantou County Department of Agriculture said yesterday, following an alleged case of counterfeit tea sales.
More tea samples are to be subjected to random testing to determine their level of residual pesticide and other chemicals, department officials said, adding that QR codes would be required for all tea farmers to enable verification of the product's place of production and processing.
The move was in response to the alleged discovery of counterfeit teas that officials say have damaged the reputation of the county's certification and marketing processes for oolong and high mountain teas.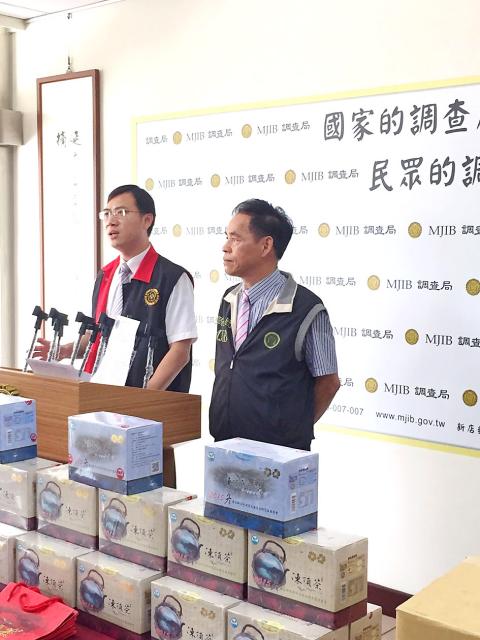 Prosecutor Wang Ming-yu on Tuesday tells a news conference in the Nantou County station office of the Ministry of Justice's Investigation Bureau that mixing oolong with other teas and marketing it as pure is considered fraud.
Photo: Chen Feng-li, Taipei Times
Prosecutors have arrested a tea farmer surnamed Lai (賴) and are conducting investigations to determine if other people or businesses were involved.
Officials raided Lai's office and detained him for questioning, alleging that he imported tea from Vietnam, mixed it with tea produced in Taiwan and marketed it as high-priced Lugu Dong Ting oolong tea.
An official estimated that Lai made more than NT$5 million (US$165,306) in illicit profits by selling more than 8,000 catties (4,800kg) of blended tea in the past two years.
"Lai imported the Vietnamese tea leaves at a cost of NT$360 per catty. After mixing with Taiwanese tea leaves and repackaging them, he sold the leaves for between NT$1,000 and NT$2,800 per catty," Lee said.
Lee said the case did serious damage to the Lugu Township (鹿谷) tea industry, which is worth several million US dollars in annual revenue.
Comments will be moderated. Keep comments relevant to the article. Remarks containing abusive and obscene language, personal attacks of any kind or promotion will be removed and the user banned. Final decision will be at the discretion of the Taipei Times.