Celebrated cleaner teaches airport staff
SQUEAKY CLEAN: Japanese national treasure Haruko Niitsu visited Taiwan yesterday to share her award-winning expertise in cleaning Tokyo Haneda Airport
Haruko Niitsu, who is called a national treasure in Japan for her excellent cleaning at Tokyo Haneda Airport, arrived in Taiwan yesterday to attend a forum on cleaning and give advice to workers at Taipei International Airport (Songshan airport).
Niitsu was born in Shengyang City in China's Liaoning Province to a Chinese mother and a Japanese father. Her father was an orphan adopted by a Chinese father after the World War ll.
When she was 17, her family relocated to Japan through a program that helped people of Japanese descent residing in China return to their homeland.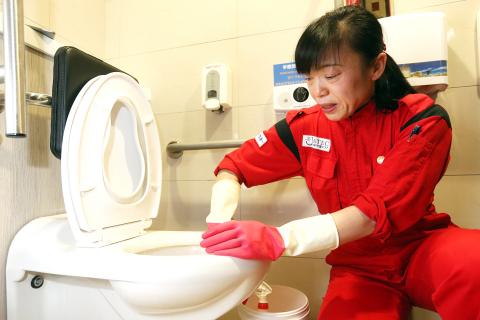 Japanese professional cleaner Haruko Niitsu demonstrates how to clean a toilet at Taipei International Airport (Songshan airport) yesterday.
Photo: CNA
Niitsu holds a license issued by the Japanese government to clean buildings and is a professional training counselor for more than 700 cleaning technicians at Haneda.
Because of the crew's extraordinary work, Haneda was named the world's cleanest airport by Skytrax in 2013, 2014, last year and this year.
She has also published several books teaching people how to efficiently clean their houses.
Niitsu changed into her Haneda uniform after arriving at Songshan airport and went directly to coach Sincere Group workers.
She first watched them do their restroom routine, including wiping the mirrors and countertops, scrubbing sinks and cleaning the toilets, and then demonstrated what she would do to make them cleaner.
The toilet seat cover, the seat and the rim under the seat should all be wiped as well as scrubbed, she said.
"You cannot clean these areas using a brush with a handle, because you will miss a lot of spots, such as the area inside the toilet rim. Smells would eventually come from these spots if they remain dirty, and because the air inside the restroom does not always circulate properly, the walls would absorb the odors and make the restroom smelly, so you need to find ways to clean those difficult-to-reach spots," she said.
Niitsu showed her cleaning kit, which contains a small paint brush, several pencil-like sharpened bamboo sticks, wipes and other items.
The tools could either be bought or made, she said.
Niitsu, who is also known for her ability to use 80 different kinds of detergents, said her expertise comes from years of on-the-job experimentation.
"It all depends on the material of the item you are about to clean," she said.
For example, to remove black spots on a stainless steel water fountain, she said that a neutral detergent must first be used to clean the surface, then an acidic detergent must be applied to remove the spots.
Compared with women's restrooms, Niitsu said that it is more difficult to clean the men's.
"Women are more aware of keeping the restroom clean, and the urine is less likely to splash out of the toilets, because they have to sit down. Men are less careful when peeing at urinals," she said.
Comments will be moderated. Keep comments relevant to the article. Remarks containing abusive and obscene language, personal attacks of any kind or promotion will be removed and the user banned. Final decision will be at the discretion of the Taipei Times.