Taipei 101 awarded top LEED building rating
Taipei 101 was on Thursday awarded the top honor in the Leadership in Energy and Environmental Design (LEED) building rating system, achieving the highest level — platinum — in the category of operation and maintenance of an existing building.
LEED is a green building certification program based on a rating system for design, construction, operation and maintenance of environmentally friendly buildings.
Projects receive ratings on one of four levels — certified, silver, gold and platinum.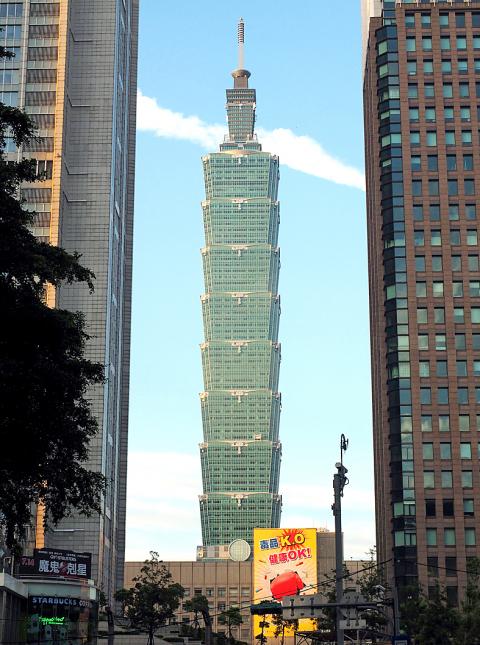 The `Taipei 101` tower, center, is seen in Taipei, Taiwan on Sunday.
Photo: EPA
Having received a platinum LEED v3 rating in 2011, the skyscraper moved up one spot to attain a LEED v4 rating this year, becoming the first skyscraper outside of the US and the only building in Taiwan to have achieved the feat, according to the organizer of the awards, the US Green Building Council (USGBC).
"With such distinguished leadership, Taipei 101 is showing it can stand taller among its peers without adding a single floor," USGBC founder, chief executive and chairman Rick Fedrizzi said.
Besides evaluating figures that show how much more energy a building saves compared with a LEED v3 rating, the higher grade requires the candidate to reach out to the local community to build a green network, said Tim Shen, director of head of sustainability at the Asia office of CBRE, a company which provides real-estate services.
Having provided consultation to Taipei 101 on how the achieve the rating, Shen said the skyscraper signed a memorandum of understanding with state-run Taiwan Power Co (Taipower) last year to create a "demand response" partnership.
Under such cooperation, when electricity demand rises suddenly, the building follows a standard operating procedure to lower its usage for a designated period, Shen said.
The module could be implemented by Taipower and other buildings in Taiwan, he said.
Taipei 101 said that although its occupancy rate increased to 95.79 percent at the end of last year, a 50,000m2 increase compared with 2007, the building has saved 262 gigawatts per hour of electricity.
It is equivalent to a reduction of 139,083 tonnes of carbon emissions, which is Daan Forest Park's total carbon absorption over 357 years, it said.
LEED-certified buildings are resource efficient. They use less water and energy, and reduce greenhouse gas emissions. As an added bonus, they save money, according to the USGBC Web site.
Comments will be moderated. Keep comments relevant to the article. Remarks containing abusive and obscene language, personal attacks of any kind or promotion will be removed and the user banned. Final decision will be at the discretion of the Taipei Times.