KMRT reveals 'itasha' carriages
Anime fans rushed to attend the unveiling of the nation's first-ever itasha — vehicles painted with female anime characters — at the Kaohsiung Mass Rapid Transit (KMRT) System on Friday.
The Kaohsiung Rapid Transit Corp (KRTC) introduced the newest member of the poster icons, known as the KMRT Girls, Nai Nai (耐耐).
The term itasha means "car painting." People paint their vehicles with predominantly female characters from anime, comics or games, which are usually abbreviated to the term ACG. The practice has been popular in Japan since 2000.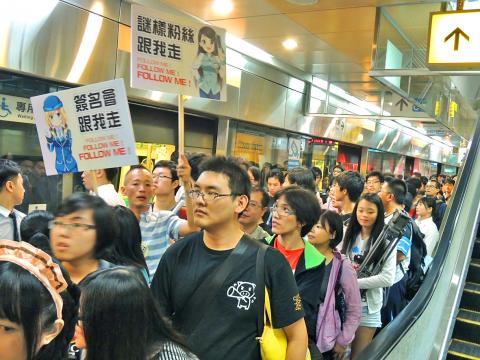 People crowd into a Kaohsiung Mass Rapid Transit System station on Friday to see metro cars newly decorated with female anime figures.
Photo: Wang Jung-hsiang, Taipei Times
The KMRT Girls, designed to be iconic representations of animated comics, were introduced at the end of last year.
Following the popular reception of Siao Chung (小穹), the company introduced the conductor, Amelia, and the engineer, Chieh Er (婕兒).
The company said that Nai Nai would be the final member of the KMRT Girls and would, along with all the other members, be accompanying KMRT users in the cars and in the station.
The company said the painted cars would begin operation on the Orange Line and feature three themes using distinct art to invoke the ACG world of the KMRT Girls so passengers can "interact" with them.
The company said it is considering publishing a novella based on the KMRT Girls early this month, as well as creating a game based on the girls.
The company said the newest timetables for the itasha cars will be posted to its Web site and would be updated daily.
KRTC chairperson Hao Chien-sheng (郝建生) said the company sought not only to transport passengers to their destinations, but also aspires to be mobile platforms of cultural creativity.
Comments will be moderated. Keep comments relevant to the article. Remarks containing abusive and obscene language, personal attacks of any kind or promotion will be removed and the user banned. Final decision will be at the discretion of the Taipei Times.