Wu ends race speculation
TWO DOWN: As potential Chinese Nationalist Party (KMT) presidential contenders step aside, Lee Teng-hui said Wang Jin-pyng had qualities a leader should have
Vice President Wu Den-yih (吳敦義) yesterday said that he would not take part in the Chinese Nationalist Party's (KMT) presidential primary, ending speculation on his run for the top office next year.
"No. Amitoufo," Wu said to reporters on the sideline of a Buddhist event in Taichung, invoking a Buddhist mantra.
It was the first time that Wu gave an unequivocal answer to a question he has been asked repeatedly while the KMT has not announced a candidate.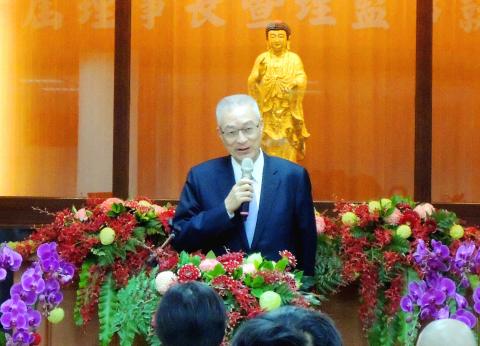 Vice President Wu Den-yih speaks at a religious event in Taichung yesterday.
Photo: CNA
Wu became the second expected presidential contender to abstain from the election.
New Taipei City Mayor and KMT Chairman Eric Chu (朱立倫) last month said that he would not run in the election in January next year.
Former health minister Yaung Chih-liang (楊志良) and Deputy Legislative Speaker Hung Hsiu-chu (洪秀柱) have signed up for the KMT primary, while other KMT members with little political experience have picked up registration forms.
The registration period, which opened on April 20, is to close on May 16.
Results of the party primary are to be calculated from public opinion polls and a vote by party members. The party vote is to count for 30 percent of a candidate's total score, while public opinion polls are to contribute 70 percent.
The opinion polls are to be conducted from June 5 to June 13, and party members are to vote on June 14.
Results are to be announced on the same day as the vote.
Party watchers and commentators also consider Legislative Speaker Wang Jin-pyng (王金平) to be a likely contender, although he has remained tight-lipped about his intentions.
Separately yesterday, reporters asked former president Lee Teng-hui (李登輝) whether he considers Wang a good presidential candidate.
"It is up to everybody's judgement; do not get me involved in the propaganda," Lee said.
Despite his reluctance to weigh in on the matter, Lee said Wang has "qualities that a leader should carry."
Wang, thanking Lee for his positive remarks, said he that had not met with Lee for more than a year before seeing him at a conference in Taipei yesterday.
Nothing about the presidential election was discussed, Wang added.
Additional reporting by Alison Hsiao
Comments will be moderated. Keep comments relevant to the article. Remarks containing abusive and obscene language, personal attacks of any kind or promotion will be removed and the user banned. Final decision will be at the discretion of the Taipei Times.