2014 ELECTIONS: Groups urge voters to 'punish' KMT
PEOPLE POWER: Activists told a news conference that the adulterated oil scandals are yet another reason for voters to cast their ballots against the KMT on Saturday
Pro-localization groups yesterday said the growing number of food safety issues was a result of the Chinese Nationalist Party (KMT) administration's collusion with big business and they called on voters to use their ballots to punish the "black-hearted KMT."
Representative of the Northern Taiwan Society, Central Taiwan Society, the Taiwan Republic Campaign and other pro-independence groups told a news conference in Taipei that the KMT administration's rule has reduced Taiwan to "a state of utter, murky chaos."
The KMT government has tried to blame the former Democratic Progressive Party administration for the various food safety crises that have erupted since 2011, which was "unbearable," they said.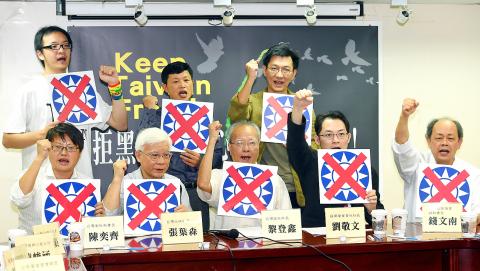 Representatives of the Northern Taiwan Society and other pro-independence groups hold a news conference in Taipei yesterday to call on voters to punish the Chinese Nationalist Party (KMT) at the ballot box on Saturday.
Photo: Lo Pei-der, Taipei Times
Statistics show Taiwan is among the nations with the highest incidence of colorectal cancer in the world, which has imposed substantial financial burdens on the National Health Insurance system, they said.
At the end of last year, an online poll of Taiwanese selected the Chinese character jia (false, 假) as word of the year, after a wave of food safety scares, and the public continues to suffer from such scandals, Northern Taiwan Society chairman Chang Yeh-sen (張葉森) said.
Saturday's nine-in-one elections are a chance for the public to punish the "black-hearted KMT" and protect the future of the nation, Chang said.
Hung Chung-yen (洪崇晏), a leader of the Sunflower movement and a member of the Taiwan Forever group, said the KMT's governance over the past year has been characterized by repeated lies, infringements on human rights, forced evacuations, the demolition of homes and the forceful seizure of land.
The unresolved labor disputes involving former freeway toll collectors and former employees of the bankrupt Hualon Corp, and the repeated instances of abuses in the military — highlighted by the death of army corporal Hung Chung-chiu (洪仲丘) last year — showed that the KMT has remained a party that does not keep its promises, Hung said.
The KMT should not be given another chance in these elections, Hung said.
Sunflower activist Yoshi Liu (劉敬文), known by his nickname Yoshi (妖西), who is also a member of the Formoshock Society, called for a boycott against all KMT candidates in Saturday's polls.
The party has been covering up for giant food manufactures, such as Ting Hsin International Group (頂新國際) and Uni-President Group (統一集團), which have been implicated in several food safety scandals in recent years and deserve to be punished, Liu said.
Voters must cast their ballots on election day to defend the nation's democracy and to let the KMT know that its stolen party assets, unearned privileges, lies and vilification of its rivals are not wanted in a democracy, Central Taiwan Society secretary-general Tung Chien-hung (董建宏) said.
Comments will be moderated. Keep comments relevant to the article. Remarks containing abusive and obscene language, personal attacks of any kind or promotion will be removed and the user banned. Final decision will be at the discretion of the Taipei Times.