Cancel rail discounts for foreigners, CY urges
TAIWANESE ONLY? Chien Lin Hui-chun said THSRC fares for the disabled, seniors and children were subsidized by Taiwanese, but made no mention of foreign taxpayers
As the Taiwan High Speed Rail Corp (THSRC) continues to struggle with years of accumulated losses, the Control Yuan has proposed making up part of the difference by canceling discounts for foreigners who are disabled, elderly or aged under 12.
Chien Lin Hui-chun (錢林慧君), a member of the government's highest supervisory body, questioned the wisdom of extending the discounts enjoyed by Taiwanese to foreigners on the 345km railway, the beneficiary of government investments and subsidies.
She said that concession tickets sold to foreigners since 2009 have cost the THSRC NT$199 million (US$6.59 million).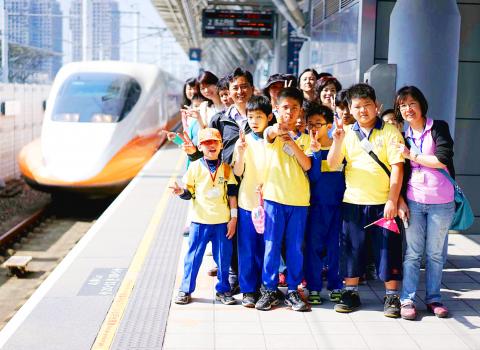 Students and teachers from Chunglin Elementary School pose for a picture at the Hsinchu High-Speed Rail Station on Thursday last week.
Photo courtesy of the Taiwan High Speed Rail Corp
The operator of the railway, which opened in 2007, had accumulated NT$53.5 billion in losses as of January, despite having started to turn a profit in 2011.
The THSRC offers the same discounts to foreigners as it does to Taiwanese: half-price tickets for the mentally or physically disabled, senior citizens and children under 12.
Chien Lin's report called for the policy to be reconsidered, saying it takes advantage of subsidies from Taiwanese taxpayers, though the report did not make any suggestions for policies on foreign nationals who legally reside, work and pay taxes in Taiwan.
The Control Yuan member also cited canceling the discounts out of the "spirit of equality and reciprocity," saying that mass transit systems in other countries, such as Japan, Hong Kong and the UK, "do not have preferential treatment for our nationals."
According to her report, the THSRC has previously defended its policy as a way to boost the nation's reputation for friendliness and attract more foreign visitors.
Chien Lin's report said in a separate section that legally mandated concession tickets on regular trains — for Taiwanese and foreigners alike — have caused the Taiwan Railways Administration losses of about NT$4.09 billion.
The Ministry of Transportation and Communications has not subsidized the rail authority's burden as it is required to, Chien Lin said.
Comments will be moderated. Keep comments relevant to the article. Remarks containing abusive and obscene language, personal attacks of any kind or promotion will be removed and the user banned. Final decision will be at the discretion of the Taipei Times.