Student accused of sexual assault
The Taipei District Court on Wednesday barred a 20-something Turkish student from leaving the country after he was accused of trying to sexually assault a Taiwanese student he met online and filming bedroom trysts with dozens of women without their knowledge.
The court also imposed a residence restriction on the man, identified by his Chinese surname, Wang (王), who was released on NT$200,000 bail after the court turned down a request from the Taipei District Prosecutors' Office to detain him on the sexual assault charge.
Prosecutors have appealed the court's decision.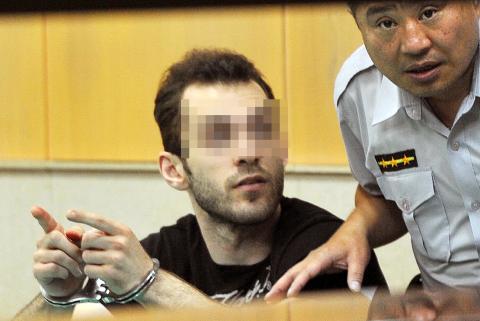 A Turkish student, left, who is accused of trying to sexually assault a Taiwanese student he met online listens during a hearing at the Taipei District Court on Wednesday.
Photo: Wang Min-wei, Taipei Times
Investigators said a female student living in northern Taiwan called the police in April, saying that Wang, whom she had met over the Internet, had asked her to meet him at an MRT station, but later "lured" her to his apartment by claiming that he had to "feed his pet rabbits."
The woman said that Wang tried to sexually assault her shortly after she arrived at his Taipei residence and that although she fought him, Wang still managed to kiss her on the lips and chest, the investigators said.
Wang yesterday denied all allegations, saying he had "stopped once the student said 'no,'" the investigators said.
After being released on bail, he said he had not ruled out taking legal action against the woman for making false accusations.
Investigators who searched Wang's residence said they found 29 video files on his cellphone and computer showing him having sexual intercourse with different women. While the women in the videos appeared to be lucid, they might have been unaware that they were being filmed, investigators said.
They said they had seized and encrypted the video files to prevent their release.
Wang said he has never forced any woman to engage in sexual intercourse and that he filmed the encounters for his own viewing, adding that he had "made copies of the tapes for the women."
To prove that his sexual activities with the videotaped women were consensual, Wang said he had had consensual sex with almost 500 Taiwanese women since he came to Taiwan four years ago.
Sources say Wang, who is studying at a private university in Taipei, was born to a Turkish father and a Canadian mother. Because of his good looks and fluency in Mandarin, he was once invited to be a guest on a Taiwanese matchmaking reality show, the sources said.
The show's production team said it had conducted strict background checks on all the guests and Wang had "seemed quite normal."
The school Wang reportedly attends said there was a junior with the same name as Wang, but it was uncertain if they were the same person.
"We will await the results of the police investigation," the school said.
Additional reporting by Lai Hsiao-tung and Wu Chih-wei
Comments will be moderated. Keep comments relevant to the article. Remarks containing abusive and obscene language, personal attacks of any kind or promotion will be removed and the user banned. Final decision will be at the discretion of the Taipei Times.