Group protests recent executions
LAW: All six prisoners were awaiting the president's decision on their pardon requests, and so they should not have been executed, a human rights advocate said
Activists opposed to the death penalty yesterday protested outside the Control Yuan in Taipei against Control Yuan President Wang Chien-shien, who had praised the executions last Friday of six prisoners.
The protesters also asked the Control Yuan to look into Minister of Justice Tseng Yung-fu's (曾勇夫) signing of the execution orders.
Holding up signs condemning executions and Wang's remarks that the execution of prisoners on death row is a manifestation of justice and that he would praise Tseng for his decision to sign the execution orders, activists called on Wang to apologize and accused Tseng of illegally executing the prisoners.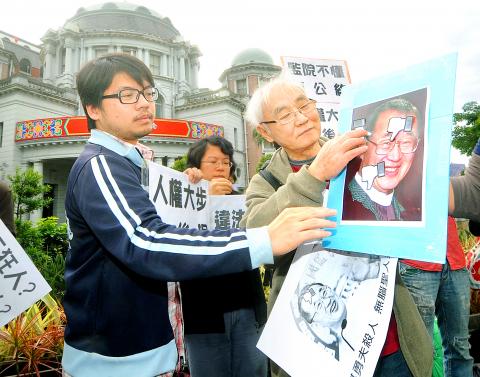 Members of the Taiwan Association for Human Rights and other human rights activists protest outside the Control Yuan in Taipei yesterday over the decision of Minister of Justice Tseng Yung-fu to allow the executions of six people.
Photo: Fang Pin-chao, Taipei Times
"It's Wang's personal freedom to support capital punishment. However, as head of the Control Yuan, he should have launched an investigation into the signing of the execution orders, instead of praising illegal homicide by the Ministry of Justice," said Kao Yung-cheng (高涌誠), an attorney and a long-time human rights advocate. "This is encourages officials to act illegally."
Kao said that, according to Article 6 of the International Covenant on Civil and Political Rights (ICCPR), "anyone sentenced to death shall have the right to seek pardon or commutation of the sentence."
"Tseng knows that all the six executed prisoners requested a presidential pardon, and the Presidential Office has also confirmed that it received those requests," Kao said. "Hence, the six should not have been executed before the Presidential Office responded, whether or not amnesty would be granted."
After President Ma Ying-jeou's (馬英九) signing and the Legislative Yuan's ratification and adoption of a law on imposing the ICCPR and the International Covenant on Economic, Social and Cultural Rights, the two international human rights covenants are granted the status of domestic laws, "thus any government official who claims that he or she is acting according to the law should act according to the two covenants as well," Kao said.
Control Yuan member Yeh Yao-peng (葉耀鵬) accepted the petition and promised to launch a probe into the ministry's administrative responsibility on the executions.
A Control Yuan staffer said that Wang is on leave and out of the country, and was thus unable to be contacted to meet with the demonstrators.
Comments will be moderated. Keep comments relevant to the article. Remarks containing abusive and obscene language, personal attacks of any kind or promotion will be removed and the user banned. Final decision will be at the discretion of the Taipei Times.