Chinese defense minister signals change in US ties
'TURNOVER': Minister Liang Guanglie said that China-US military relations had normalized after visits were post-poned in the wake of last year's arms sales to Taiwan
Chinese Minister of Defense Liang Guanglie (梁光烈) told a Pentagon press conference on Monday that there had been "a kind of turnover" in US-China military relations since Washington announced a new arms package to Taiwan in September last year.
Liang, who was speaking following meetings with US Secretary of Defense Leon Panetta and earlier in the day with Deputy Secretary of State William Burns, seemed to indicate that despite the sale, the relationship had improved.
While it is believed that arms sales to Taiwan were raised by the Chinese side at both meetings, no details were given during the joint Liang-Panetta press conference.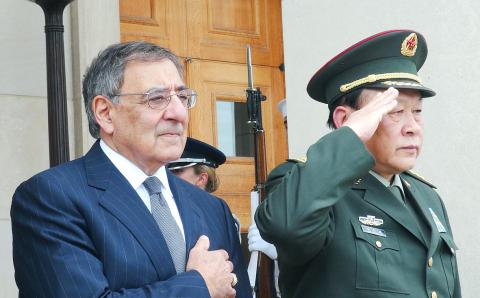 US Secretary of Defense Leon Panetta, left, and Chinese Minister of Defense Liang Guanglie take part in a ceremony at the Pentagon in Washington on Monday.
Photo: CNA
Neither mentioned Taiwan during formal opening statements.
However, in answer to one of the two questions that were allowed, Liang said: "Ever since last year — when the United States launched its new round of arms sales to Taiwan — we have postponed some of the engagement programs, including my visit to the United States and Secretary Panetta's visit to China."
"And here, I'm visiting the United States now, and I have invited Secretary Panetta to visit China later this year, which I would believe is a kind of turnover in the China-US military relationship even after the US arms sales to Taiwan," he said.
Prior to Liang's Washington meetings, US officials told the Taipei Times that they fully expected that the general would object to any future arms sales to Taiwan.
In particular, they expected him to ask for "clarification" on the recent White House promise to give "serious consideration" to selling F-16C/D aircraft to Taiwan.
Sources close to the administration of US President Barack Obama said the US would simply reply that as in the past they were obliged to fulfill their obligations under the Taiwan Relations Act.
However, what happened in the actual closed-door meetings is not known.
Panetta said his meeting with Liang had been "very productive" and that he had expressed a commitment to "achieving and maintaining a healthy, stable, reliable and continuous" military-to--military relationship with China.
"On regional security challenges, we talked about North Korea and other areas," he said.
The discussion had included maritime areas, cyberspace, nuclear proliferation and missile -defense, Panetta said.
"We recognize that the United States and China will not always agree on every issue, but we believe our military-to-military dialogue is critical to ensuring that we avoid dangerous misunderstandings and misperceptions that could lead to [a] crisis," he said.
"A positive, cooperative, comprehensive United States-China relationship is absolutely essential to achieving a secure Asia--Pacific region," Panetta said.
Liang said he had an in-depth and candid discussion with Burns on the international security situation.
He said that discussions with Panetta had been "deep" and that both sides had committed to building a sound, stable and reliable military-to-military relationship.
"The China-US bilateral relationship is on a new starting line in history to build a new type of China-US military relationship based on equality, cooperation and mutual benefit," Liang said.
He said China wanted to work with the US to "respect each other's core interests and major concerns and to properly handle disagreements and differences."
Liang is the first Chinese defense minister to visit the US in nine years.
His six-day trip, which ends tomorrow, has included stops at the San Diego naval base, Southern Command in Florida, Fort Benning in Georgia and other military sites.
Comments will be moderated. Keep comments relevant to the article. Remarks containing abusive and obscene language, personal attacks of any kind or promotion will be removed and the user banned. Final decision will be at the discretion of the Taipei Times.