Abandoning Taiwan is 'unthinkable,' ex-Obama administration official says
A former senior official in US President Barack Obama's administration yesterday downplayed arguments in favor of "abandoning Taipei" in Washington as he highlighted the importance of the US' commitment to Taiwan's security.
Taiwan's security is important for multiple reasons, because "Taiwan should not be compelled to a status against the wishes of its people" and the use of force against Taiwan by China would have "profound negative impacts" in the region, Jeffrey Bader, former senior director for East Asian Affairs on the US National Security Council (NSC), said in a speech titled: "Obama's Asia Policy" at an event held by the Taipei Forum Foundation in Taipei yesterday.
In response to a question from the audience for comment on "a school of thought" that suggested Washington should abandon Taipei in return for a better relationship with Beijing, Bader said he would call the idea of abandoning Taiwan like something from a "kids' playground" rather than something learned at "school."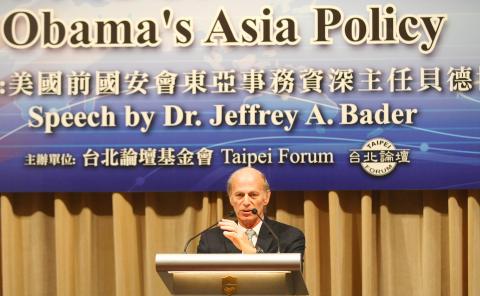 Brookings Institution senior fellow and former US National Security Council senior director for East Asian affairs Jeffrey Bader delivers a speech on "Obama's Asia Policy" at an event organized by the Taipei Forum Foundation yesterday.
Photo: CNA
"There is a pretty strong consensus" in Washington "about the importance of Taiwan — democracy, stability and the peaceful resolution [of cross-strait differences]," said Bader, who added that his view significantly reflected those of his former colleges in the NSC and the US Department of State.
The question of abandoning Taiwan is "unthinkable," he said.
Bader said Taiwan has demonstrated it is free and democratic.
"It would be completely contrary to US principles to accept the notion that free people be forced to accept a status that is not their choice," he said.
It is embodied in US law and the US-China joint communiques that Washington help ensure a peaceful resolution of the Taiwan issue, Bader said.
"Peaceful resolution means no resolution can be imposed upon the people of Taiwan contrary to their wishes," he said.
The arguments calling for the US to abandon Taiwan would also have profoundly negative impacts on the security of the region as it would "send a resounding signal" to Japan about the nature of China's rise and about the balance of forces in the region, he said.
"We [the US] spent 67 years establishing our presence in the region with the goal of protecting stability, freedom and prosperity. You can't simply remove a gigantic brick or cornerstone ... and expect security and stability will survive," he said.
Bader said the notion of abandoning Taiwan was occasionally seen in newspaper articles "by people I have never heard of."
"The nice thing in a free country is that anyone can say anything, and they usually do," he said.
Comments will be moderated. Keep comments relevant to the article. Remarks containing abusive and obscene language, personal attacks of any kind or promotion will be removed and the user banned. Final decision will be at the discretion of the Taipei Times.