NTNU students protest against overpriced meals
FOOD FUROR: Taipei City Councilor Kao Chia-yu accused the university of allowing the contractor to demand 'unreasonable' rent from the campus restaurants
Campus restaurants at National Taiwan Normal University (NTNU) sparked controversy when a group of students launched an online campaign via Facebook to protest against what they said was overpriced food and the school's refusal to meet their demands.
The three campus restaurants on Shida Road opened last year as part of a reconstruction of the university's old military training office, offering bagels, pasta, pizza and set meals costing about NT$100.
However, lunch and dinner at the campus cafeteria costs between NT$50 and NT$70.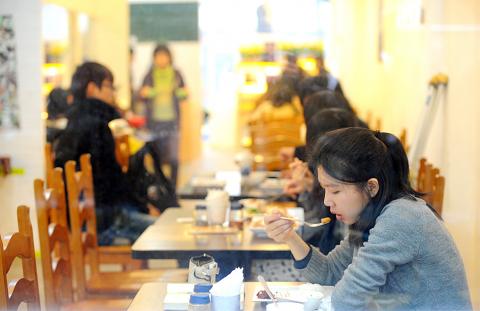 Students eat lunch at National Taiwan Normal University in Taipei yesterday. Students have launched an online petition complaining about the high cost of meals in campus restaurants which they claim is caused by unreasonable rent.
Photo: Lo Pei-der, Taipei Times
NTNU Student Association chairman Chen Yu-hsun (陳禹勳) said the campaign also challenged the school and the contractor of the renovation over what the students say is unreasonable rent that forced restaurants to sell expensive food.
"Eating at the campus restaurants is already like eating at a food court in a shopping mall. We asked restaurant owners to lower their prices, but they said the unreasonable rent they pay was the main reason behind the overpriced food," he told a press conference at the Taipei City Council building yesterday.
The university's deputy dean of general affairs, Chen Mei-yong (陳美勇), said the school had commissioned the reconstruction project and had outsourced the management of the restaurants to the contractor, Taishin Corp.
Taishin pays NT$200,000 per month to the school and leases space to the three restaurants, asking each to pay monthly rent of about NT$200,000.
Democratic Progressive Party Taipei City Councilor Kao Chia-yu (高嘉瑜) accused the university of allowing the contractor to demand "unreasonable" rent from campus restaurants, thereby exploiting both the restaurant operators and the students.
Kao urged the university to renegotiate the contract to protect the interests of students.
A manager at Taishin, Lin Kun-liang (林坤良), said the reconstruction project, which included the renovation of the old military training office and a complete redecoration of the outdoor environment, cost the company more than NT$5 million (US$169,500).
He said the company would pay a monthly subsidy of NT$40,000 to each of the restaurants, but declined to confirm whether it would consider further lowering the rent.
Chen said the university would continue to communicate with the contractor and the restaurant operators in the hope that the latter would agree to lower the price of their meals to between NT$50 and NT$70.
Comments will be moderated. Keep comments relevant to the article. Remarks containing abusive and obscene language, personal attacks of any kind or promotion will be removed and the user banned. Final decision will be at the discretion of the Taipei Times.