Politicians attend mobster's funeral
Senior politicians rubbed shoulders with mob bosses at the funeral yesterday of one of the nation's most prominent gang leaders.
The Buddhist service for Lee Chao-hsiung (李照雄), who died of liver cancer last month, was expected to attract a gathering of up to 20,000 people in Taichung, organizers said.
Taichung Mayor Jason Hu (胡志強) was among the mourners, saying his attendance was a sign of gratitude after Lee left NT$60 million (US$2 million) for charities in his will.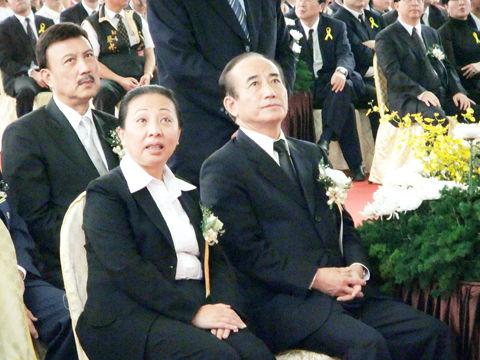 Legislative Speaker Wang Jin-pyng, right, Chiayi County Commissioner Chang Hwa-kuan, center, Democratic Progressive Party Legislator Yu Tien and other guests attend the funeral of gang boss Lee Chao-hsiung in Taichung City yesterday.
PHOTO: CNA
"I felt I had to come to express my thanks," Hu told reporters. "When the man left this world, he used this way to show his concern for society."
Legislative Speaker Wang Jin-pyng (王金平) also attended the service.
Taiwan's three main criminal organizations — the Bamboo Union, the Four Seas Triad and the Celestial Way — also sent representatives to Lee's funeral, who was the head of the Big Lake gang.
Members of Japanese gangs, dressed in black suits, were also among the guests. Gangsters from Hong Kong, Macau, Malaysia and Thailand completed the picture of a who's who of organized crime in Asia.
Dozens of police officers were stationed near the funeral venue, many equipped with walkie-talkies and cameras.
"We're here to maintain order and to collect information," said one policeman, declining to give his name.
Lee was best known for helping to negotiate the release of a number of kidnapped politicians and businessmen, including Taichung City Council Speaker Chang Hung-nien (張宏年).
Police have declined to comment on Lee's criminal record, but a source who has followed his career closely, and asked not to be identified, said Lee spent time in jail on charges of gambling and firearms smuggling.
Comments will be moderated. Keep comments relevant to the article. Remarks containing abusive and obscene language, personal attacks of any kind or promotion will be removed and the user banned. Final decision will be at the discretion of the Taipei Times.