MORAKOT: THE AFTERMATH: Kaohsiung running out of potable water: mayor
HIGH TURBIDITY Although Chengching Lake is 16.39m deep, more than a week after Typhoon Morakot struck the region, only the top 16cm is drinkable, the city said
Kaohsiung Mayor Chen Chu (陳菊) yesterday asked Minister of Economic Affairs Yiin Chii-ming (尹啟銘) to help the city resolve its water supply crisis, warning that the main reservoirs supplying Kaohsiung residents could run out of drinkable water within a day.
"I called Minister Yiin this morning and hoped he could help the city," Chen told reporters.
"Judging from the pictures of Chengching Lake [澄清湖] taken by city officials this morning, the lake could run out of [potable] water within a day," Chen said.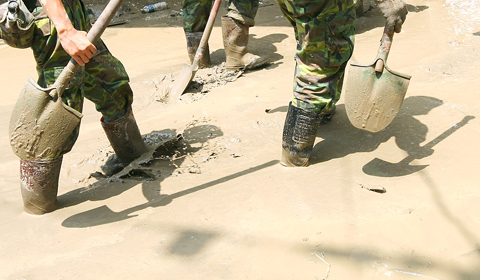 Soldiers walk through mud in Kaohsiung County's Cishan Township yesterday. Minister of National Defense Chen Chao-min has ordered that clean-up operations be completed within two days in areas where floodwaters have receded.
PHOTO: CNA
Although the lake is 16.39m deep, more than a week after Typhoon Morakot struck the region, only the top 16cm are drinkable.
Chen said the city had been helping other regions hit by Typhoon Morakot.
"Water supply is very important to residents of Kaohsiung. If the central government could resume water supply to Tainan County and other parts of the nation [while Kaohsiung City is about to run out of water], I'm afraid I cannot accept this," Chen said.
Fengshan Reservoir and the lake — the two main sources of water to the southern part of the city — are both running out of potable water, causing a water crisis in the south of the city, even as the city government struggles with similar problems in the north.
The water supply to residents in Zuoying (左營) and Nanzih (楠梓) districts was suspended for about one week because of the poor water quality in the Kaoping River.
Taiwan Water Corp said yesterday it was doing its best and hoped to resolve the crisis within three days.
Comments will be moderated. Keep comments relevant to the article. Remarks containing abusive and obscene language, personal attacks of any kind or promotion will be removed and the user banned. Final decision will be at the discretion of the Taipei Times.