Journalist accuses CHA of censorship
'NO FREEDOM OF SPEECH' Hakka freelance journalist Yeh Jih-chia had strong words to say in a video about the destruction of ancient kilns in Houlong Township
A Hakka Journalism Award recipient yesterday accused the Council for Hakka Affairs (CHA) of restricting his freedom of speech after it refused to show a recorded message about his nomination at the award ceremony.
Yeh Jih-chia (葉日嘉), a freelancer, received this year's Hakka Journalism Award for his report on the Miaoli County Government's demolition of historic kilns in Houlong Township (後龍), which was published in Hakka Magazine earlier this year.
The three kilns, torn down in January to make way for a development project, were the last kilns built during the Japanese colonial period to manufacture bricks and pottery, when Miaoli was the country's pottery production center.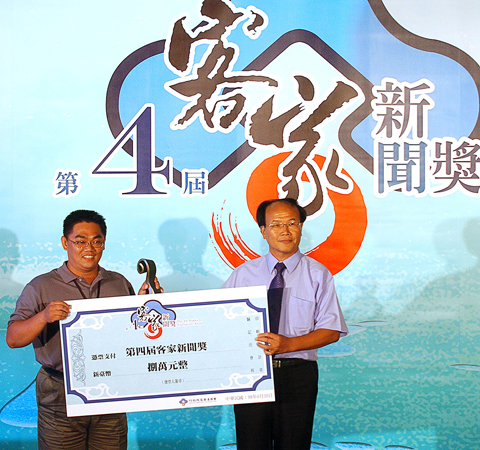 Freelance journalist Yeh Jih-chia, left, receives a check in Taipei yesterday at the Hakka Journalism Awards for his reporting on the demolition of Japanese-era kilns in Miaoli County's Houlong Township in January.
PHOTO: WANG MIN-WEI, TAIPEI TIMES
After submitting his work and receiving a nomination for the award, Yeh was asked by the council to introduce his own work and share his thoughts in a video clip.
The council has been showing video recordings by award nominees at its award ceremony since the award was first held three years ago.
As Yeh is also a member of the campaign to save the kilns, in the video clip he held up signs asking Miaoli County Commissioner Liu Cheng-hung (劉政鴻) to apologize and Miaoli International Culture and Tourism Bureau director Lin Chen-feng (林振豐) to step down.
"I sent my video on Tuesday [last week] and received a telephone call from an official asking if I could change the content because they considered it inappropriate," Yeh said after receiving the award yesterday.
"The official said they were afraid showing the video could create conflict between the council and the Miaoli County Government," he said.
"I said I wouldn't change it and it was up to them whether to show it or not," he said.
Although an independent panel of judges decided to give the award to Yeh, the council decided not to show his video, making Yeh one of only two nominees without a video presentation.
The other, Chung Chao-wen (鍾肇文), passed away before he could make a video.
"I think that the council is too conservative. It's my right to say what I want to say in my video," Yeh said. "If there are any consequences, I will take responsibility for what I say."
The council's Public Media Center deputy director, Andrew Yu (游進忠), said it was his decision to block Yeh's video.
"If we showed the video at an award ceremony organized by the council, it would be like a government organization attacking the head of another government organization — that's something we simply cannot do, otherwise we would upset people," Yu said. "There's no freedom of speech at a government agency."
Minister of the Council for Hakka Affairs Huang Yu-chen (黃玉振), who said he was unaware of the decision until told by reporters, supported Yu's decision.
Chiang Min-hsiu (江明修), dean of National Central University's College of Hakka Studies and head of the panel of judges for the award, however, disagreed.
"Whatever Yeh has to say represents only himself, not any other organization, and should be respected," Chiang said. "Especially because what he feels about the entire issue was what motivated him to write the story that won the award."
"I think the council overreacted," he said.
Comments will be moderated. Keep comments relevant to the article. Remarks containing abusive and obscene language, personal attacks of any kind or promotion will be removed and the user banned. Final decision will be at the discretion of the Taipei Times.