Cross-strait agreements pass joint review
Amid heated debate and verbal disputes, the four agreements signed by Straits Exchange Foundation (SEF) Chairman Chiang Pin-kung (江丙坤) and Association for Relations Across the Taiwan Strait Chairman Chen Yunlin (陳雲林) last month passed the Legislative Yuan's joint committee review yesterday.
During the meeting, Democratic Progressive Party (DPP) lawmakers questioned the legality of some of the clauses contained in the four agreements, which deal with direct cargo links, direct daily passenger transport links, direct mail delivery services and a joint food safety monitoring mechanism.
One of the disputes was over the issue of exemptions from income and business taxes for marine transport companies on revenues from cross-strait cargo services.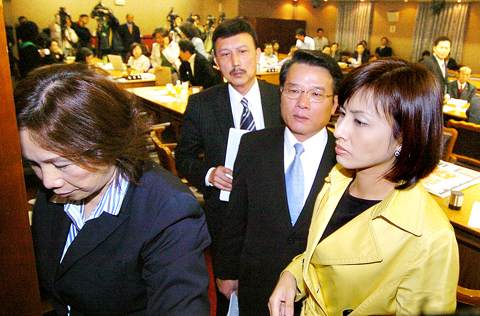 Democratic Progressive Party legislators leave a meeting to show their opposition as the legislature reviewed the four agreements signed by the Straits Exchange Foundation and China's Association for Relations Across the Taiwan Strait at the legislature in Taipei yesterday.
PHOTO: LIAO CHEN-HUEI, TAIPEI TIMES
Mainland Affairs Council (MAC) Chairwoman Lai Hsin-yuan (賴幸媛) and Vice Chairman Fu Don-cheng (傅棟成) insisted that the exemptions were legal, but DPP lawmakers challenged that view.
"Any tax breaks — including those for the automobile industry recently proposed by the government — require a revision of the tax laws," DPP Legislator Tien Chiu-chin (田秋堇) said during a question-and-answer session of a joint meeting of the Internal Administration Committee and the Transportation, Health, Environment and Labor Committee.
"Since when did the SEF become the supreme government agency that can invalidate laws just by signing agreements?" she said.
Fu argued that the Statute Governing the Relations between the People of the Taiwan Area and the Mainland Area (兩岸人民關係條例) states that special treatment may be applied to "taxations, such as tariffs."
DPP Legislator Chiu Yi-ying (邱議瑩) disagreed.
"This is not how you should interpret the statute," Chiu said, with other DPP legislators agreeing.
Chinese Nationalist Party (KMT) Legislator Wu Yu-sheng (吳育昇) then accused the DPP of technically attempting to block the agreements.
The situation worsened when KMT legislators Yang Li-huan (楊麗環) and Huang Chao-shun (黃昭順) also expressed opposition to the business tax exemption.
The committee ended up passing the direct cross-strait marine transport agreement conditionally, after promising to launch a further law revision process.
Despite questions raised by the DPP about some of the clauses in the four agreements, the agreements were all eventually passed at the meeting where the KMT held a majority.
The agreements will be sent to the legislature's General Assembly for approval today.
Comments will be moderated. Keep comments relevant to the article. Remarks containing abusive and obscene language, personal attacks of any kind or promotion will be removed and the user banned. Final decision will be at the discretion of the Taipei Times.