MAC chief praises cross-strait accords
MORe TO DO Later at the Presidential Office the president urged Chiang Pin-kung to organize a new round of talks on direct cross-strait charter flights
Mainland Affairs Council Chairwoman Lai Shin-yuan (賴幸媛) yesterday hailed the conclusion of cross-strait talks on Friday as a new page in Taipei and Beijing relations when greeting the returning delegation headed by Straits Exchange Foundation (SEF) Chairman Chiang Pin-kung (江丙坤) at Taiwan Taoyuan International Airport.<>
"Chiang met the public's expectations and successfully accomplished his tasks, opening a new page in positive cross-strait exchanges," Lai said.
During Chiang's four-day visit to China, he signed accords with his Chinese counterpart Chen Yunlin (陳雲林), chairman of China's Association for Relations Across the Taiwan Strait (ARATS), to launch weekend cross-strait flights and allow more Chinese tourists to visit Taiwan.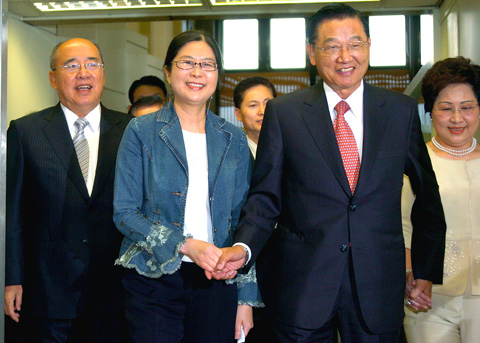 Mainland Affairs Council Chairwoman Lai Shin-yuan, second left, welcomes Straits Exchange Foundation Chairman Chiang Pin-kung at the Taiwan Taoyuan International Airport after his return from a visit to China. The two are joined by Chinese Nationalist Party (KMT) Chairman Wu Poh-hsiung, left.
PHOTO: CHU PEI-HSIUNG, TAIPEI TIMES
Chiang yesterday said he did not reach a consensus with Chen on setting up branch offices of their respective organizations in Taipei and in Beijing, as had been reported in the local media.
"Chen suggested setting up a semi-official travel agency in Taipei to help streamline the process of obtaining visas to China. I replied that I would take his suggestion back to Taipei. That's all I said," Chiang said.
Later yesterday, President Ma Ying-jeou (馬英九) received Chiang at the Presidential Office. Ma urged Chiang to organize a new round of cross-strait negotiations to reach a deal on the new cross-strait flight routes.
Taipei and Beijing agreed that weekend charter flights must fly through Hong Kong airspace instead of taking a direct route across the strait, but during the talks, Chiang suggested allowing the charter flights to fly a "direct route."
Chiang's move sparked controversy as to whether he was authorized to make the proposal as the Ministry of National Defense had expressed its opposition for national security reasons.
Ma yesterday said he backed the "direct flight" proposal.
"The shorter the flying time [between Taiwan and China], the more everyone will benefit," Ma said.
"Direct flight, new flight routes, cargo charter flights and weekday passenger charter flights should all be put on the table as soon as possible," he said.
Both sides of the Taiwan Strait agreed to establish "institutionalized" communication channels following the Chiang-Chen talks, Ma said.
"Different issues can be talked about by different groups at the same time and the talks can take place in Taiwan and in China simultaneously," Ma said. "That way, it would be faster. There are a thousand of things that remain to be done. My worry is that progress will fall behind the public's expectations."
Comments will be moderated. Keep comments relevant to the article. Remarks containing abusive and obscene language, personal attacks of any kind or promotion will be removed and the user banned. Final decision will be at the discretion of the Taipei Times.