Brown leads fight for Taiwan in US
Sherrod Brown, a Democratic member of the House, is the leading supporter in Congress of Taiwan's bid for observer status in the World Health Assembly. For several years he has introduced legislation pushing the White House to find a way to secure Taiwan's participation. This year, as in the past, such bills were approved by both the House and Senate. Brown, a 50-year-old sixth-term congressman, is also one of four co-founders of the Congressional Taiwan Caucus, which was created in April last year to promote Taiwan's interests among US lawmakers. This week, Brown spoke in Washington with `Taipei Times' staff reporter Charles Snyder about the work of the caucus and the role of Taiwan issues in Congress
Taipei Times: The Congressional Taiwan Caucus is just over one year old. How do you assess the accomplishments of the caucus so far? \nSherrod Brown: The accomplishments are several. One is we have 118 members; that's more than one fourth of the House. It's bipartisan, about half and half. They have coalesced around the WHO [World Health Organization] bill, which we've passed without opposition. They have been active in speaking out on democracy issues and Taiwanese issues. And, the fact that there are four founders, two of each party, allows us to do a lot of things in a versatile way \nTT: What would you say is the biggest success so far? \nBrown: The biggest success is that this caucus has grown faster than any one I've known of on the hill. This was formed only a year ago and has that many members. A caucus like the India Caucus, which was fairly influential, took several years to get to that size. I think that's reason for optimism. \nTT: Overall, as you look at Congress as a whole, how would you rate Congress' commitment to supporting Taiwan in its fight for greater recognition internationally and in the US? \nBrown: I think that the Congress is supportive to a point. Few Republicans are willing to stand up to President [George W.] Bush, to push him harder on support of Taiwan. Too many members of Congress are cowed by the Chinese government and the Chinese presence. You know, it's a country of a billion plus people, for sure. But it's also a nation that can't hold a candle to the democracy of Taiwan. I'm disappointed that more members of Congress don't stand up to China on human rights. But I also think a lot of members of Congress celebrate the miracle of Taiwan, the democracy of Taiwan and the growing prosperity in Taiwan. \nTT: Do you think the caucus stands a chance of turning some of these congressmen around? \nBrown: The caucus does matter. In particular, the four founders are the most active. There are other active members, too. But the four of us are speaking for Taiwan and calling on each other when we need assistance on something, and I think the caucus does, over time, really begin to move people into more support for Taiwan. There are more "dear colleague letters" going out, there's more information out there, there's more recognition of Taiwan, there's more attention paid to Taiwan. \nTT: You've been the leading congressmen in support of Taiwan's observer status in the World Health Assembly, but you've also been critical of the administration's efforts in the past to push that. How do you think the administration did this year? \nBrown: I think the administration did better this year. Every year, through [former president Bill] Clinton and Bush, we've seen a baby step, and this year is no exception. I was hoping, because of SARS, that we would see something more than that. And while I was pleased with what [Health and Human Services] Secretary [Tommy] Thompson did, and I don't want to understate that, I would hope in the future we could see a few giant steps and not just baby steps in terms of assisting Taiwan. \nTT: In a statement signing the bill this year, the president seemed annoyed at Congress' demand for a report on the administration's actions, saying he would not disclose certain information. How do you assess that? \nBrown: This is an administration that trades in secrecy. It rarely tells the American people or Congress [what] it doesn't want to tell us, what happened Sept. 11; it doesn't much want to tell us what happens in its trade negotiations, and it doesn't really want to report to Congress the moves toward democracy in China, if there are any, and especially doesn't want to share with us its efforts or what it's doing on Taiwan. I don't think it's doing enough. While I applaud Secretary Thompson's efforts, I think the Bush administration itself, the White House itself, is dragging its feet. \nTT: Do you think that's because of pressure from China? \nBrown: I think it's because of pressure from China and corporate America, which are joined at the hip. \nTT: On the World Trade Organization, I understand the caucus is preparing a letter or thinking of preparing a letter to Director-General Supachai [Panitchpakdi], complaining about his campaign to lower Taiwan's status in the organization. Did you send that letter, or do you expect it to be sent, or have you heard any indication that he might step back? \nBrown: We haven't heard. I don't know. \nTT: And the letter has not been sent yet? \nBrown: It has not been sent yet. \nTT: The Senate has shown itself less committed to Taiwan than the House in the past, having overridden House legislation to increase military cooperation with Taiwan and pass the Taiwan Security Enhancement Act. Do you have any indication that this might be changing, perhaps because of the work of the Taiwan Caucus in the House? Perhaps including the creation of a Senate version of the caucus? \nBrown: I have no way of knowing about a Senate version of the caucus, but I do think the Senate is slowly paying attention to Taiwan. The Senate never responds to the public as quickly as the House does. And I think this is another example. There is a significant number of Taiwanese-Americans living in most congressional districts. And we've heard from our constituents. And the House members tune in to that public interest more quickly than do Senate members, and I think that's probably the lag time there. \nTT: This week, House Majority Leader Tom Delay mounted what seemed to be a strong attack on the "one-China" policy in a speech to the American Enterprise Institute, a day after the president reiterated the policy in his meeting with Hu Jintao (胡錦濤). Do you think this might be the beginning of a House drive to end or modify the "one China" policy? \nBrown: No. I don't see a Republican House pushing the Bush administration very hard on this. They've never stood up to the Bush administration on any foreign policy that I know, and I would be shocked if there's any major departure from what Bush wants on this. \nTT: Let me ask you a personal question. What has driven you to be such a big booster for Taiwan and its WHA participation? \nBrown: First of all, I've done health care for years, and I am an internationalist in my outlook, and I've seen that this is a country of 23 million people. And I'm interested in human rights everywhere. This is a simple way, by including them in the WHA and ultimately integrating them into other UN organizations. This is an easy way to bring human rights to that nation of 23 million people, and it's such an obvious thing to me. \nI'm very involved in international infectious diseases, and tuberculosis, and AIDS and malaria. Taiwan has been a miracle in so many ways in combating those diseases. I mean, they've had trouble with SARS. That's partly because of some mistakes they've made, but it's largely a mistake China made, and it's a mistake the world made that Taiwan is not with China and every other country in the WHO. But, it's a human-rights issue to me that's so clear-cut.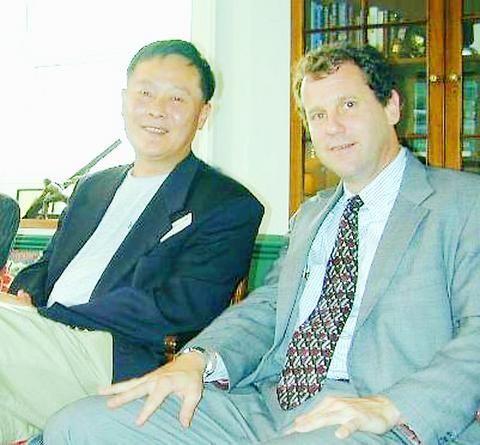 US Democratic Congressman Sherrod Brown, right, sits with Chinese dissident Wei Jingsheng in this file photo.
PHOTO: COURTESY OF SHERROD BROWN
Comments will be moderated. Keep comments relevant to the article. Remarks containing abusive and obscene language, personal attacks of any kind or promotion will be removed and the user banned. Final decision will be at the discretion of the Taipei Times.