Mitch Atkins leads Lamigo Monkeys with three-hit gem
Mitch Atkins tossed seven innings of two-run ball in a three-hit gem, while Yu Teh-lung drove in a run on a two-for-four effort as the Lamigo Monkeys bounced back from a tough loss on Thursday night with a 3-2 win over the Uni-President Lions at the Taoyuan International Baseball Stadium last night to improve to a 35-22 mark for the year.
It was a huge win for the Primates, considering they had been roughed up by the EDA Rhinos the night before in a 9-3 rout.
Even though the margin of victory yesterday was less than the usual five or six-run average, skipper Hung Yi-chung savored it just the same.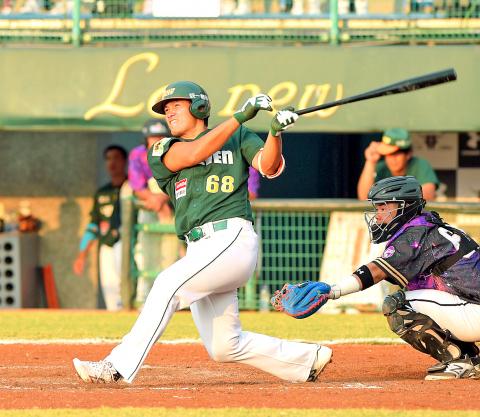 Uni-President Lions first baseman Kao Kuo-ching, left, keeps his eye on the ball after a hit during their game against the Lamigo Monkeys at the Taoyuan International Baseball Stadium last night.
Photo: Wang Min-wei
"We needed a big showing to get ourselves back on the winning track, and that was exactly what we got tonight," Hung said after the game.
His troops shook off a resilient Lions squad, who overcame two one-run deficits before giving up the go-ahead run in the bottom of the seventh.
"[Yu's] leadoff single in the seventh really was a big boost for our confidence," Hung said.
Yu's big hit off Lions starter Doug Mathis in the seventh set up Lin Chih-sheng's go-ahead sacrifice fly two batters later.
Otherwise, Mathis had a solid game with three allowed runs (only two earned) on five hits over 6-2/3 innings, but fell victim to an anemic Lions offense, who were held to three hits by Atkins, not to mention four errors by the Lions defense that led to one unearned run for the Monkeys in the bottom of the second.
Other than Atkins' outstanding effort that earned him his fifth win of the year, the Lamigo bullpen also dominated the Lions hitters, with Huang Wei-sheng and Chen Yu-hsun pitching a perfect eighth and ninth respectively to deny the Lions offense any chance of a comeback.
Huang was credited with his ninth hold of the season, while Chen picked up save No. 4 for the season.
In games today, the Primates face the Cats this afternoon in the second game of their three-game home stand in Taoyuan, while the Chinatrust Brothers host the EDA Rhinos at the Taipei Tianmu Baseball Stadium.
The opening pitch is scheduled for 5:05pm in both games.
Comments will be moderated. Keep comments relevant to the article. Remarks containing abusive and obscene language, personal attacks of any kind or promotion will be removed and the user banned. Final decision will be at the discretion of the Taipei Times.