FEATURE: CS Santosh proves there is more to India than cricket
Born in Bangalore, India, among the mangos of his wealthy family's plantation, Santosh Chunchunguppe Shivashankar's interests should naturally have turned toward cricket: the national sport.
However, the 31-year-old — better-known as CS Santosh — is instead discovering the dangers of fesh-fesh as the first Indian to compete in the gruelling Dakar Rally.
"I tried badminton, golf, tennis, cricket, but I just couldn't stick to it. And then it was the motorbike, and that was it. For me it's destiny," CS Santosh said.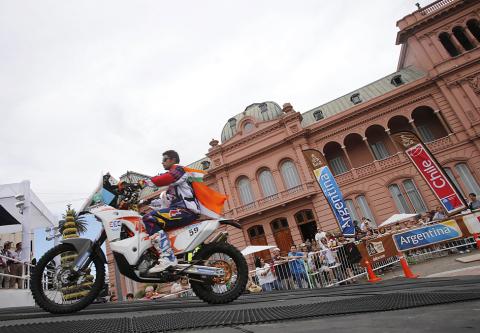 CS Santosh of India rides his KTM past La Casa Rosada presidential office in Buenos Aires on Saturday during the departure ceremony for the Dakar Rally.
Photo: Reuters
Far from his family's mango and perfume business, CS Santosh has been battling one of the most treacherous traps of the world of rallying: fesh-fesh, a clay as fine as flour that gets everywhere and suffocates a vehicle's engine.
He fought through this perilous dust to finish 50th in the second stage in Argentina — described as "torture" by Spanish race leader Joan Barreda Bort — and was 53rd overall going into yesterday's fourth stage through Chile.
CS Santosh had sacrificed everything to follow his passion for motorcycling, giving up his studies and persevering after a life-threatening accident.
"It was my first rally, in 2012, in Abu Dhabi," he said. "I was on the floor, gasoline was leaking and suddenly everything was on fire."
Suffering third-degree burns, he was transported by helicopter to hospital and today still bears the scars, largely on his neck.
However, the accident did not snuff out the triple Indian rallying champion's passion and he has competed in the toughest races the sub-continent has to offer.
He raced twice in the Raid De Himalaya, winning in 2012, and won the Desert Storm rally in Rajasthan last year.
Master within his borders, he then competed in the World Cup rally, which had three stages last year: Morocco, Abu Dhabi and Qatar.
In Abu Dhabi, he made it into the top 10, finishing ninth overall.
Competing in the Dakar Rally is CS Santosh's ultimate dream.
"It's just a dream for me, the first time I saw those images on TV, I just told myself: 'You have to do it one day.' It's like the Everest of rallying," he said.
"At home, we all ride motorbikes, to commute. That's why my dad bought me one, but I also went on to compete, which is something else," CS Santosh said.
"I had never imagined doing the Dakar. Offroad rallies are more than racing so the Dakar is the ultimate adventure," he added. "What worries me about the Dakar is the uncertainty. I really can't predict what can happen. The best thing is to try and adapt, and try to bring it home every day."
"Nevertheless, my goal is to make it in the top 20. I hope that the fact I'm the first Indian to do it will open the eyes of many people," CS Santosh said.
"Rallying is getting bigger in India, and there are more and more people riding motorbikes. If I do well, it'll show that there isn't only cricket in India," he added.
In the meantime, the KTM rider's short-term goal is simple: "I just want to be back at the bivouac every evening and I want to see Buenos Aires again, in 11 days."
Comments will be moderated. Keep comments relevant to the article. Remarks containing abusive and obscene language, personal attacks of any kind or promotion will be removed and the user banned. Final decision will be at the discretion of the Taipei Times.