Indians, insects defeat Yankees
FIREWORKS FIZZLE A day after Cleveland pounded out a 12-3 win, the Tribe's Fausto Carmona and New York's Andy Pettitte put the series spotlight on pitching
Helped by a freakish invasion of gnats that unsettled New York's rookie reliever Joba Chamberlain, Cleveland rallied to beat the Yankees 2-1 in 11 innings on Friday to take a 2-0 lead in their American League division series.
The best-of-five series will now move to Yankee Stadium for two matches, with the home side needing to win both to force a fifth game and retain hope of reaching the American League championship series.
New York went ahead in the second inning through Melky Cabrera's solo home run and held that advantage until Cleveland levelled off Chamberlain in the gnat-infested eighth.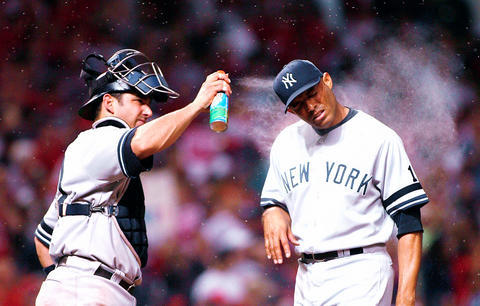 New York Yankees catcher Jorge Posada, left, sprays bug repellant on relief pitcher Mariano Rivera as gnats swarm the pitcher's mound during Game Two of their American League Divisional Series against the Cleveland Indians at Jacobs Field on Friday in Cleveland, Ohio. The Indians won 2-1 in 11 innings.
PHOTO: AFP
In the bottom of the 11th, Kenny Lofton walked on four pitches against Luis Vizcaino and Franklin Gutierrez singled.
Casey Blake moved the runners up with a bunt before Grady Sizemore walked to load the bases.
Asdrubal Cabrera popped up in front of the plate to make it two outs before designated hitter Travis Hafner took a full count off Vizcaino before lining a shot to right-center to score the winning run.
A day after the Indians slugged their way to a 12-3 win, Fausto Carmona and the Yankees' Andy Pettitte put pitching back into the series.
Game 3 will see Jake Westbrook trying to pitch Cleveland to a sweep against veteran Roger Clemens.
Red Sox 6, Angels 3
In Boston, a Manny Ramirez home run with two outs in the ninth inning gave Boston a 6-3 win over the Los Angeles Angels and a 2-0 lead in their division series.
The Red Sox had earlier tied the game at 3-3 thanks to a front-row home fan who caught a tipped foul as it was falling into the glove of the scrambling Angels catcher Jeff Mathis. That prevented a third out in the fifth and Boston capitalized by getting the tying run later in the inning.
With that scoreline holding until the bottom of the ninth, Julio Lugo singled off losing pitcher Justin Speier and advanced to second as Dustin Pedroia grounded out at first.
Francisco Rodriguez relieved and struck out Kevin Youkilis, then intentionally walked David Ortiz -- his fourth walk of the game -- in the hope of retiring Ramirez and ending the inning.
"You've got pick your poison with those guys," Angels manager Mike Scioscia said.
But Ramirez, who is coming off the worst offensive full season of his career, hit a 1-0 pitch over Fenway Park's Green Monster outfield wall and the seats behind it. It was his 21st postseason home run, one behind Bernie Williams' career record.
It was Boston's eighth consecutive postseason victory over the Angels, who blew a 3-1 lead in the 1986 AL championship series and got swept in the division series of 2004 when the Red Sox ended championship drought that had lasted 86 years.
Red Sox veteran Curt Schilling will face the Angels' Jered Weaver in Game 3 in Anaheim.
Comments will be moderated. Keep comments relevant to the article. Remarks containing abusive and obscene language, personal attacks of any kind or promotion will be removed and the user banned. Final decision will be at the discretion of the Taipei Times.