Lenny Wilkens a breath of fresh air
NATIONAL BASKETBALL ASSOCIATION The NBA's winningest coach has brought a skill set to New York that the Knicks deperately need -- and he does it with class
He has been acknowledged for possessing a special trait: grace under pressure. The image of Lenny Wilkens, the old (at 66) new New York Knicks coach, is just that: stoic as a statue. On the sideline during a game, his seemingly calm but mindful eyes and expressionless face above his knotted tie and natty suit are unchanging whether the whistle is for or against his team, whether the scoreboard shows his team losing or winning. \nHe's up on his feet, prowling the alley in front of the bench, sometimes crossing his arms to indicate his mood has changed. But scream, bellow, kick a chair or pound a scorer's table? Never. Not Cool Hand Lenny. \nBut from where, one wonders, has this apparently placid persona derived? \nIt might have been that day at the basketball court at PS 35 in Bedford-Stuyvesant, Brooklyn. Little Lenny Wilkens, not yet grown to 6 feet 1 inch and so skinny he might have fit through a picket fence, was playing ball with some friends. The game was abruptly interrupted by a gang wielding zip guns, knives and tire irons. \n"I realized I couldn't panic," Wilkens said Friday morning, hours before his debut as the Knicks' coach in Madison Square Garden against Seattle. "If I ran or even tried to fight back, I knew one of two things would probably happen: I'd get a good butt-whuppin', or I'd get killed. I thought, `If I stay calm, maybe I'll find a way out.'" \nIt turned out that one of the gang recognized Wilkens as another gang member's cousin. They departed, leaving Lenny and his pals shaken but in one piece. \n"You remember things like that; those things help," Wilkens said. "I found that it was better to keep your composure than lose it. As a player it helped, and as a coach it's helped for me to be in control of me." \nWhat goes up ... \nIn his first year in the National Basketball Association, however, as a first-round draft pick by the St. Louis Hawks in 1960, Wilkens remembers disputing a referee's call and throwing the ball into the air. \n"`Rookie,'" he recalled the referee, Bob Duffy, telling him, "`if that ball comes down, you'll get a technical and a fine.'" \nWilkens said: "The fine for a technical in those days was US$25. I tried to catch the ball before it landed, but didn't." \nHe said he learned two things: "Why blow US$25 when I didn't have to, and I hurt the team with the technical." \nBut Cool Hand Lenny still had something to learn about temperament. In the 1978-1979 season, when he guided Seattle to an NBA title, Wilkens recalls getting about eight technical fouls. "But one resulted in me being thrown out of a game," he said, "and we won that one." \nDespite the cheerful result, Wilkens has not duplicated it. That is the only time he has been tossed from a game in his 30-year coaching career with Seattle, Portland, Cleveland, Atlanta and Toronto, and two games with the Knicks. He has won -- and lost -- more games than any other coach in NBA history, and was inducted into the Hall of Fame as both a coach and a player. \nThe Einstein of hoops \nWhat you don't see but can almost hear as Wilkens paces the sideline is the whirring of his brain. Someone in the NBA has said that Wilkens runs only eight or nine plays, and always has. If that's true, it's reminiscent of something Einstein said: "Everything should be made as simple as possible, but not simpler." \nWilkens said: "I run plays that I have to run depending on the personnel. I don't fit them to my style. I fit my style to them." \nEven as a player, he was creative with his abilities. Some years back, when both Wilkens and Walt Frazier were retired as players, I was going to do an article on Wilkens. I asked Frazier, who had often guarded the left-handed Wilkens, if he had a question for him. \n"Yeah," he said. "Ask him this: How was it that I always knew he was going left, but he always suckered me in?" \nWilkens pondered the question for a moment. "Well," he said, "he always knew I was going left, but he never knew when." \nSome have been critical of the Knicks' hiring of Wilkens, saying his manner is too mild to light a fire under the players. \nThe sense in New York is that Wilkens understands clearly, as always, what it takes to unequivocally get his points across to a player, and that the Knicks' main man, Stephon Marbury, hungry to prove himself a winner in his hometown and a point guard like Wilkens, will embrace him. And as Marbury goes, so go the Knicks. \nWilkens surely knows that little will happen overnight. Some 20 years ago, I was with him in Los Angeles when he ran into his old friend Rodney from Brooklyn. \n"Lots of teams going good this year: LA, Philly, Boston, Phoenix," his friend said. "Won't be easy." \n"Rodney," Wilkens replied, "when was it ever?"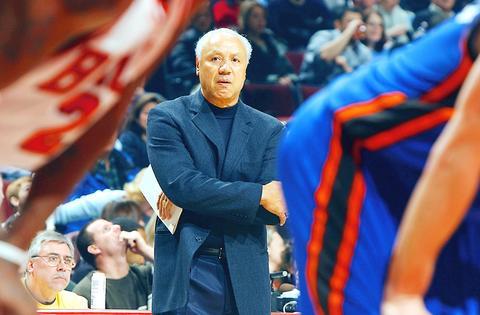 Lenny Wilkens, the new head coach of the New York Knicks, watches the action Friday at the United Center in Chicago, Illinois, as the Knicks take on the Chicago Bulls.
PHOTO: AFP
Comments will be moderated. Keep comments relevant to the article. Remarks containing abusive and obscene language, personal attacks of any kind or promotion will be removed and the user banned. Final decision will be at the discretion of the Taipei Times.