AC Milan wins
CHAMPIONS CUP Winner in 1963, 1969, 1989, 1990 and 1994, the team edged out 27-time Serie A champions Juventus in a shootout where five penalties were missed
Juventus may be the record-breaking Italian champion. \nAC Milan is Italy's king of the Champions Cup. \nAndriy Shevchenko stroked home the winning spot kick as Milan won its sixth Champions Cup title on Wednesday by beating Juventus 3-2 in a penalty shootout after a 0-0 tie in extra time. \nWinner in 1963, 1969, 1989, 1990 and 1994, Milan edged the 27-time Serie A champion in a tense shootout in which five penalties were missed. Only Spain's Real Madrid with nine has won more titles. \nDespite no goals in 120 minutes of soccer at a first ever all-Italian final, the atmosphere at Manchester United's Old Trafford was red hot as the match went into a penalty shootout in front of the Juve fans. \nJuventus' French striker David Trezeguet was first up but his spot kick was saved by Dida. Serginio, Dida's Brazilian countryman, then put Milan 1-0 ahead. \nAlessandro Birindelli hit the target for Juve and it stayed 1-1 as Clarence Seedorf, bidding to win the title with three different teams, saw his spot kick brilliant turned away by Gianluigi Buffon in the Juve goal. \nDida then saved from Uruguayan forward Marcelo Zalayeta but Buffon blocked a penalty from Kakha Kaladze with his legs. \nAnother Uruguayan, Juve defender Paolo Montero was next to miss as Dida again blocked his kick with his legs before Alessandro Nesta coolly fired his penalty past Buffon to put Milan 2-1 ahead. \nAlessandro Del Piero made it 2-2 with a low shot and it was down to Shevchenko, the Ukrainian chasing his first major honor with the Rossoneri. \nFacing the Juve fans, he took a long, confident run and drove the ball past Buffon before running to Dida so their could share their celebrations. \n"I felt a lot of pressure when I moved to kick the decisive penalty," the Ukrainian said. "I tried to keep calm and win the duel with Buffon. I daren't miss it. \n"It was the most important goal in my career, and my most important trophy ever," Shevchenko said. "For me it's a dream after a season plagued by injuries. It was a happy end. Now I feel exhausted." \nSeedorf, the Dutch midfielder, who had previously won with Ajax Amsterdam in 1995 and Real Madrid in 1998, was in tears after the game despite the latest of his triumphs -- all achieved against Juventus. \n"I'm so so happy, it's incredible, wonderful," an emotional Seedorf said before receiving his third winners medal. "The atmosphere -- it has been a great spectacle. \n"I think at the end we deserved to win. The whole championship, we did great, great job." \nMilan captain Paolo Maldini, whose father lifted the same trophy 40 years ago at Wembley, collected his fourth winner medal in six finals. \n"The joy for tonight's victory is unbelievable," he said. "It was a great emotion 13 years after my first successful final with AC Milan. It's my first Champions Cup as captain and it was the greatest emotion ever. \n"I'm just really proud and happy to be the captain of the team. It's a dream come true in Manchester. It feels like it was the first time it's the sixth time but it feels like it is the first. I feel a deep joy. \n"It is so beautiful. It is a great honor that the name Maldini is linked to AC Milan." \nMilan's triumph also meant that coach Carlo Ancelotti had also won the title as a player and a manager. \n"The joy, the satisfaction of winning the cup is the very same, as a player and as a coach. I think we deserved it," he said. \nIt was the third time in a row that two-time winner Juventus had lost in the final and, for Lippi, who was in charge each time, it hurt even more. \n"It's really bad, it went bad, then with the injuries, everything went wrong, the whole evening went wrong," he said. "It's terribly bad, we are disappointed. \n"We are not losers in the national championship but, in the Champions League, I don't know if we are. We have won so many exceptional matches, I don't think we can be considered losers." \nMidfielder Gianluca Zambrotta said it was hard to watch his teammates miss penalties. \n"When you lose after penalty kicks, it hurts a lot," he said. "For some of our team it was the third loss in a Champions Cup final, so it was additionally bitter. We trained penalties before the final, but emotion plays a big role at the end of the match." \nMilan created the better chances in the first all-Italian final in the 48-year history of the competition and, although Shevchenko had a goal disallowed and Buffon made a stunning save from Filippo Inzaghi, Juventus held on to force extra time before 63,000 fans at Old Trafford. \nItalian champion for the last two seasons, Juventus faced Milan without influentual Czech midfielder Pavel Nedved, who was suspended having collected three yellow cards in the competition. \nWithout his runs and all-round midfield energy, Juventus lacked midfield urgency and Milan had three good scoring chances in the first 45 minutes. \nFew chances were created in the extra 30 minutes although Del Piero should have done better with four minutes.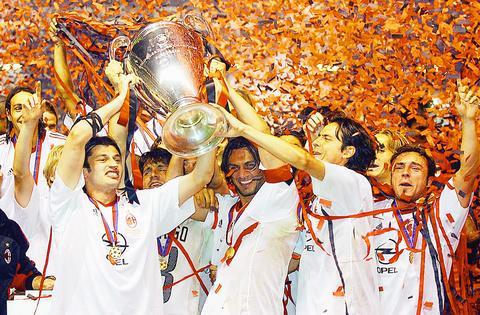 Milan AC players jubilate with the cup after winning the European Champions League Final match against Juventus, in Manchester, England, on Wednesday.
PHOTO: AFP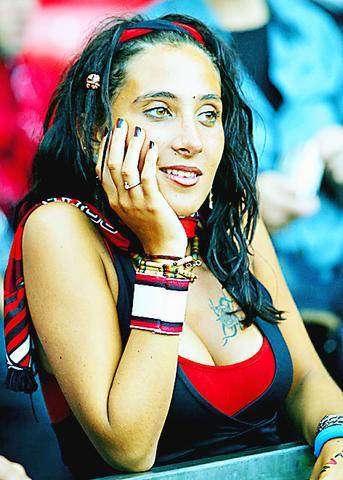 An unidentified AC Milan fan waits for the start of the UEFA Champion's League final to begin on Wednesday.
PHOTO: AP
Juventus' captain Alessandro Del Piero, left, kicks the ball in front of Milan AC defender Kakha Kaladze during their European Champions League final.
PHOTO: AFP
Comments will be moderated. Keep comments relevant to the article. Remarks containing abusive and obscene language, personal attacks of any kind or promotion will be removed and the user banned. Final decision will be at the discretion of the Taipei Times.