DPP wrangles over Hsinchu mayor
INFIGHTING Several Hsinchu DPP members said the mayor, who has been indicted for corruption, should be barred from running for a second term. The party's leadership disagreed
The DPP's Hsinchu City chapter appealed to the party's headquarters yesterday to prevent Hsinchu Mayor Tsai Jen-chien (蔡仁堅) from running for a second term -- a move that was flatly rejected by the party's Central Standing Committee. \n"A verdict has not even been made by the court in Tsai's case. Besides, it is not within the local chapter's authority to get involved in the mayoral election," Hsu Yang-ming (許陽明), party deputy secretary-general, said at a press conference yesterday. \nHsu added that the party's Central Standing Committee would send a letter admonishing the Hsinchu chapter for stepping out of bounds. \nTsai was charged on Saturday for forcing United Microelectronics Corp (聯電) to contribute NT$3.9 billion in so-called "community development fees" to a city fund set up in 1999 to aid local construction projects. \nProsecutors are seeking a two-and-a-half year sentence for Tsai. \n"The indictment against Tsai has damaged the party's reputation," argued Yang Lung-yuan (楊隆源), director of the DPP's Hsinchu chapter, who endorsed yesterday's appeal along with six other members. \n"We urge the central party headquarters to review Tsai's qualifications for participating in the party's primary," said Yang. \nBut Yang added that it was up to the party's central review committee to decide whether Tsai should have his party membership suspended, be expelled or be given an oral warning. \nYang also said that the central headquarters had the option to sit back and do nothing until the outcome of Tsai's case was determined. \nTsai, in response to the appeal, expressed his regret over the matter but refused to comment further. \nHsinchu Deputy Mayor Lin Cheng-chieh (林正杰) said yesterday's appeal was "related to local infighting within the party, especially as Tsai's rival Cheng Cheng-tsung (鄭正宗) was among [those that made the appeal]." \nOther DPP officials said the move was meant to "embarrass Tsai." \nMeanwhile, the DPP's Justice Alliance faction (正義連線) yesterday recommended the renowned baseball pitcher Chen Yi-hsin (陳義信), who joined the party last May, to run as a candidate in legislative elections at the end of this year. \nChen, accompanied by faction leaders Yu Cheng-hsien (余政憲) -- nicknamed the "baseball commissioner" -- and Kao Chih-peng (高志鵬), paid a visit to party Chairman Frank Hsieh (謝長廷) and Secretary-General Wu Nai-jen (吳乃仁). \nYu and Kao believe that Chen's fame will help him win office and help the party win votes from Aboriginal groups. \n"Even if Chen is called up to run as the party's candidate, it will still be a tough battle," Hsieh told Chen yesterday morning. The DPP has long had a low support rate among Aboriginal groups. \n"I will do my best," Chen responded. \n"Chen's nomination would become possible if no one is interested in registering [during the primary] since our party will have only one nominee," Liu I-te (劉一德) said. Liu added there was a great possibility that this would happen but it was still too early to tell.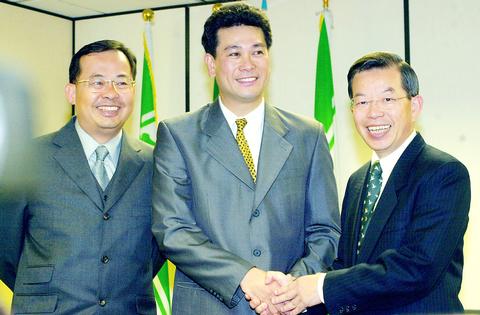 Retired baseball star Chen Yi-hsin, center, accompanied by his fan Kaohsiung County Commissioner Yu Cheng-hsien, left, yesterday visited DPP Chairman Frank Hsieh. Chen revealed that he might run in legislative elections at the end of the year.
PHOTO: CHEN CHENG-CHANG, TAIPEI TIMES
Comments will be moderated. Keep comments relevant to the article. Remarks containing abusive and obscene language, personal attacks of any kind or promotion will be removed and the user banned. Final decision will be at the discretion of the Taipei Times.