Facebook announces steps to clamp down on misinformation ahead of 2020 election 防假新聞操縱二○二○年大選 臉書宣布反制措施
Facebook has announced steps to combat misinformation and voter suppression ahead of the November 2020 US presidential election, on the same day it disclosed the removal of a network of Russian accounts targeting US voters on Instagram.
Facebook said on Oct. 21 it would increase transparency through measures such as showing more information about the confirmed owner of a Facebook page and more prominently labeling content that independent fact-checkers have marked as false.
The social media giant has come under fire in recent weeks over its policy of exempting ads run by politicians from fact-checking, drawing ire from Democratic presidential candidates Joe Biden and Elizabeth Warren.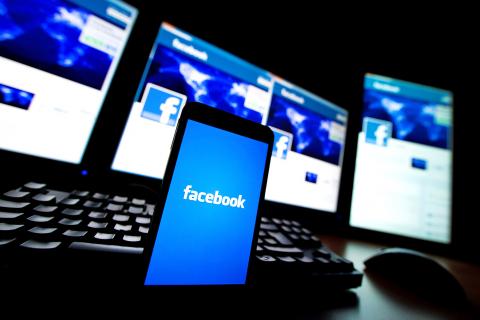 The loading screen of the Facebook mobile phone app is pictured in Lavigny, Switzerland on May 16, 2012. 臉書應用程式之登入頁面。二○一二年五月十六日攝於瑞士拉維尼。
Photo: Reuters
照片:路透
Two weeks ago, Facebook CEO Mark Zuckerberg defended the policy, saying social media had introduced transformative avenues for speech that should not be shut down.
That same day, the Biden campaign called for the removal of an ad run by a super PAC campaign group that it said contained false claims about the former vice president.
Katie Harbath, Facebook's head of global elections policy, said in response that if the now inactive ad ran again, it would be sent to Facebook's third-party fact-checkers.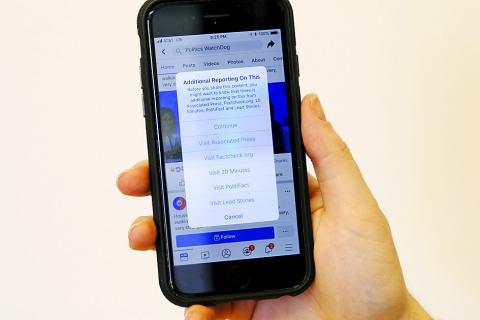 In a May 28 photograph, a smartphone shows a Facebook notice that states additional reporting is available regarding a doctored video, which showed House Speaker Nancy Pelosi appearing to slur her words in San Francisco. 智慧型手機螢幕顯示臉書通知,先前所發布的一段經篡改而使眾議院議長南希‧裴洛西像在舊金山毀謗人的影片,還有其他相關的報導。攝於五月二十八日。
Photo: AP
照片:美聯社
On Oct. 21, Facebook said would be putting into effect its planned ban on paid ads that tell people in the US not to vote. Zuckerberg told reporters on a conference call that the ban on voter misinformation would also apply to ads run by politicians.
The company will start labeling state-controlled media on its page and in the site's ad library. In a blog post, Facebook said it planned to expand this labeling to specific posts on both Facebook and Instagram early next year.
Facebook, Twitter and YouTube, the video-streaming service of Alphabet's Google, all recently came under scrutiny after showing ads from Chinese state-controlled media that criticized Hong Kong protesters.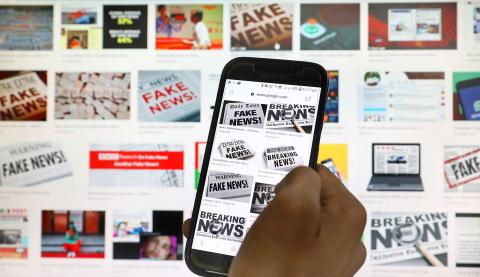 A person scrolls the screen of a mobile phone while loading information on how to counter fake news in New Delhi, India, on May 2. 手機使用者滑動螢幕,載入「假新聞」反制資訊之頁面,五月二日攝於印度新德里。
Photo: EPA
照片:歐新社
This month, the Senate committee investigating Russian interference in the 2016 US election said that the Kremlin's best-known propaganda arm increased its social media activity after that vote. "The bottom line here is that elections have changed significantly since 2016 and Facebook has changed too," Zuckerberg said on Oct. 21.
"We face increasingly sophisticated attacks from nation states like Russia, Iran and China, but I'm confident we're more prepared."
Theories that China has interfered in US elections are absurd and laughable, said Chinese Foreign Ministry spokeswoman Hua Chunying at a regular press briefing in Beijing on Oct. 22. If someone says China interfered in the US election, they should provide proof, said Hua. China has never had any interest in interfering with other countries' internal affairs, she said.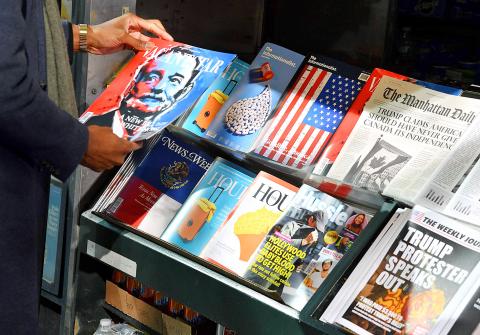 A misinformation newsstand is pictured in Manhattan, US on Oct. 30 last year which aimed to educate news consumers about the dangers of disinformation, or fake news, in the lead-up to the US midterm elections. 曼哈頓中城一報攤陳列印製假消息的書報,以便在美國期中選舉開始前,讓新聞閱聽人了解假消息之危險。二○一八年十月三十日檔案照。
Photo: AFP
照片:法新社
Moscow and Tehran have also repeatedly denied the allegations.
Facebook will introduce a new US presidential candidate spend tracker to show how much they have spent on political ads as part of the company's efforts to make its ad library easier to use, Zuckerberg said.
The company plans to heighten protection of the Facebook and Instagram accounts of candidates, elected officials and their teams through a program called Facebook Protect. Participants in the program will be required to turn on two-factor authentication and their accounts will be monitored for signs of hacking.
(Reuters)
美國二○二○年總統大選將自十一月起跑,臉書趕在選前宣布相關措施,以打擊假消息和選民壓制,並在同日宣布刪除在Instagram上針對美國選民的俄羅斯帳號。
臉書於十月二十一表示,將採取措施提高臉書的透明度,例如顯示臉書專頁之已驗證擁有者的更多資訊,對於被獨立事實查核人員判定為假新聞的訊息,則會用更顯著的方式標記出來。
臉書這社群媒體巨頭近幾週來飽受抨擊,因為政治人物在臉書投放的廣告可以免受事實查核,這也激怒了民主黨總統候選人喬‧拜登和伊莉莎白‧華倫。
二週前,臉書執行長馬克‧祖克柏為此規定辯解,稱社群媒體提供了變通的言論場域,不應關閉。
拜登競選團隊於同日呼籲刪除由超級政治行動委員會競選團體所投放的廣告,指該廣告有對拜登這前副總統的不實說法。
臉書全球選舉相關政策主管凱蒂‧哈巴斯回應說,如果已靜止的廣告現又再次啟動,就會被發送給臉書的第三方事實查核人員。
臉書在十月二十一日表示,將禁止要美國民眾別投票的付費廣告。祖克柏在視訊會議中向記者表示,對選民假消息的禁令也將適用於政治人物投放的廣告。
該公司將開始在臉書頁面和網站廣告庫中,標記出由國家控制的媒體。臉書在部落格中表示,計劃在明年初將此標記方式擴及臉書和Instagram上的特定貼文。
臉書、推特和YouTube,以及Alphabet公司旗下的谷歌影音串流服務,最近都因發布中國官媒批評香港抗議者之廣告而受到檢視。
調查俄羅斯干預二○一六年美國大選的參議院委員會於本月表示,克里姆林宮最著名的政治宣傳部門,在該選舉後增加了在社群媒體上的活動。
「總之,自二○一六年以來,選舉發生了重大變化,臉書也發生了變化」,祖克柏十月二十一日表示。「我們面臨來自俄羅斯、伊朗和中國等民族主義國家日益複雜精密的襲擊,但我相信我們已做好了充分的準備。」
中國外交部發言人華春瑩十月二十二日在北京舉行的例行記者會上說,有關中國干預美國大選的說法是荒謬可笑的。華春瑩說,如果有人說中國干涉了美國大選,應該要提供證據。她說,中國對干涉他國內政從來沒有任何興趣。
莫斯科和德黑蘭也一再否認這一指控。
祖克柏說,臉書將新推出美國總統候選人支出追蹤器,以顯示候選人在政治廣告上的支出,因該公司努力使其廣告庫更便於使用。
該公司計劃通透過名為「Facebook Protect」的計畫來加強對候選人、民選官員及其團隊的臉書和 Instagram 帳號的保護。「Facebook Protect」用戶須通過兩段身份驗證,臉書會監控其帳戶是否有遭駭客入侵之跡象。
(台北時報林俐凱編譯)
Follow Up
讀後練習
True or False
1. Facebook will increase transparency by flagging up misinformation on its platform.
2. Facebook sends all ads displayed on its platform to third-party fact-checkers.
3. Russia, Iran and China have no motive to interfere in other countries' internal affairs.
4. Russia, Iran and China may be using social media platforms to interfere in the elections of other countries.
(Lin Lee-kai, Taipei Times)
Publication Notes
TODAY'S WORDS
今日單字
1. misinformation n.
假新聞 (jia3 xin1 wen2)
2. fact-checker phr.
事實查核人員 (shi4 shi2 cha2 he2 ren2 yuan2)
3. social media phr.
社群媒體 (she4 qun2 mei2 ti3)
4. state-controlled media phr.
國家控制的媒體 (guo2 jia1 kong4 zhi4 de5 mei2 ti3)
5. interference n.
干涉;擾亂 (gan1 she4; rao3 luan4)
6. propaganda n.
宣傳 (xuan1 chuan2)
7. authentication n.
身份驗證 (shen1 fen4 yan4 zheng4)
8. hacking n.
駭客入侵 (hai4 ke4 ru4 qin1)
Comments will be moderated. Keep comments relevant to the article. Remarks containing abusive and obscene language, personal attacks of any kind or promotion will be removed and the user banned. Final decision will be at the discretion of the Taipei Times.