Tension escalates as India scraps Kashmir autonomy 印度中止「一國兩制」 引爆喀什米爾火藥庫
On Aug. 5, using a presidential order, Indian Prime Minister Narendra Modi revoked the special constitutional status of its portion of Kashmir granted by Article 370 of the constitution, ending the 70-year autonomy of the Muslim-majority Jammu and Kashmir State.
New Delhi sent tens of thousands of soldiers to the Kashmir Valley, cutting off the phone and network in the area and imposing a curfew to prevent protests and resistance from the local populace.
On Aug. 16, the United Nations Security Council held its first formal meeting of the past 50 years on the situation in Kashmir.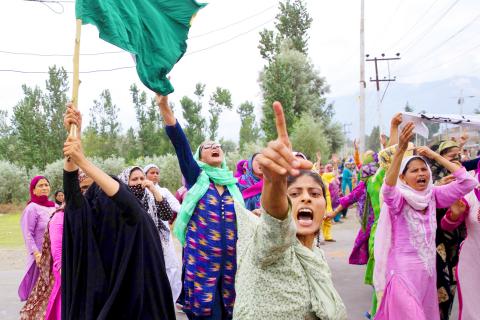 Women shout slogans and march on a street after Friday prayers in Srinagar, Indian controlled Kashmir, Aug. 9. 八月九日,婦女在星期五禮拜結束後到街頭抗議,並大喊口號。攝於喀什米爾印度控制區的斯利那加城。
Photo: AP
照片:美聯社
Exclusive domain claimed by China, India and Pakistan
Bordered by nuclear-armed China, India and Pakistan, Kashmir is a spectacularly scenic region of snow-capped peaks, vast valleys and barren plateaus.
Modi's change of Kashmir's status was strongly opposed by China and its ally Pakistan. The Kashmir border division led to the Sino-Indian border war in 1962. Since then, the disputed borders between India and China have been the subject of fruitless talks. Beijing was particularly critical of India's decision this time to turn Kashmir's mostly Buddhist region of Ladakh into an administrative territory directly ruled by New Delhi.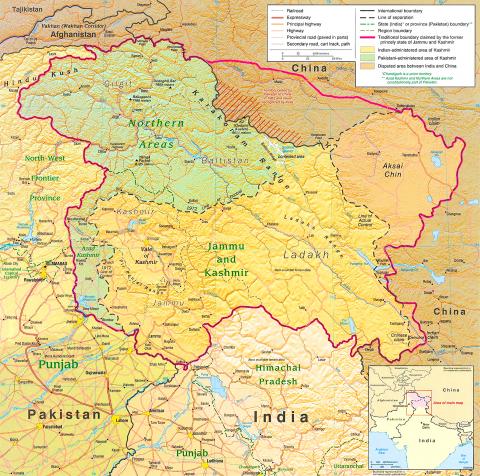 Political map of districts in the Kashmir region. 喀什米爾地區行政區域圖。
Photo: Wikimedia Commons
照片:維基共享資源
Both India and Pakistan claim sovereignty over the entire Kashmir region, although the two countries only control parts of the region: India controls the bulk of the state, while Pakistan administers about a third. China claims a portion of its Himalayan plateau.
"Status quo" of "one country, two systems"
Kashmir is arguably the worst legacy of the fratricidal partition of British India in 1947. India (mainly Hindu) and Pakistan (mostly Muslim) gained independence in 1947 when the British colonialists left the subcontinent. The following year, India and Pakistan fought for control of Kashmir, with its Muslim majority population. After the war, Pakistan controlled part of Kashmir, while India amended its constitution and granted special rights to the Indian-controlled part of Kashmir. According to Article 370, the state of Jammu and Kashmir enjoyed complete autonomy and the state legislature was free to draft its own laws except in the areas of communications, defense, finance, and foreign affairs, while Indian citizens were prohibited from purchasing land in the state.
Over the past 70 years, most special rights have been whittled away, but they remained symbolically powerful across Indian-controlled Kashmir, where most people want independence from India or a merger with Pakistan.
"An integral part of the country"
The Indian authorities have argued that Kashmir's special status had cultivated a sense of separatism that was easy for Pakistan to exploit and was holding back the region's economic development.
India says Kashmir is an integral part of the country, a sentiment that has broad support across political lines in India.
The UN recommended holding a referendum to let Kashmiris decide their fate, but that never happened.
After the UN Security Council meeting on Aug. 16, the Indian representative to the UN, Syed Akbaruddin, strongly criticized the international intervention in this disputed area, saying that Article 370 is internal matter of India, and "we don't need international busybodies to try to tell us how to run our lives."
(Lin Lee-kai, Taipei Times)
八月五日,印度總理納倫德拉.莫迪以總統令撤銷了印度憲法第三七〇條──該條文賦予喀什米爾地區特殊地位。查謨-喀什米爾邦七十年的自治因而畫下句點,該邦大多數居民為穆斯林。
新德里政府派數萬名士兵進駐喀什米爾山谷,切斷該地區的電話和網路,並實施宵禁,以防止當地人民的抗議和反彈。
對此,聯合國安全理事會於八月十六日召開緊急會議,這也是安理會五十年來首次針對喀什米爾局勢正式召開會議。
中、印、巴三國禁臠
喀什米爾地區的風景壯麗,有白雪皚皚的山峰、廣闊的山谷,也有貧瘠的高原,並與中國、印度、巴基斯坦這三個核子武器擁有國接壤。
中國及其盟友巴基斯坦強烈反對莫迪改變喀什米爾地位。喀什米爾邊界劃分問題曾導致一九六二年的中印邊境戰爭,此後中印兩國針對劃界進行了多次談判,但都沒有結果。莫迪此決定也將喀什米爾的佛教地區拉達克變成新德里直接統治的領土,北京對此更是強烈抨擊。
印度及巴基斯坦都宣稱擁有整個喀什米爾地區的主權,雖然兩國只各控制了部分地區──印度管轄大部分地區,巴基斯坦控制約三分之一;而中國則主張喀什米爾在喜馬拉雅高原的部分。
「一國兩制」的「現狀」
喀什米爾問題可說是一九四七年英屬印度內部自相殘殺、分裂後所留下的最大遺毒。印度次大陸在一九四七年英國殖民者撤離後,獨立成印度(主要為印度教徒)、巴基斯坦(大多數為穆斯林)這兩個國家。次年,印巴兩國交戰,爭奪多數居民為穆斯林的喀什米爾地區。戰後,巴基斯坦控制部分喀什米爾;印度則修改憲法,賦予印控喀什米爾地區特殊權利──印度憲法第三七〇條規定,查謨-喀什米爾邦享有完全的自治權,該邦立法機關可以制定自己的法律,除了通訊、國防、金融和外交等領域外,且印度公民禁止購買該邦的土地。
這些特殊權利七十年來多被削減了,但對印控喀什米爾地區來說,仍具有象徵意義──大多數當地人希望從印度獨立出來,或與巴基斯坦合併。
「國土不可分割的一部分」
印度政府認為,喀什米爾的特殊地位讓分裂主義氛圍得以孳生,這很容易被巴基斯坦利用,並阻礙了該地區的經濟發展。
印度表示,喀什米爾是印度不可分割的一部分。此論調在喀什米爾以外的全印度,得到不分黨派的廣泛支持。
聯合國曾建議舉行公投,讓喀什米爾人自行決定其前途,但這從未付諸實行。
在聯合國安理會八月十六日的會議後,印度駐聯合國代表沙耶.艾克巴魯丁抨擊國際對喀什米爾地區的干預,並表示憲法第三七〇條是印度的內政問題,「我們不需要國際上愛管閒事的人來告訴我們,該如何過我們的生活」。
(台北時報林俐凱)
FOLLOW UP
讀後練習
Questions
1. Please indicate the location of Kashmir on the map.
2. On the map, between China, India and Pakistan, are there any dotted lines that indicate undecided borders?
3. Please describe the development of the Indian subcontinent after its departure from British colonialism in 1947.
4. Compare the situation in Kashmir with Taiwan, and give their similarities and differences.
5. What other countries or regions in the world face problems similar to that of Kashmir?
(Lin Lee-kai, Taipei Times)
Publication Notes
TODAY'S WORDS
今日單字
1. constitution n.
憲法 (xian4 fa3)
2. autonomy n.
自治 (zi4 zhi4)
3. curfew n.
宵禁 (xiao1 jin4)
4. United Nations Security Council phr.
聯合國安理會 (lian2 he2 guo2 an1 li3 hui4)
5. border n.
邊界 (bian1 jie4)
6. claim sovereignty over phr.
聲稱對(某地)擁有主權 (sheng1 cheng1 dui4 [mo3 di4] yong2 you2 zhu3 quan2)
7. independence n.
獨立 (du2 li4)
8. merger n.
合併 (he2 bing4)
Comments will be moderated. Keep comments relevant to the article. Remarks containing abusive and obscene language, personal attacks of any kind or promotion will be removed and the user banned. Final decision will be at the discretion of the Taipei Times.