Fans and celebrities bid farewell to Japanese cartoonist Momoko Sakura 上千粉絲 向小丸子作者致敬
Over 1,000 fans, including many celebrities, took part in a memorial service in Tokyo, Japan last Friday for Japanese cartoonist Momoko Sakura — creator of the long-running comic and anime TV series Chibi Maruko-chan. The cartoonist died from breast cancer on Aug. 15 at the age of 53.
At the ceremony, Japan's Southern All Stars vocalist Keisuke Kuwata sang Happiness of One Million Years, a former closing song for the hit anime TV series composed by Kuwata and with lyrics by Sakura herself, as part of a tribute to the late cartoonist, who first published the series in a comic in 1986.
The series depicts the simple, everyday life of a little girl named Maruko and her family in the 1970s in Japan's Shizuoka Prefecture, the cartoonist's birthplace. It has gained popularity throughout Asia and is still broadcast in Taiwan. It can be watched on YoYo TV and MoMo TV.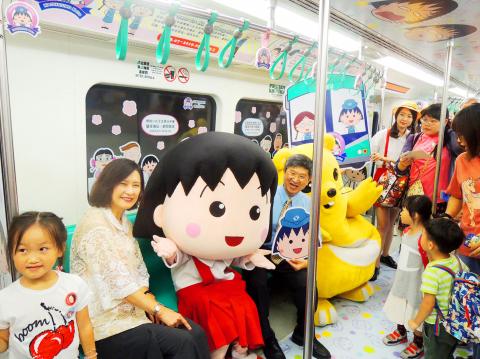 Passengers take pictures on a Maruko-themed train of Kaohsiung Rapid Transit Corp. on Sept. 12. 乘客們於九月十二日,在高雄捷運的櫻桃小丸子列車上拍照。
Photo: Wang Jung-hsiang, Liberty Times
照片︰自由時報記者王榮祥
(Eddy Chang, Taipei Times)
上千名粉絲和各界名人上週五齊聚日本東京,參與漫畫家櫻桃子的告別式。她曾一手打造了長壽漫畫及卡通《櫻桃小丸子》,梢早於八月十五日因乳癌過世,享年五十三歲。
而在告別式上,南方之星樂團的主唱桑田佳祐特別獻唱《100萬年的幸福》,來向這位漫畫家致敬,該曲曾是這部熱門卡通片尾曲,由桑田所譜曲、櫻桃子本人負責填詞。小丸子系列於一九八六年,首次在漫畫雜誌出版。
該系列描述一位可愛的小女孩小丸子,和她的家人於一九七○年代,住在日本靜岡縣單純的日常生活,該縣是作者本人的出生地。小丸子在亞洲各國都大受歡迎,在台灣直到今日仍被重複播出,目前在東森幼幼台和MoMo親子台熱播。
(台北時報張聖恩)
Publication Notes
TODAY'S WORDS
今日單字
1. memorial service phr.
告別式 (gao4 bie2 shi4)
2. cartoonist n.
漫畫家 (man4 hua4 jia1)
3. creator n.
打造者;創造者
(da3 zao4 zhe3; chuang4 zao4 zhe3)
4. anime n.
動畫 (dong4 hua4)
5. depict v.
描述 (miao2 shu4)
Comments will be moderated. Keep comments relevant to the article. Remarks containing abusive and obscene language, personal attacks of any kind or promotion will be removed and the user banned. Final decision will be at the discretion of the Taipei Times.