Regent Taipei and 7-Eleven eyeing 'stay-at-home' economy 飯店業聯手7-Eleven 大舉搶攻「宅經濟」
Following the success of its frozen Champion Beef Noodles gift boxes, which have become a top-selling item since their launch five years ago, the Regent Taipei is offering non-frozen packs that can be preserved at room temperature starting this month. The new packs are available through pre-order at 7-Eleven convenience stores.
The Regent Taipei is known for its award-winning Champion Beef Noodles, which won the championship of the Taipei International Beef Noodle Festival in 2012 and were lauded by CNN as one of Taipei's best beef noodles. It will be easier for all consumers, and business travelers in particular, to carry the new room-temperature packs, the hotel stressed.
Meanwhile, as the "stay-at-home" economy continues to grow, sales have been on the rise for popular instant food products, such as Tseng Noodles, named after entertainer Sam Tseng, various instant noodles from the KiKi Restaurant Group, and spicy noodles from the Taihodien Restaurant specializing in spicy hot pot.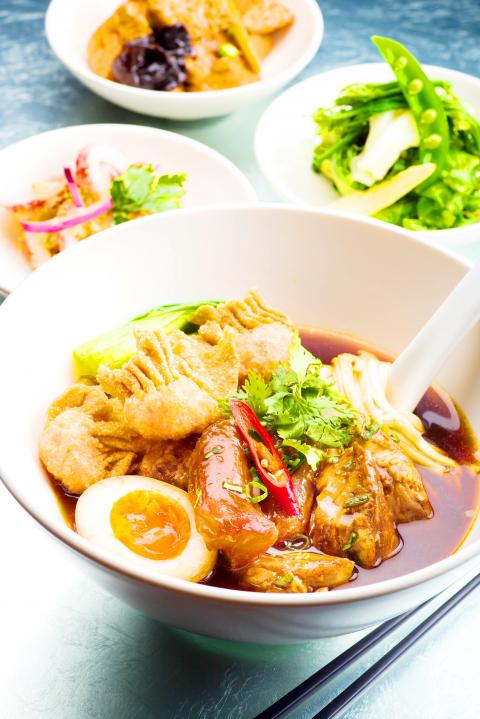 A meal set of the Regent Taipei's CBN (Champion Beef Noodles) restaurant at Breeze Xinyi is displayed in this promotional photo released last year. 晶華酒店旗下晶華冠軍牛肉麵坊的套餐,該餐廳位於微風信義。
Photo courtesy of the Regent Taipei
照片︰晶華酒店提供
(Eddy Chang, Taipei Times)
繼五年前推出的冷凍「晶華冠軍牛肉麵」禮盒成為熱銷商品後,晶華酒店自本月起又推出不需冷藏即可保存於室溫的常溫包,全新的常溫包可透過7-Eleven預購並提貨。
晶華酒店一向對自家的冠軍牛肉麵相當自豪,該產品曾是二○一二年台北牛肉麵節的冠軍,還被CNN譽為台北市最棒的牛肉麵之一。該飯店則強調對消費者、特別是商旅人士來說,全新的常溫包攜帶更方便。
而隨著這一股「宅經濟」不斷發威,一些受歡迎的即食商品銷售持續看漲。其中包括以藝人曾國城命名的曾拌麵、KiKi餐飲集團的多款拌麵,及太和殿麻辣鍋餐廳推出的太和殿麻辣拌麵。
(台北時報張聖恩)
Publication Notes
TODAY'S WORDS
今日單字
1. frozen adj.
冷凍的
(leng3 dong4 de5)
2. champion n.
冠軍
(guan4 jun1)
3. room temperature phr.
室溫;常溫
(shi4 wen1; chang2 wen1)
4. stay-at-home economy phr.
宅經濟
(zhai2 jing1 ji4)
5. spicy hot pot phr.
麻辣鍋
(ma2 la4 guo1)
Comments will be moderated. Keep comments relevant to the article. Remarks containing abusive and obscene language, personal attacks of any kind or promotion will be removed and the user banned. Final decision will be at the discretion of the Taipei Times.