World Cup final to take place this weekend 世界盃足球賽 冠軍戰週末精彩開踢
The excitement has peaked, and the quadrennial FIFA World Cup is drawing to a close. The quarter-finals took place last weekend, followed by the semi-finals this week. France and Croatia will now compete in the final, while Belgium and England will meet in the third place play-off.
Among the three soccer superstars for this World Cup, both Argentina's Lionel Messi and Portugal's Cristiano Ronaldo failed to advance to the quarter-finals, while Brazil's Neymar has been ribbed for rolling on the field dramatically in several games after contact with opponents: Fans even dubbed his alleged theatrics "Neymar rolling."
Meanwhile, Japan won applause for beating Colombia in its first game, becoming the first Asian team to beat a South American squad in 88 years of World Cup history. The final is scheduled in Moscow, Russia for 11pm Taiwan Time on Sunday.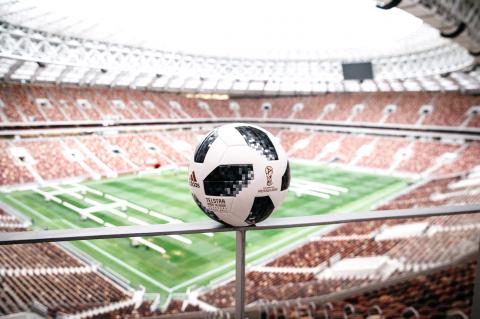 Adidas "Telstar 18," the official game ball of this FIFA World Cup, is pictured in this photo released earlier last month. 世界盃足球賽官方比賽用球︰愛迪達「Telstar 18」足球,此圖片稍早公布於六月。
Photo courtesy of Adidas
照片:愛迪達提供
(Eddy Chang, Taipei Times)
四年一度的世界盃足球賽目前已接近尾聲,熱烈的賽事也將進入最高潮。八強在上週末開打,緊接著就是本週的四強大戰。最終法國和克羅埃西亞將爭奪冠軍寶座,比利時和英格蘭則將爭奪季軍。
至於本屆世界盃的三大球星,阿根廷隊的梅西和葡萄牙隊的「C羅」羅納度稍早皆止步於八強門外。巴西隊的內馬爾則因在幾場比賽被對手踢倒後,戲劇化地躺在地上打滾,遭球迷嘲諷為「內馬爾滾」。
此外,日本隊因首戰踢走哥倫比亞隊而贏得掌聲,成為在世界盃八十八年歷史上,首支戰勝南美洲球隊的亞洲勁旅。本屆世界盃的冠軍戰,將於台灣時間週日晚上十一點在俄國莫斯科開踢。
(台北時報張聖恩)
Publication Notes
TODAY'S WORDS
今日單字
1. quadrennial adj.
四年一度的 (si4 nian2 yi2 du4 de5)
2. World Cup phr.
世界盃 (shi4 jie4 bei1)
3. quarter-final phr.
八強賽、半準決賽
(ba1 qiang2 sai4, ban4 zhuan3 jue2 sai4)
4. semi-final phr.
四強賽、準決賽 (si4 qiang2 sai4, zhuan3 jue2 sai4)
5. roll v.
滾動 (guan3 dong4)
Comments will be moderated. Keep comments relevant to the article. Remarks containing abusive and obscene language, personal attacks of any kind or promotion will be removed and the user banned. Final decision will be at the discretion of the Taipei Times.