Bilingual Music: The French tradition of Baroque keyboard music (I) 雙語音樂: 法國巴洛克鍵盤音樂傳統(一)
Louis Couperin (1626–1661) and his nephew Francois Couperin (1668–1733) were extremely influential composers, helping to establish the French tradition of keyboard music and playing technique during the Baroque era. Both composers explored harpsichord and clavichord composition and technique, and wrote many of the works we have today.
Louis Couperin died at the early age of 35, with none of his work published during his lifetime. Still, some of his manuscripts have survived, including over 100 solo harpsichord pieces and some sixteen pieces of the Unmeasured Preludes. The genre can be traced back to the Renaissance era as short improvisatory pieces for lute, normally played as introductions to larger pieces or simply to test the instrument.
Louis Couperin may be the first prominent figure to compose such pieces specifically for harpsichord. His compositions present many challenges for the performer: His notation consists of a string of whole notes marking up the music's melodic direction, but the note values are undifferentiated, nor are there bar lines. Each whole note is accompanied by curves of varied length, by which Couperin reveals subtle clues on the length and shape of a musical phrase, for the purposes of shaping diverse melody lines in a quasi-counterpoint manner. This also allows performers to make their own decisions about the flow of music, thus retaining the genre's original improvisatory nature. With arpeggiations recalling the strumming of strings, Louis Couperin's music also creates a soundscape reminiscent of the lute.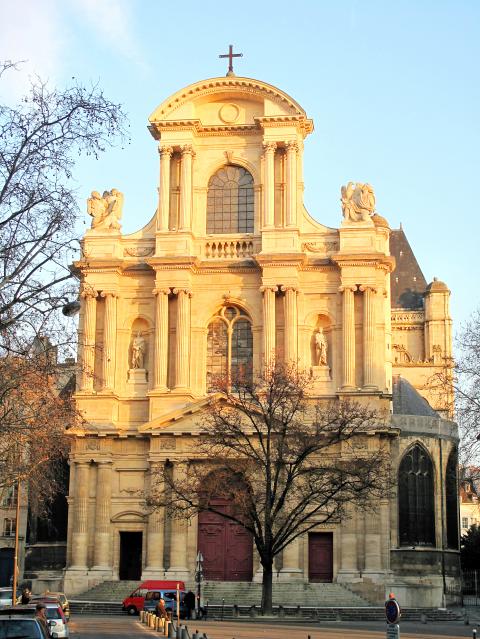 The church of St-Gervais-et-St-Protais in Paris, where both Louis Couperin and Francois Couperin served as organist. 巴黎的聖傑維聖波蝶教堂,路易‧庫普蘭與法蘭索瓦‧庫普蘭都曾在此擔任管風琴師。
Photo: Wikimedia Commons
照片:維基共享資源
Following Louis Couperin's death, his position was passed to Francois Couperin, who would be made court musician and would perform for the Sun King, Louis XIV. Francois' most important contribution to the French tradition of keyboard music is none other than his 1716 treatise "L'Art de Toucher le Clavecin," in which he explored the fingering and the touch of harpsichord playing, and also the designs for musical ornamentation or embellishments. Compostionally, Francois published four volumes of harpsichord music, entitled Pieces de Clavecin, containing a total of over 230 pieces.
While many composers from the Baroque period left the majority of ornamentation for the performer to add at their own discretion, Francois Couperin wrote down every note of the ornamentation in the score, which often consist of complex and grandiose elaborations. He often composes in "suites," a form popular during the period, but prefers to call them "ordre." A suite is a set of pieces consisting of short dances of various tempos and moods, with the first and last being of the same key, and the intervening dances being different in style and sentiment, creating a strong sense of contrasting narrative.
Francois Couperin would often give each individual piece a descriptive title. "La Misterieuse," for instance, reflects the music's atmosphere of suspense, created by sighing figures, chromaticism, and bewildering oscillation between different keys. "La Convalescente" is an allemande with a title descriptive of the composer's own health, with rests placed on the downbeat and the music ending in the lower range of the keyboard, as if urging us not to disturb his rest. Sometimes, however, the titles have no apparent connection to the music, or their origins have been lost. Giving titles to individual pieces was quite uncommon at the time, but would later become a model to be followed by future generations when composing for solo piano a set of "character pieces," each with a descriptive yet intriguing title.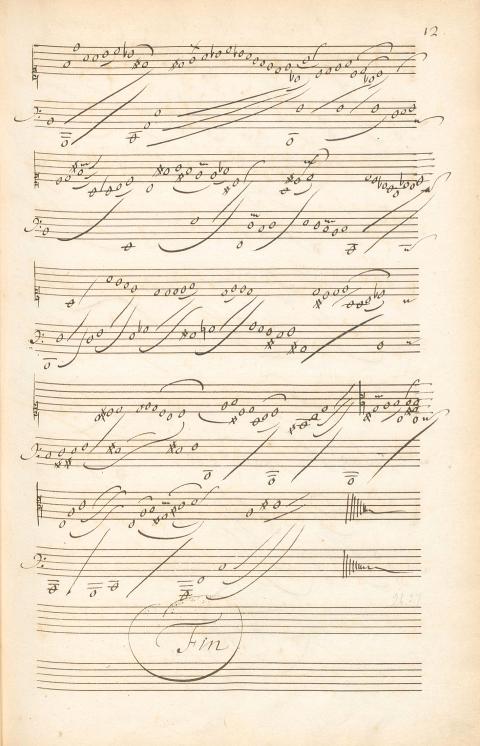 Right: Louis Couperin's manuscript of the conclusion for one of his unmeasured preludes. 右圖: 路易‧庫普蘭手稿中一首無小節線前奏曲的結尾。
Photo: Wikimedia Commons
照片:維基共享資源
Composers of later generations hold Louis and Francois Couperin in high respect. Johannes Brahms performed their works on many occasions in his own recitals, and assisted in compiling Couperin's works. Maurice Ravel also composed "Le Tombeau de Couperin" (In memorial of Couperin) solo piano suite in honor of the Zeitgeist from two centuries before.
(Translated by Paul Cooper and Chang Ho-ming)
路易‧庫普蘭(西元一六二六──一六六一)與姪子法蘭索瓦‧庫普蘭(西元一六六八──一七三三)是兩位奠定法國巴洛克鍵盤音樂傳統與演奏技術的重要作曲家。他們深入探索大鍵琴與羽管翼琴的創作與彈奏技巧,並譜出多首流傳至今的作品。
路易‧庫普蘭過世時年僅三十五歲,生前未能發表任何作品。不過,他的手稿仍被保存至今,其中收錄一百多首大鍵琴獨奏作品以及約十六首的「無小節線前奏曲」。無小節線前奏曲是一種可追溯到文藝復興時代的音樂類型,起初是短而帶有即興性質的魯特琴作品,引導後續演奏的正式音樂作品,或用來為樂器調音。
路易‧庫普蘭可能是第一位特地為大鍵琴創作無小節線前奏曲的作曲家,其作品帶給演奏家不少挑戰:他的記譜法經常使用一連串的全音音符,標記出音樂旋律的方向,卻未標示出音符時值的差異,譜上也沒有小節線。在音符旁邊,庫普蘭畫註長度各異的曲線,透露出精心設計的音樂線索,暗示該段樂句的長度與情感起伏,塑造出多采多姿、又彷彿對位般的多條旋律線。這類記譜法也讓演奏者能夠自行決定音樂的流動,因而保留此樂曲類型最初的即興性格。路易‧庫普蘭作品中常見的琶音音型,彷彿在模仿弦樂器的撥弦聲,讓人懷想起魯特琴的聲音風景。
路易‧庫普蘭過世後,職位傳給姪子法蘭索瓦,後者成年後被選為宮廷音樂家,曾為太陽王路易十四演奏。法蘭索瓦‧庫普蘭對法國鍵盤音樂傳統最重要的貢獻莫過於一七一六年出版的《大鍵琴的演奏藝術》一書,其中探討大鍵琴演奏的指法、觸鍵以及裝飾奏設計等多重面向。在創作方面,法蘭索瓦留下四冊《大鍵琴作品集》,收錄多達二百三十餘首的作品。
相對於許多巴洛克作曲家經常讓演奏者自行斟酌加入裝飾奏,法蘭索瓦‧庫普蘭則在譜上清楚標示出裝飾奏的每一個音符,而且設計得特別複雜而華麗。他經常使用巴洛克時代盛行的「組曲」結構進行創作,卻習慣以法文的同義字「ordre」稱呼這些作品。一組「組曲」通常由數首快慢有致的短舞曲組成,首尾調性相同,中間各首舞曲的風格與氛圍互異,呈現出充滿強烈對比感的一段音樂敘事。
法蘭索瓦‧庫普蘭經常為每一首短曲冠上描述性的標題。例如〈La Misterieuse〉,反映此曲充滿懸念的氣氛,來自音樂中多處嘆息音型、半音音階風格、以及游移在不同調性間的擺盪感。又如〈La Convalescente〉(「康復」之意)這首德國舞曲,標題像在描述作曲家本人的健康狀況:休止符不斷出現在重拍上,音樂最後悄悄結尾在鍵盤上的低音域,彷彿在懇求不要打擾他休息養病。不過,有時候庫普蘭的作品標題和音樂沒有明顯的關連,有時標題來源恐已佚失。無論如何,為短曲冠上標題在當時可說是相當罕見,後世作曲家在創作「特性小品」這類鋼琴獨奏作品時,模仿著庫普蘭,為每一首小曲冠上具有描述性又引人好奇的不同標題。
後代作曲家對路易‧庫普蘭和法蘭索瓦‧庫普蘭相當推崇。布拉姆斯曾多次在演奏會上彈奏法蘭索瓦‧庫普蘭的作品,並參與其作品集的編纂,拉威爾則寫下《庫普蘭的禮讚》這組鋼琴獨奏作品,向兩個世紀前的時代精神致敬。
(台北時報章厚明撰)
Comments will be moderated. Keep comments relevant to the article. Remarks containing abusive and obscene language, personal attacks of any kind or promotion will be removed and the user banned. Final decision will be at the discretion of the Taipei Times.