Entertainer-turned-volunteer Sun Yueh dies aged 87 last week 資深藝人孫越 人生舞台上週落幕
Veteran entertainer Sun Yueh died of septicemia in combination with multiple organ failure at the age of 87 last Tuesday, National Taiwan University Hospital announced on Wednesday last week. Sun suffered from lung adenocarcinoma and chronic obstructive pulmonary disease (COPD) due to years of smoking, and was repeatedly hospitalized in recent years.
Sun, who was often dubbed "Uncle Sun," first rose to fame hosting variety shows with artists David Tao and Swallow Chang. With a friendship that spanned more than four decades, the trio was referred as the "Three Musketeers" in showbiz. He also received a lifetime achievement award from Tao and Chang at the Golden Horse Awards in 2010.
After Sun quit smoking more than 20 years ago, he devoted himself wholeheartedly to public welfare and became a lifelong volunteer for the John Tung Foundation's anti-smoking campaign. The Health Promotion Administration also took this opportunity to remind the public that over 6,000 Taiwanese die of COPD yearly, and the chance for smokers to contract the disease is 10 to 13 times higher than that for non-smokers.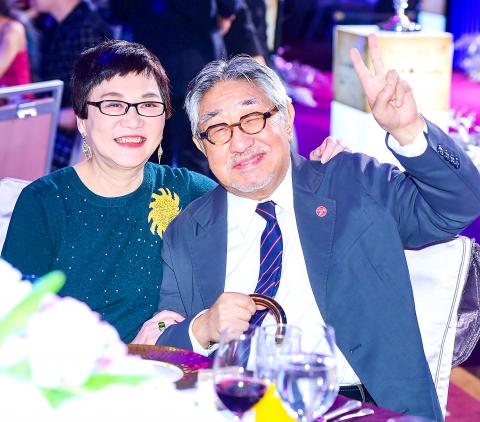 Veteran entertainers Sun Yueh, right, and Swallow Chang attend a friend's wedding banquet in Taipei on Oct. 25, 2015. 資深藝人孫越(右)和張小燕,於二○一五年十月二十五日,在台北出席朋友的婚宴。
Photo: Wang Wen-lin, Liberty Times
照片︰自由時報記者王文麟
(CNA and Liberty Times, translated by Eddy Chang)
台大醫院在上週三對外公布,資深藝人孫越因敗血症合併器官衰竭,於上週二辭世,享年八十七歲。他因曾吸菸多年而罹患肺腺癌,且受「肺阻塞」(COPD)所苦,近年來亦多次住院治療。
孫越常被人稱為「孫叔叔」,當年和藝人陶大偉、張小燕主持綜藝節目而走紅,彼此的交情超過四十年,更是娛樂圈中的「鐵三角」,他還在二○一○年的金馬獎頒獎典禮上從這兩人手中接下特別貢獻獎。
孫越二十多年前戒菸後全心投入公益,成為董氏基金會的終身反菸義工。國民健康署也趁此提醒,全台每年有超過六千人死於肺阻塞,吸菸者得病的機率是非吸菸者的十到十三倍。
(中央社、自由時報)
Publication Notes
TODAY'S WORDS
今日單字
1. lung adenocarcinoma phr.
肺腺癌
(fei4 xian4 ai2)
2. obstructive adj.
阻塞
(zu3 se4)
3. hospitalize v.
住院治療
(zhu4 yuan4 zhi4 liao2)
4. volunteer n.
義工
(yi4 gong1)
5. anti-smoking adj.
反菸的
(fan3 yan1 de5)
Comments will be moderated. Keep comments relevant to the article. Remarks containing abusive and obscene language, personal attacks of any kind or promotion will be removed and the user banned. Final decision will be at the discretion of the Taipei Times.