Gibson Files for Bankruptcy in Deal to Renew Guitar Business 吉普森提出破產申請 協商重啟吉他業務
Gibson Brands Inc. has filed for bankruptcy protection, with lenders taking control of the iconic American business that has supplied guitars to many famous musicians including B.B. King, Elvis Presley and Pete Townshend from the Who.
The filing of the U.S. Bankruptcy Court for the District of Delaware under Chapter 11 last Tuesday keeps Gibson in business but gives ownership to noteholders, replacing stockholders that include Chief Executive Officer Henry Juszkiewicz, the company's leader for more than three decades.
The restructuring plan will allow the instrument business to "unburden" itself of a consumer-electronics unit that Gibson blamed for its financial woes. Gibson owes as much as US$500 million, and lenders will provide a new loan of up to US$135 million to keep the company in business, according to court papers.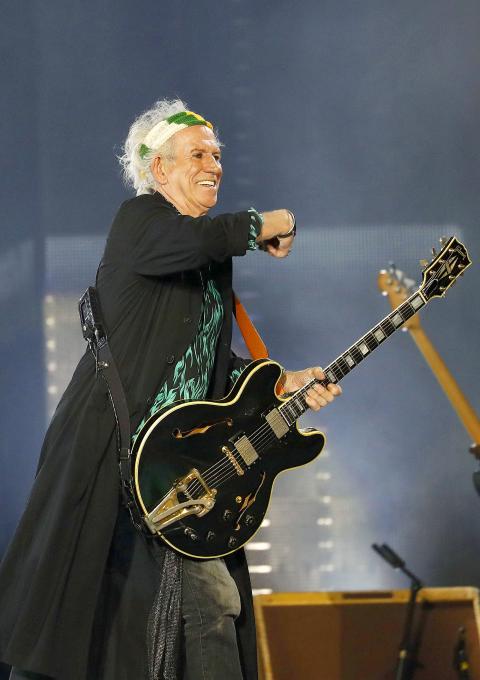 Guitarist Keith Richards, holding a Gibson ES-355 guitar, performs with the Rolling Stones in Nanterre, France on Oct. 19 last year. 滾石樂團的吉他手基思·理查茲在去年十月十九日於法國南泰爾舉行的演唱會上,拿著吉普森型號ES-355的半空心電吉他。
Photo: AFP
照片:法新社
Juszkiewicz, who has found himself at odds with creditors in recent months, will continue with the company upon emergence from bankruptcy "to facilitate a smooth transition," according to the agreement. Court papers call for a one-year consulting deal and compensation package for Juszkiewicz. A representative for the company didn't respond to questions about whether Juszkiewicz will remain as CEO or in a separate role.
Gibson, founded in 1894, sells over 170,000 guitars annually in 80 countries. Its guitars are US-made, with factories in Nashville and Memphis, Tennessee, and Bozeman, Montana.
Its Gibson Innovations business, which sells audio products like speakers, headphones, and DJ equipment, was the source of its financial woes, according to a court statement from Brian Fox, a managing director at Alvarez & Marsal who will serve as the company's chief restructuring officer. The unit will be wound down, according to a Gibson news release.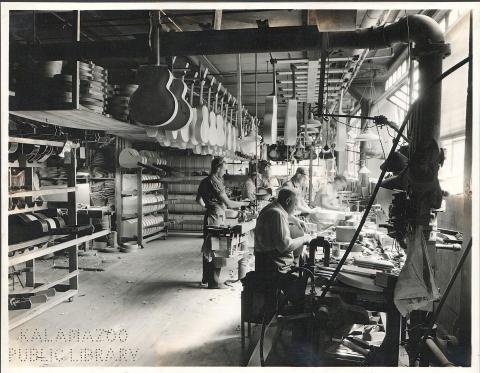 The interior of Gibson Inc's old factory in Kalamazoo Michigan, US taken in 1936. 位於美國密西根州卡拉馬朱市的吉普森舊工廠內部,照片攝於一九三六年。
Photo: Wikimedia Commons
照片:Wikimedia Commons
Juszkiewicz bought the audio and home entertainment business from Koninklijke Philips NV in June 2014 for US$135 million as part of a bid to relaunch Gibson Guitars as Gibson Brands Inc., a "music lifestyle" company. He also bought a line of consumer electronics from Japanese company Onkyo Corp. in his bid for diversification. But the purchases drained cash and earnings plunged.
Management, creditors and consumers alike see strong potential for Gibson's iconic music business. But challenges have abounded, beyond the ill-fated expansion into consumer electronics.
In recent years, Gibson faced tighter credit terms from its suppliers and growing pressure from new import regulations on rosewood, a crucial material for the company's high-end instruments, according to S&P Global Ratings. Gibson had also developed a broken relationship with some retailers, a number of whom have stopped selling the brand, citing unmanageable demands that range from annual credit checks to upfront orders for a year's merchandise.
With the noteholder agreement, the company has "an exit path from Chapter 11 as a deleveraged business, poised for continued growth," Fox said in the filing. The hope is that a more nimble, reorganized company will be able to address its problems and return focus to the core guitar business.
(Bloomberg)
吉普森品牌公司日前提出破產保護申請,由債權人掌管這間極具代表性的美國公司。該公司曾提供吉他給包括比·比·金、貓王,以及The Who樂團的彼特·湯森在內的眾多知名音樂人。
美國德拉瓦州的破產法院上週二根據《美國破產法》第十一章作出裁決,讓吉普森公司繼續營運,但將公司所有權轉移給債權人,取代包括領導公司三十餘年的首席執行長亨利‧嘉斯可維茲在內的股東。
吉普森公司將財務困難歸咎於消費型電器部門的虧損,重組計畫將讓這間樂器公司得以卸下該部門的重擔。根據法院文件,吉普森公司欠債多達五億美元,債權人將會提供另外一筆高達一‧三五億美元的貸款,以維持公司繼續營運。
根據協議,近幾個月來跟債權人意見相左的嘉斯可維茲將會在公司走出破產後接續經營,「以促進平穩轉型」。法院文件亦要求給予嘉斯可維茲為期一年的諮詢顧問與補償性薪酬。對於嘉斯可維茲日後是否仍會留任首席執行長或擔任其他職務的問題,公司代表並未回應。
吉普森公司創立於一八九四年,每年在八十個國家賣出超過十七萬把吉他。該公司的吉他是美國製造,工廠位於田納西州的納許維爾和曼菲斯,以及蒙大拿州的博茲曼。
奧邁企業顧問公司執行董事布萊恩‧福克斯將任職為吉普森公司的首席重整執行長。根據福克斯的法庭陳述,銷售揚聲器和耳機等音響產品以及DJ相關器材的吉普森創新部門是該公司財務困難的源頭。吉普森公司新聞稿表示,此部門將會逐步縮減裁撤。
二○一四年六月,嘉斯可維茲以一億三千五百萬美元收購荷蘭皇家飛利浦電子有限公司的音響及家庭娛樂部門,企圖藉此重振吉普森吉他公司,成為「音樂生活相關」的吉普森品牌公司。為了多樣化經營,嘉斯可維茲也買下日本安橋公司旗下的一個消費型電器部門。但這些收購抽乾了現金,公司收益也大幅暴跌。
管理階層、債權人,以及消費者都相當看好吉普森公司極具代表性的音樂產業。只是考驗接踵而至,超出厄運纏身的消費型電器業務擴張之範圍。
根據標準普爾全球評級,吉普森公司近年來面臨供應商提出更為嚴峻的付款條件,新的紫檀木進口法規亦逐漸增加公司壓力。紫檀木是該公司製作高價位樂器的重要材料。吉普森公司亦和若干家零售商關係交惡,其中數間已停止販售該廠牌。他們指出,吉普森公司對零售商提出種種要求,包括進行年度信貸評估,乃至於一年份商品的預付訂單,令他們難以負擔。
福克斯在裁決中表示:在債權人協議中,吉普森公司「根據《美國破產法》第十一章擁有退場機制,將成為去槓桿化公司,為持續成長作好準備。」希望重組後變得更靈活的公司能夠正視自身問題,並將營運焦點轉回公司核心的吉他產業。
(台北時報章厚明譯)
FOLLOW UP
課後練習
Vocabulary extension
Bankruptcy is a legal process which allows an individual or business, which is unable to repay its outstanding debts, a way to repay a portion of the money it owes through the liquidation of its assets. Bankruptcy allows the debtor an opportunity to recover and start again by writing off debts that cannot be paid, but it also allows creditors the chance to recover some of their money.
Leverage refers to borrowing capital to increase the return of an investment. Many companies use debt (borrow capital) to finance business operations, for example to build a new factory. If a company is made up of more debt that equity, it is said to be "highly leveraged."
Deleveraging means reducing the leverage (debt-to-equity ratio) of a company.
By Edward Jones, Taipei Times
Publication Notes
TODAY'S WORDS
今日單字
1. bankruptcy protection phr.
破產保護(po4 chan3 bao3 hu4)
2. noteholder; lender; creditor n.
債權人 (zhai4 quan2 ren2)
3. stockholder n
股東 (gu3 dong1)
4. restructuring plan n. phr.
重組計畫 (chong2 zu3 ji4 hua4)
5. compensation package n. phr.
補償性薪酬 (bu3 chang2 xing4 xin1 chou2)
6. deleveraged adj.
去槓桿化 (qu4 gang4 gan3 hua4)
Comments will be moderated. Keep comments relevant to the article. Remarks containing abusive and obscene language, personal attacks of any kind or promotion will be removed and the user banned. Final decision will be at the discretion of the Taipei Times.