"Dirty bread" becomes Taiwan's new favorite snack 全台美食新潮流 「髒髒包」狂賣爆紅
Haven't you tried "zang zang bao" (literally "dirty bread") yet? Then you may be failing to keep up with the latest trend. Originating from South Korean coffee shops, "dirty bread" has exploded in popularity in Taiwan in recent months. Bakeries across the country are trying to copy the item to attract business.
"Dirty bread" is actually a kind of chocolate bread with cocoa powder on the top, and the bread's name comes from the fact that your hands and face will become messy from the cocoa powder when eating it. The snack is so appealing that singer Tanya Chua and some other artists have publicly posted their "dirty pictures" while eating it, and in doing so created a trend on social media.
As Mother's Day gradually approaches, a bakery belonging to Mind-Farm Mental Development Center in Taitung County has also started to train people with mental disabilities to bake "dirty bread." The bakery received over 100 orders on the first day of sale.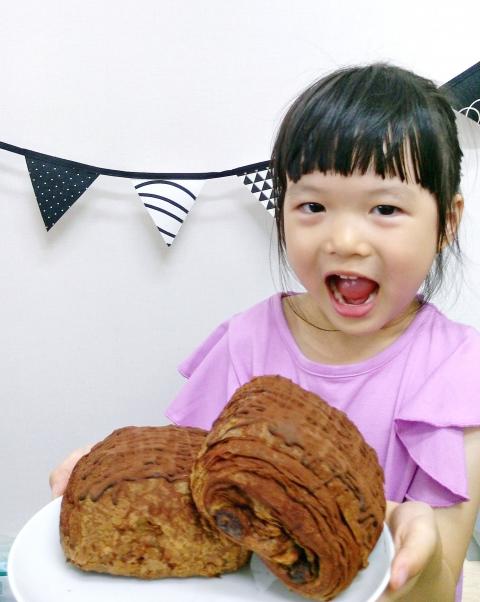 A young girl displays "dirty bread" yesterday in New Taipei City's Tamsui District. 一位小女孩於昨日展示「髒髒包」,攝於新北市淡水區。
Photo: Eddy Chang, Taipei Times
照片︰台北時報編譯張聖恩
(CNA and Liberty Times, translated by Eddy Chang)
你還沒吃過「髒髒包」嗎?那可就落伍了!源自南韓咖啡店的「髒髒包」,最近幾個月在台灣爆紅,造成全台烘焙坊爭相模仿搶客。
「髒髒包」是一款上面灑滿可可粉的巧克力麵包,因為吃起來手上和臉上會沾滿可可粉,所以才得到這個名稱。該產品魅力之大,就連藝人蔡健雅等人公開大吃「髒髒包」的「髒照」,都在社群媒體掀起熱潮。
隨著母親節即將來臨,近日台東縣牧心智能發展中心的烘焙庇護工場,也帶著有心智障礙的學員們製作「髒髒包」,第一天開賣就湧入上百張訂單。
(中央社、自由時報)
Publication Notes
TODAY'S WORDS
今日單字
dirty bread phr.
髒髒包(zang1 zang1 bao1)
originate v.
起源(qi3 yuan2)
bakery n.
烘焙坊;麵包店
(hong1 bei4 fang1; mian4 bao1 dian4)
cocoa powder phr.
可可粉
(ke2 ke2 fen3)
messy adj.
骯髒的
(ang1 zang1 de5)
Comments will be moderated. Keep comments relevant to the article. Remarks containing abusive and obscene language, personal attacks of any kind or promotion will be removed and the user banned. Final decision will be at the discretion of the Taipei Times.