Lyft co-founder: Fatal Uber crash should have been prevented Lyft共同創辦人表示 優步的致命車禍應可避免
The co-founder of ride hailing company Lyft Inc said last Tuesday a fatal collision in which an Uber Technologies Inc self-driving vehicle struck a pedestrian could have been prevented.
"I don't know all the specifics. I did see the video. It did look like both the tech and the driver could have or should have prevented that. But I don't know all the details," Lyft co-founder John Zimmer told a small group of reporters during a visit to Washington.
Elaine Herzberg was walking her bicycle outside the crosswalk on a four-lane road in the Phoenix suburb of Tempe in the evening on March 18 when she was struck by the Uber vehicle traveling at about 64km per hour, according to police. The Volvo XC90 SUV was in autonomous mode with an operator behind the wheel.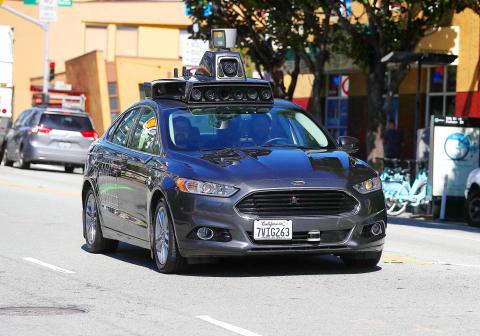 An Uber self-driving car drives down a street on March 28, 2017 in San Francisco, California, the US. 一台優步的自動駕駛車於二○一七年三月二十八日行駛在美國加州舊金山的街道上。
Photo: AFP
照片:法新社
The death of the 49-year-old woman has spurred questions about whether more oversight is needed for the nascent industry and prompted Arizona's governor to suspend Uber testing.
Zimmer said it was important not to take shortcuts and put out new technology before it's ready. "We need to make sure that all players are acting responsibly because, again, the goal is to actually make it a safer opportunity for people," he said.
Currently, there are no performance standards or state or federal testing of self-driving vehicles before they are deployed on US roads.
Self-driving vehicles are designed to perform far better than human drivers and reduce the number of vehicle fatalities. Zimmer cited statistics showing that around 100 people per day are killed in vehicle-related accidents in the US.
"The goal is to take that to zero," he said. "So I worry about — if it took autonomous [vehicles] one day more because of this, to get to market, that could be 100 people's lives that are at risk."
Lyft has been vying for a bigger share of the US ride-hailing market now dominated by Uber, which has been rocked by executive departures after an investigation into allegations of sexual harassment, bullying and other employee concerns.
Lyft has sought to brand itself as a more socially conscious company.
(Reuters)
優步科技公司的自動駕駛車日前撞上一名行人,造成一場致命撞擊的車禍。網路叫車平台Lyft公司的共同創辦人於上週二表示,這起意外的發生其實是可以避免的。
Lyft的共同創辦人約翰‧齊默在華盛頓進行參訪時,向一小群媒體記者表示:「我不清楚全部詳情,但我確實看了事件的影片,而且看起來這個科技以及這位駕駛可以事先避免,或早應該阻止此意外發生。不過我仍然要重申,我並不清楚這起事件的來龍去脈。」
根據警方表示,伊蓮‧赫茲柏女士在三月十八日晚上牽著腳踏車,正要穿越鳳凰城郊區坦佩市一條四線道馬路的十字路口時,遭到一台時速約為六十四公里的優步車輛撞擊。事發當時,這台型號XC90的富豪休旅車正以自動駕駛模式行進,但是駕駛座上仍然坐有一位操作人員。
這名四十九歲女性不幸身亡,引發社會議論這個未成熟的產業是否需要接受更嚴格的監督,也促使亞利桑那州州長下令暫時停止優步的自動駕駛車測試計畫。
齊默表示,不抄捷徑、在科技完全準備好之前不將其推向市場,是相當重要的觀念。他說:「我們應該要確保檯面上所有的競爭對手都會對其行為負責,因為,我在此重申,這種科技目標實際上是為了帶給人們一個更安全的通勤可能性。」
目前,在自動駕駛車上路之前,美國仍然尚未對其規定性能標準,州政府或聯邦政府亦未對該種車輛訂定測試標準。
自動駕駛車的設計宗旨在於提供比人類駕駛更優質的行車表現,並減少車禍死亡人數。齊默引用數據表示,美國每天約有一百人喪生於車禍相關意外。
「自動車科技的目標是將這個人數減到零,」齊默這麼說,「所以我擔憂的是,如果因為這起車禍,而讓自動車上市的時間多拖延一天,那就會有一百個人的生命繼續受到車禍威脅。」
Lyft公司一直試圖在美國叫車市場中獲得更大的市占率,然而這個市場目前仍然為優步公司掌握,只是後者最近內部震盪不安,因為多名高階主管分別遭到指控,涉嫌性騷擾或霸凌員工等惡行,他們在遭到調查後紛紛被公司開除或主動請辭。
Lyft公司企圖將該品牌包裝成更有社會意識的公司。
(台北時報章厚明譯)
讀後練習
FOLLOW UP
Reading Comprehension
New cars are quickly getting self-driving features
Autonomous vehicles get all the headlines, but automakers are gradually adding advanced electronic safety features to human-driven cars as they step toward a world of self-driving vehicles.
Car and tech companies are rolling out laser sensors, artificial intelligence, larger viewing screens that show more of the road, cameras that can read speed limit signs, and systems that slow cars ahead of curves and construction zones.
Many of the new features repurpose cameras and radar that already are in cars for automatic emergency braking, pedestrian detection and other safety devices. The companies also are keeping a closer watch on drivers to make sure they're paying attention.
On Monday, Arizona's governor suspended Uber's self-driving vehicle testing privileges after one of its autonomous vehicles struck and killed a pedestrian last week. But auto engineers and industry analysts still say roads will become safer as more vehicles get automated features that either assist or replace human drivers. The government says 94 percent of crashes are caused by human error. (AP)
Questions
1. Do you think autonomous vehicle technology will make driving safer or could it actually become more dangerous?
2. Would fully-autonomous vehicles work in Taiwan, a country where scooters are the dominant mode of transport and adherence to traffic rules is somewhat lax?
3. Is it realistic to expect autonomous vehicle technology to reduce traffic accidents to zero?
4. Would you feel comfortable taking a nap in a vehicle operating in autonomous mode?
(Edward Jones, Taipei Times)
Publication Notes
TODAY'S WORDS 今日單字
1. fatal collision phr.
致命撞擊
(zhi4 ming4 zhuang4 ji2)
2. self-driving vehicle; autonomous vehicle phr.
自動駕駛車
(zi4 dong4 jia4 shi3 che1)
3. autonomous mode phr.
自動駕駛模式
(zi4 dong4 jia4 shi3 mo2 shi4)
4. oversight n.
監督
(jian1 du1)
5. nascent adj.
未成熟的
(wei4 cheng2 shou2 de5)
6. take a shortcut phr.
抄捷徑
(chao1 jie2 jing4)
7. performance standard phr.
性能標準
(xing4 neng2 biao1 zhun3)
Comments will be moderated. Keep comments relevant to the article. Remarks containing abusive and obscene language, personal attacks of any kind or promotion will be removed and the user banned. Final decision will be at the discretion of the Taipei Times.