Taiwan's Next Magazine to scrap print edition, go fully digital 「壹週刊」紙本驚爆收攤 全面數位發展
With Hong Kong's Next Magazine deciding to end its print edition last Wednesday, Taiwan's Next Magazine president Chiu Ming-hui revealed during an interview the next day that the Taiwanese edition is going to follow suit. It will scrap its print edition after the final issue on April 4, and go fully digital.
Following its success in Hong Kong, the tabloid magazine launched its Taiwanese edition in 2001. Over the past 17 years, it has led to the growth of a "paparazzi" culture and led on popular issues, and had a considerable impact on the media scene in Taiwan. In recent years, however, the magazine has been hit by the rising importance of the Internet, and there have been many rumors of potential buyout attempts. In the end, it had little choice but to stop its print edition.
Taiwan's Next Magazine reportedly suffered a financial loss of more than NT$200 million (about US$6.8 million) last year. After suffering financial losses for several years, senior management finally decided to move the magazine solely online, and will allegedly lay off as much as one third of its employees.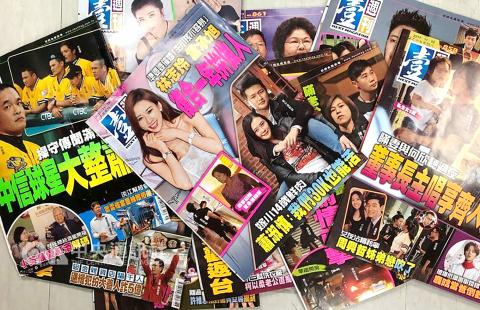 Various covers of Taiwan's Next Magazine are pictured in this undated photo. 這張照片中是多期台灣「壹週刊」的封面,拍攝日期不詳。
Photo: CNA
照片︰中央社
(CNA and Liberty Times, translated by Eddy Chang)
繼香港「壹週刊」決定自上週三起停刊紙本後,台灣「壹週刊」社長邱銘輝隔天受訪時也表示,該週刊預計將在四月四日推出最後一期的紙本,未來會全面朝數位發展。
二○○一年,「壹週刊」從香港進軍台灣,十七年來掀起一陣「狗仔」風潮、主導議題、衝擊台灣媒體生態。但該週刊近年來受到網路影響,並多次傳出交易,最終走上收掉紙本一途。
台灣「壹週刊」去年賠了兩億多元(六百八十萬美元),高層因為不堪連年虧損,決議全力轉型網路媒體,傳聞該週刊將解僱高達三分之一的人力。
(中央社、自由時報)
Publication Notes
TODAY'S WORDS
今日單字
1. print edition
phr. 紙本
(zhi2 ben3)
2. scrap
v. 停止;廢除
(ting2 zhi3; fei4 chu2)
3. digital
adj. 數位的
(shu4 wei4 de5)
4. paparazzi
n.狗仔(複數)
(gou2 zai3)
5. lay off
phr.解僱
(jie3 gu4)
Comments will be moderated. Keep comments relevant to the article. Remarks containing abusive and obscene language, personal attacks of any kind or promotion will be removed and the user banned. Final decision will be at the discretion of the Taipei Times.