William Lai: Solve low salaries problem by developing the economy 賴揆:解決低薪 首要發展經濟
Democratic Progressive Party Legislator Chiang Yung-chang, during a question-and-answer session at the Legislative Yuan last Tuesday, asked who would accept resonsibility should the Ministry of Labor fail to submit a draft minimum wage bill to the Executive Yuan before the end of the year. Minister of Labor Hsu Ming-chun replied that the responsibility would lie with her.
However, Premier William Lai said that the minimum wage bill is only one of several measures needed to resolve the problem of low salaries, and argued that developing the economy is to be more important for achieving salary increases.
During Chiang's question, he referred to President Tsai Ing-wen's political goal of enacting a minimum wage bill, but said that to date it has been a case of all talk and no action. Chiang went on to say that he has previously written to the ministry on this matter and received a reply stating the ministry hopes to complete a review of the bill by year end and have submitted it to the Executive Yuan by then.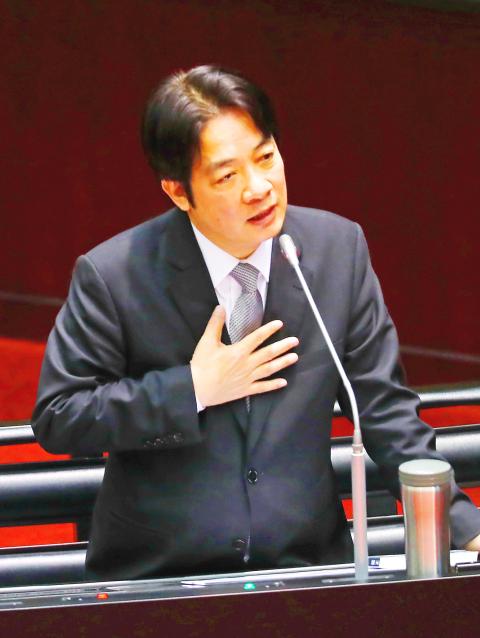 Premier William Lai speaks at the Legislative Yuan on Tuesday last week. 行政院長賴清德上週二於立法院發言。
Photo: CNA
照片:中央社
In her reply to the question, Hsu said her ministry has already convened meetings on the matter, collated information from many countries and held public hearings in the northern, central, southern and eastern regions of the country. She added that, despite differences of opinion between workers and employers, the ministry is continuing to work in accordance with its original plan.
Chinese Nationalist Party (KMT) Legislator Chiang Wan-an handed Lai a copy of the book Laborers and asked him for more details of amendments to the Labor Standards Act. Lai responded that Taiwan has already entered the era of the knowledge economy, and the existing act is a body of law formulated for the industrial age. Lai said that the next step is for the ministry to continue gathering opinions from across society and to carry out research, adding that there is no timetable for amending the act.
(Liberty Times, translated by Edward Jones)
民進黨立委江永昌週二在立法院院會質詢指出,勞動部如果未於今年底前將「最低工資法草案」送到行政院,誰會負責?勞動部長許銘春答詢表示「我負責」。
行政院長賴清德則說,要解決低薪,「最低工資法」是配套之一,更重要的是發展經濟,薪資自然也會提高。
江永昌質詢時表示,蔡總統曾提出制定「最低工資法」政見,但至今「只聞樓梯響」。之前他行文勞動部,勞動部回應希望在今年度完成草案審查。
許銘春回應表示,勞動部已召開過相關會議,也蒐集各國資訊,在北、中、南、花、東辦過五場公聽會,目前勞資雙方意見仍有歧異,勞動部仍按照先前的規劃在進行中。
國民黨立委蔣萬安質詢時,贈送書籍《做工的人》給賴清德,並詢問「勞基法」再修法細節;賴清德表示,台灣已進入知識經濟時代,現行「勞基法」是工廠時代的法律,後續請勞動部持續蒐集社會各界意見進行研究,但沒有修法時間表。
(自由時報記者鄭鴻達)
Follow up
讀後練習
Reading comprehension
Minimum wage
Many governments around the world have enacted a minimum wage, but there is considerable debate over the effectiveness of such a measure. Economists and politicians in favor of a minimum wage argue that implementing a minimum wage or increasing an existing minimum wage helps low-income families and narrows the gap between rich and poor.
Those opposed a minimum wage argue that it pushes up labor costs which eats into companies' profit margins, causes inflation — which results in higher prices of goods for consumers — and can ultimately lead to job losses as managers are forced to lay off workers in order to cut costs.
The knowledge economy
The knowledge economy refers to an economic system based on knowledge or "intellectual capital." The economies of most developed countries have moved away from manufacturing-intensive and labor-intensive economy toward knowledge-based services which rely on so-called "human capital" — intellectual capability rather than natural resources or physical labor.
(Edward Jones, Taipei Times)
Publication Notes
TODAY'S WORDS
今日單字
1. minimum wage phr.
最低工資
(zui4 di1 gong1 zi1)
2. low salary phr.
低薪
(di1 xin1)
3. all talk and no action phr.
只聞樓梯響
(zhi3 wen2 lou2 ti1 xiang3)
4. collate information phr.
蒐集資訊
(sou1 ji2 zi1 xun4)
5. knowledge economy phr.
知識經濟
(zhi1 shi4 jing1 ji4)
Comments will be moderated. Keep comments relevant to the article. Remarks containing abusive and obscene language, personal attacks of any kind or promotion will be removed and the user banned. Final decision will be at the discretion of the Taipei Times.