Toilet paper mania grips Taiwan 台灣陷衛生紙搶購潮
Following speculation of price increases which led to a wave of panic buying of toilet paper, on Thursday last week Fair Trade Commission Deputy Chairman Perng Shaw-jiin said the watchdog had already set a date for talks with paper companies, distributors and other associated businesses to assess the situation, and added the discussions will be completed as quickly as possible.
After talk of price hikes for domestic toilet paper, wholesalers confirmed that increased costs would be reflected in the sales price as soon as mid-March. Reports that one multipack of toilet paper was expected to increase by as much as the price of a standard boxed lunch unleashed a wave of panic buying across the country.
Perng stated that as soon as the news broke, the commission opened an investigation that was given top priority and added staff were mobilized immediately to carry out a continuous schedule of stringent checks.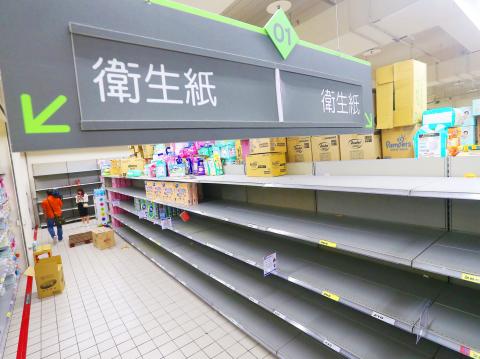 Empty shelves of toilet paper are pictured last Friday at a Carrefour store in Taipei. 上週五台北某家家樂福的衛生紙被民眾一掃而空後,空蕩蕩的貨架 。
照片: 中央社
Photo: CNA
The commission on Wednesday last week inspected retail outlets including RT-Mart, Carrefour, A-mart, Pxmart and Costco and found the situation of toilet paper shortages had improved considerably. Perng confirmed the commission will continue to carry out round-the-clock inspections and said if any restrictions on supply are uncovered it will open an investigation and assess market conditions.
Additionally, last Tuesday the commission convened a conference on "Promoting competitiveness and prohibiting toilet paper price fixing" to warn against collusive practices, during which it said that if any evidence of illegal behavior is uncovered, the businesses or individuals concerned will be punished severely.
(CNA, translated by Edward Jones)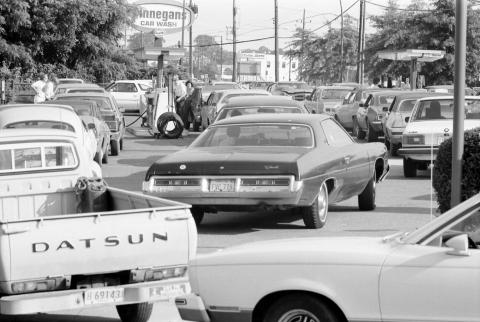 Cars line up at a gas station in Maryland, US on June 15, 1979. 一座加油站前大排長龍等待加油的車隊,一九七九年六月十五日攝於美國馬里蘭州。
Photo courtesy of US Library of Congress, Wikipedia Commons
照片:美國國會圖書館/Wikipedia Commons
衛生紙喊漲,造成搶購風潮,公平交易委員會副主委彭紹瑾上週四表示,已約談紙廠以及通路商等數家業者了解情況,會儘速約談完畢。
國內衛生紙喊漲,量販業者表示最快三月中旬就會反映在售價上,買一串衛生紙恐多花一個便當錢,使全台掀起搶購風潮。
彭紹瑾表示,公平會已在第一時間主動立案調查,並列為最優先辦理事項,且自衛生紙喊漲消息傳出後,連日不間斷全力動員嚴厲查察。
根據公平會上週三到大潤發、家樂福、愛買、全聯、好市多等賣場視察,發現衛生紙缺貨情況已改善很多,公平會近期會持續不間斷的訪查,若發現貨源未齊備的特定通路,會進一步啟動相關調查及對市場狀況的瞭解。
此外,公平會上週二召開「倡議競爭及禁止聯合調漲衛生紙價格」會議,宣導禁止聯合行為,倘若查獲相關違法事證將予以嚴懲。
(中央社)
FOLLOW UP 課後練習
A famous example of panic buying: The 1979 Oil Crisis
Iran is a major oil-producing nation and possesses roughly 10 percent of the world's total proven petroleum reserves. The 1979 Iranian Revolution disrupted oil production in the country and caused global oil output to fall.
In the US, there was widespread panic over gasoline shortages, which resulted in panic buying of gasoline at gas stations, pushing the price even higher.
Although global oil supply had only fallen by 4 percent, the price of crude oil doubled to US$39.50 per barrel over a 12 month period.
Long lines formed outside gas stations across the US and it is estimated that Americans wasted up to 150,000 barrels of oil per day idling their cars' engines while waiting in line at gas stations.
Many members of the public believed oil companies were artificially creating shortages to drive up prices. A telephone poll of 1,600 American adults released in May 1979 found that only 37 percent of Americans thought the energy shortages were real, 9 percent were not sure, and 54 percent thought the energy shortages were a hoax. (Source: Wikipedia and Investopedia)
Questions…?
1. Have you any personal experience of panic buying, such as before a typhoon?
2. Have you ever become involved in panic buying yourself? If yes, do you believe you were behaving rationally or irrationally at the time?
Publication Notes
TODAY'S WORDS
今日單字
1. speculation n. 喊漲 (han2 zhang3)
2. panic buying v. phr. 搶購 (qiang3 gou4)
3. distributor n. 通路商 (tong1 lu4 shang1)
4. wholesaler n. 量販業者 (liang4 fan4 ye4 zhe3)
5. shortage n. 缺貨 (que1 huo4)
6. price fixing n. phr. 聯合調漲 (lian2 he2 tiao2 zhang3)
Comments will be moderated. Keep comments relevant to the article. Remarks containing abusive and obscene language, personal attacks of any kind or promotion will be removed and the user banned. Final decision will be at the discretion of the Taipei Times.