Soul-crushing video of starving polar bear exposes climate crisis 全球暖化衝擊 驚見瘦骨嶙峋北極熊
Video footage from Canada's Arctic has offered a devastating look at the impact climate change is having on polar bears in the region, showing an emaciated bear clinging to life as it scrounged for food on iceless land.
The scene was recorded by the conservation group Sea Legacy during a late summer expedition in Baffin Island. "My entire Sea Legacy team was pushing through their tears and emotions while documenting this dying polar bear," photographer Paul Nicklen wrote on social media after publishing the footage last month.
The video shows the bear struggling to walk as it searches for food. The bear eventually comes across a trashcan used by Inuit fishermen, rummaging through it with little luck. The bear, which was not old, probably died within hours of being captured on video, said Nicklen. "This is what starvation looks like. The muscles atrophy. No energy. It's a slow, painful death."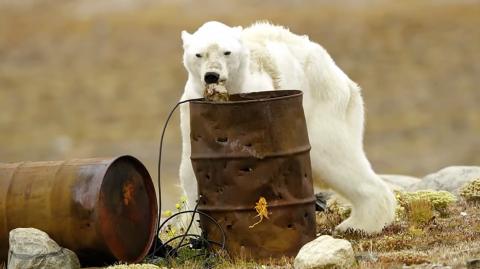 The starving polar bear rummages through a trashcan. 飢餓的北極熊在垃圾桶中翻找食物。
Photo: screen grab from Youtube
照片:截圖自Youtube
Since posting the footage, Nicklen has been asked why he and his team did not help the bear. "Of course, that crossed my mind," he said. "But it's not like I walk around with a tranquilizer gun or 400 pounds of seal meat." Feeding polar bears is also illegal in Canada.
The film-makers drew a direct line between the bear's state and climate change. "As temperatures rise and sea ice melts, polar bears lose access to the main staple of their diets – seals," the video noted. "Starving, and running out of energy, they are forced to wander into human settlements for any source of food." (The Guardian)
一段在加拿大北極圈內的地區拍攝的影片中,一隻瘦骨嶙峋的北極熊在無冰的地面上覓食,苟延殘喘。這段影片揭露了氣候變遷對該地北極熊的毀滅性衝擊。
這一幕是保育組織「海洋遺產」今年夏末在巴芬島進行探勘時所攝。攝影師保羅‧尼克倫上月發布這些影片後,在社群媒體上寫道:「在拍攝這隻垂死的北極熊時,我們整個團隊都強忍著眼淚及悲傷的情緒。」
影片中只見這隻熊拖著疲弱的身軀,勉強走著尋找食物。最後看到當地因紐特人漁民使用的垃圾桶,就往裡頭翻找,卻沒什麼收獲。尼克倫說,這隻熊年紀並不大,他很可能在被拍下來後幾個小時候就死了。「這就是餓死的樣子。肌肉萎縮、沒有力氣。這是緩慢而痛苦的死亡。」
這段影片貼出來後,很多人問尼克倫為什麼他們當時沒有幫助那隻熊。他說:「當然我也想過,但我當時並沒帶麻醉槍或四百磅的海豹肉可以餵。」況且在加拿大,餵養北極熊也是非法的。
他也指出這隻熊的慘況和氣候變遷有直接關係:「隨著氣溫的上升和海冰的融化,北極熊失去了主食──海豹。」「飢餓、筋疲力竭的北極熊不得不到人類的聚落尋找食物。」
(台北時報林俐凱譯)
Publication Notes
TODAY'S WORDS
今日單字
1. emaciated
adj. 瘦骨嶙峋
(shou4 gu3 lin2 xun2)
2. rummage
v. 翻找
(fan1 zhao3)
3. starvation
n. 飢餓
(ji1 e4)
4. atrophy
v. 萎縮
(wei3 suo1)
Comments will be moderated. Keep comments relevant to the article. Remarks containing abusive and obscene language, personal attacks of any kind or promotion will be removed and the user banned. Final decision will be at the discretion of the Taipei Times.