Taiwan's only surviving sumo wrestling ring restored to its former glory 全台首座戶外相撲亭 大溪中正公園重現
Taiwan's only surviving sumo wrestling ring from the Japanese colonial era reopened last Tuesday following reconstruction of the sumo ring's pavilion. Located within Jhongjheng Park in Taoyuan's Dasi District, the sumo ring was the first outdoor ring to be built in Taiwan. The water purification pavilion at Martyrs Shrine, situated at Taoyuan's Tiger Head Mountain, was used as a blueprint for the ring's exterior design. Pillars, beams and other elements of the reconstructed sumo wrestling pavilion's main structure are all constructed from cypress wood which permeates the air with a heady woody fragrance.
At the ring's reopening ceremony, the project's sponsor, Daikin Industries Taiwan, represented by managing director Su Yi-chung, presented Taoyuan Mayor Cheng Wen-tsan with a donation. After sumo wrestlers took it in turns to wrestle with each other, Cheng and Su took to the stage to try sumo wrestling for themselves.
The park's original structures included a public assembly hall, Dasi Shrine and the sumo wrestling ring. The assembly hall is still preserved in its original form, while the shrine has since been converted into an open air pavilion. The original sumo wrestling ring underwent several refurbishments, becoming a lotus flower pond and then a performance space.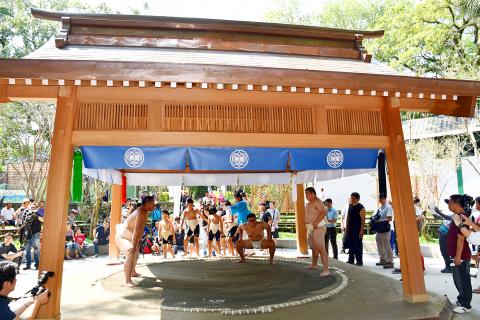 The newly rebuilt sumo wrestling pavilion at Jhongjheng Park in Taoyuan's Dasi District is pictured on Tuesday last week. 桃園大溪區中正公園新建的相撲亭,攝於上週二。
Photo: Lee Jung-ping, Liberty Times
照片:自由時報記者李容萍
Taoyuan's Department of Tourism and Taiwan Sumo entered discussions to restore the sumo wrestling ring to its original state. Taiwan Sumo then submitted a proposal to Daikin Industries for funding to reconstruct the pavilion, whose mascot for its air conditioning sub brand is a cute sumo wrestler.
During the Japanese colonial era, the sumo wrestling ring was built on high ground next to Dasi Shrine. The circular-shaped wrestling ring has four tiers of staggered seating and was used by children at a nearby school for sumo wrestling competitions; it therefore assumes an important place in the collective memories of Dasi's elderly residents.
(Liberty Times, translated by Edward Jones)
桃園大溪區中正公園新建的「相撲亭」上週二啟用。這座相撲亭所在地為全台僅存的日治時期的相撲場架構,也是全國第一座戶外相撲亭,外觀參考桃園虎頭山忠烈祠的「手水舍」作為藍圖設計,柱、樑等主要結構均為檜木材質,散發著濃濃的檜木香。
啟用典禮由出資的和泰興業董事長蘇一仲代表捐贈給市長鄭文燦,現場安排力士們輪番表演相撲後,鄭、蘇兩人也上場「相撲」體驗。
大溪中正公園的舊有建築設施有公會堂、大溪神社、相撲場等,昔日公會堂仍保留著原貌,大溪神社已改建為超然亭,相撲場則歷經整修為蓮花噴水池及表演廣場後,由市府觀光旅遊局與中華民國相撲協會洽商恢復原貌,中華民國相撲協會薦舉和泰興業捐贈施作相撲亭,而其旗下大金空調吉祥物就是可愛的大金相撲寶寶。
大溪中正公園的這座相撲場,日治時期就設在當時神社旁的高地,建置了圓形的相撲場,周圍有四層座位,層層下凹,早期公學校學童在此地比試相撲,是老一輩大溪人的共同記憶。
(自由時報記者李容萍)
Publication Notes
TODAY'S WORDS
今日單字
1. sumo wrestling n. phr.
相撲 (xiang1 pu1)
2. blueprint n.
藍圖 (lan2 tu2)
3. convert v.
Comments will be moderated. Keep comments relevant to the article. Remarks containing abusive and obscene language, personal attacks of any kind or promotion will be removed and the user banned. Final decision will be at the discretion of the Taipei Times.