Billionaire investors voice concern over global economy 投資大老:全球金融堪憂
While Wall Street continues to post record highs, a number of prominent investors have issued successive warnings. Bill Gross, manager of Janus Capital Management, has cautioned that the US stock market is facing its most significant threat since the 2008 financial crash. Hedge fund manager and founder of hedge fund Elliott Management, Paul Singer, has said that almost 10 years on from the financial crash, distorted monetary and regulatory policies have created risk for investors.
Attending a Bloomberg Invest summit in New York, Gross said: "Instead of buying low and selling high, investors are buying high and crossing their fingers." Gross also criticized the US Federal Reserve's policy of quantitative easing, which he says has led to inflated asset prices, failed to produce any substantial economic growth thus far, and punishes personal savers, banks and insurance companies.
While attending the same summit, Singer stated: "I am very concerned about where we are. What we have today is a global financial system that's just about as leveraged — and in many cases more leveraged — than before 2008, and I don't think the financial system is more sound."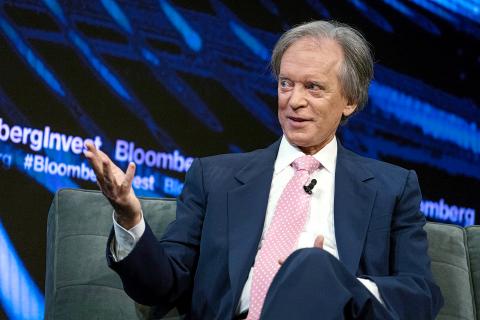 Bill Gross, fund manager of Janus Capital Management, speaks during the Bloomberg Invest summit in New York on June 8. 駿利基金經理人比爾·葛洛斯六月八日於紐約舉行的「彭博投資會議」談話。
Photo: Bloomberg
照片:彭博社
Singer also added that years of low interest rates have weakened the ability of central banks around the world to respond to the next economic downturn.
(Liberty Times, translated by Edward Jones)
美股持續創新高,但多位投資大老紛紛示警。駿利基金經理人比爾·葛洛斯警告,美股正面臨二○○八年金融海嘯以來最高風險。避險基金大亨、艾略特管理公司創辦人保羅·辛格則說,在金融海嘯近十年後,扭曲的貨幣和監管政策已為投資人帶來風險。
葛洛斯出席紐約舉行的「彭博投資會議」表示:「投資人不是在買低賣高,而是買高之後,祈禱好運降臨。」他並指責美國聯準會的寬鬆貨幣政策,已導致資產價格膨脹,但實體經濟未見成長,而個人存款戶、銀行和保險公司卻受到懲罰。
辛格在同一場會議上說:「我對目前我們所處的狀態非常擔心,與二○○八年之前相比,今天的全球金融體系槓桿率大致相同,在某些情況下甚至更高,我不認為全球金融體系比之前更為健全 。」
辛格指出,多年來的低利率已經讓各國央銀因應經濟衰退的效能減弱。
(自由時報)
Publication Notes
TODAY'S WORDS
今日單字
1. hedge fund phr.
避險基金 (bi4 xian3 ji1 jin1)
2. asset price phr.
資產價格 (zi1 chan3 jia4 ge2)
3. interest rate phr.
利率 (li4 lu4)
4. economic downturn phr.
經濟衰退 (jing1 ji4 shuai1 tui4)
Comments will be moderated. Keep comments relevant to the article. Remarks containing abusive and obscene language, personal attacks of any kind or promotion will be removed and the user banned. Final decision will be at the discretion of the Taipei Times.